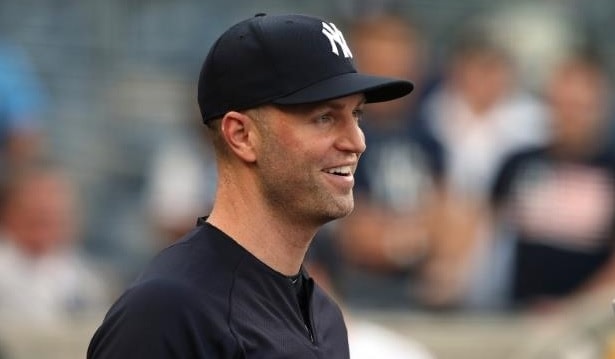 The Yankees needed another starting pitcher before they trade deadline and they got one Thursday, when they sent Brandon Drury and Billy McKinney to the Blue Jays for J.A. Happ. Happ is making his Yankees debut today and he has a pretty low bar to clear. Be better than Domingo German and Luis Cessa, basically. Those two have a 5.64 ERA (4.58 FIP) in 81.1 innings as starters this year. Most of that is German. Cessa's been okay his last few times out.
Of course, the Yankees didn't acquire Happ just to be better than German and Cessa. They want the guy who pitched to a 3.33 ERA (3.87 FIP) from 2016-17 and had a 3.56 ERA (3.56 FIP) this season as recently June 24th. A lot has been made of Happ's recent struggles and that's understandable, but one thing to keep in mind here: Happ will have a good infield defense behind him now. Some numbers:
Blue Jays: .271 BABIP allowed on grounders (highest in MLB)
Yankees: .253 BABIP allowed on grounders
Over at The Athletic, Katie recently explained the Yankees have been the best shifting team in baseball this season. That'll surely help. Anyway, Happ arrived in New York yesterday, so it's a quick turnaround for him, but he's done this before. This is the fourth (!) time he's been traded at the deadline in his career. He's done this all before. Go beat the Royals and win the series. The lineups:
New York Yankees
1. LF Brett Gardner
2. RF Giancarlo Stanton
3. SS Didi Gregorius
4. CF Aaron Hicks
5. 2B Gleyber Torres
6. 1B Greg Bird
7. 3B Miguel Andujar
8. DH Neil Walker
9. C Austin Romine
LHP J.A. Happ
Kansas City Royals
1. CF Rosell Herrera
2. SS Adalberto Mondesi
3. DH Salvador Perez
4. 2B Whit Merrifield
5. 1B Hunter Dozier
6. LF Alex Gordon
7. 3B Alcides Escobar
8. RF Brett Phillips
9. C Drew Butera
RHP Burch Smith
Lovely afternoon for baseball in New York. Sunny with a few clouds for shade and a nice little breeze. Good day to be at the park. Today's series finale will begin 1:05pm ET and you can watch on YES. Enjoy.
Roster Notes: The Yankees have made a lot of moves in recent days and both the 25-man and 40-rosters have changed quite a bit. Here's quick state of the rosters update just to make things clear:
The Yankees currently have a three-man bench (Kyle Higashioka, Tyler Wade, Shane Robinson) and an eight-man bullpen (Aroldis Chapman, Dellin Betances, Zach Britton, David Robertson, Chad Green, Adam Warren, Jonathan Holder, A.J. Cole), so everything is back to normal.
Zach Britton took the 40-man roster spot that had been open since the last time the Yankees designated David Hale for assignment. Happ took Drury's 40-man spot, Robinson took McKinney's 40-man spot, Luke Voit took Chasen Shreve's 40-man spot, and Gio Gallegos' 40-man spot remains open. The Yankees can also slide Jordan Montgomery over to the 60-day DL to clear another 40-man spot when necessary.
Got all that? Good.