A good end to a series that was more annoying than it should've been. The Yankees picked up a stress-free 6-3 win over the Royals on Sunday to clinch the four-game series win. The new guy looked good and the Yankees beat a team they're supposed to beat.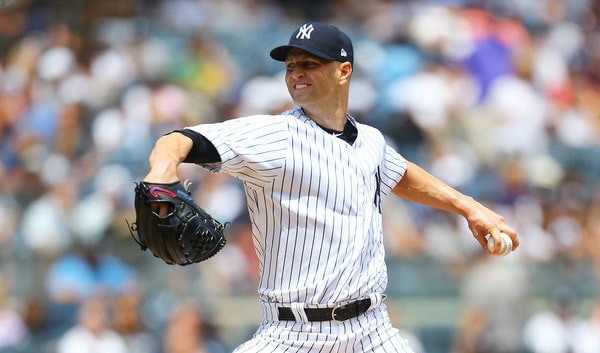 Hip Happ Hooray
Six strong innings for J.A. Happ in his Yankees debut. He did run some long counts early — Happ needed 55 pitches to get through the first three innings — before settling down and getting through his final three innings on 41 pitches. Happ threw 96 pitches and, by my unofficial count, only 24 came from the stretch. The Royals, admittedly the worst offensive team in baseball, did not have much traffic on the bases at all.
The Yankees are baseball's preeminent anti-fastball organization — they have baseball lowest fastball rate (44.6%) by a mile this year (Rays are second at 48.6%) — and I was curious to see whether Happ would adopt a similar approach, because is very much a fastball pitcher. Going into this start Happ had a 74.3% fastball rate this year, third highest in baseball. Only Bartolo Colon (79.0%) and Lance Lynn (76.7%) throw more heaters.
On Saturday, Happ threw 75 fastballs (64 four-seamers and eleven two-seamers) among his 96 pitchers, or 78.1%. Right in line with his usual rate. Interesting! It's only one start, but Happ may be an anti-fastball exception, and I think that's the way to go. He's been very good the last few years because the Pirates convinced him to throw more fastballs and elevate the pitch during his short stint there in 2015. Stick with what works!
Happ's final line: 6 IP, 3 H, 1 R, 1 ER, 1 BB, 2 K, 1 HR with a CC Sabathia-esque 78.2 mph average exit velocity allowed. Salvador Perez, who wrecked the Yankees all series, hit the home run. It was the second-to-last batter Happ faced and the Yankees had a 5-0 lead with two outs in the sixth. If you're going to give up a dinger, a solo shot in that situation is the time to do. Overall, very good debut for Happ. Now let's see him against a good offense.
Building The Lead
The Yankees opted for several small innings over one big inning Sunday afternoon. They scored two runs right in the first inning. Didi Gregorius worked a four-pitch walk with two outs, and Aaron Hicks followed with a two-run home run off the facing of the second deck in right field. Hicks bunted foul against the shift on the first pitch of the at-bat. One pitch later, two-run dinger. Good thing he didn't get the bunt down, eh?
Miguel Andujar gave the Yankees a 3-0 lead with a two-out single in the fourth inning — they were dangerously close to wasting Hicks' leadoff double — and they scored two more runs in the fifth inning without hitting the ball out of the infield with the bases loaded. Brett Gardner and Giancarlo Stanton had back-to-back leadoff singles and Hicks drew a one-out walk to load the bases. Would the Yankees get a hit? They went into this game hitless in their last 15 plate appearances with the bases loaded. Their last bases loaded hit was July 11th.
Yes, the Yankees would get a hit with the bases loaded. Kinda. First Gleyber Torres hit a weak grounder to second base that scored a run because Whit Merrifield missed the tag on Hicks as he ran by. Replay overturned the original out call, sparing the Yankees an inning-ending double play. A run scored, the inning continued, and Greg Bird beat out an infield single (!) because Merrifield was playing way back in the shift. Gleyber and Bird didn't hit the ball out of the infield and still managed to drive in two runs.
The Yankees took a 5-0 lead in the fifth and Stanton made it a 6-1 lead with a sixth inning sacrifice fly. A hit-by-pitch (Neil Walker) and a double (Austin Romine) set that run up. So many sacrifice flies lately. Anyone worried the offense is too sac fly reliant? Or do only home runs, literally the best thing a hitter can do, create those concerns? Don't get me wrong, sac flies are cool. You need 'em. But maybe mix in some hits to score runs without making an out, guys.
Fixing The Bullpen
A (relatively) big lead against the Royals is exactly when a reliever who is trying to straighten things out should pitch, so Aaron Boone gave Chad Green the ball in the seventh. Green's last five outings before Sunday: 6 IP, 7 H, 5 R, 5 ER, 2 BB, 4 K, 1 HR. Green's first batter Sunday: Homer. Hunter Dozier the other way the right field. Green's second batter Sunday: Double. Alex Gordon the other way to the wall. To be fair, look at this pitch location: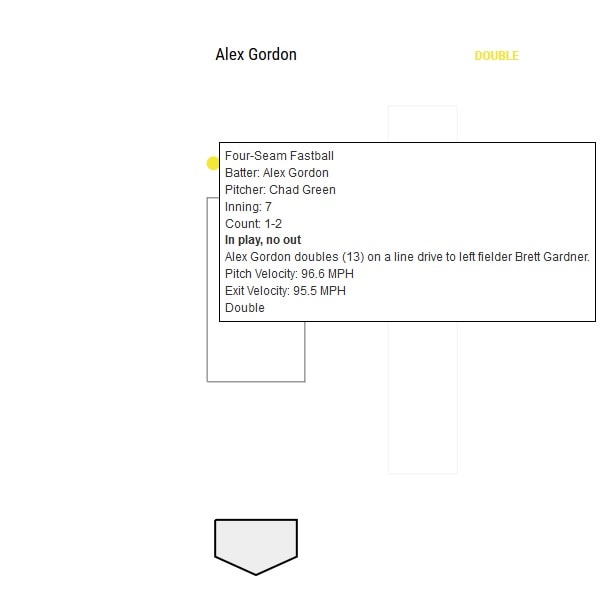 Kinda hard to pin that one on Green. How the hell did Gordon hit that? Anyway, Green retired the next three batters on a ground out, a strikeout, and a pop-up. He's still struggling a bit. Seems to me hitters know he is close to a fastball only pitcher — the grounder came on a slider that was topped — and they're ready for it. Green has to adjust back and do something to get hitters off his fastball. Slider, changeup, splitter, whatever.
Anyway, in the eighth, Boone went to David Robertson with a 6-2 lead. Robertson gave up the three-run home run Saturday afternoon but hasn't really struggled of late — he went into yesterday's game with a 1.31 ERA (1.46 FIP) and a .164/.208/.247 opponent's batting line his previous 20 appearances and 20.2 innings — but it was good to get him out there quickly after the three-run homer. Robertson's first batter face: Dinger. Short porch job by Rosell Herrera. So annoying. Robertson retired the next three batters with ease and Aroldis Chapman struck out the side in the ninth to close out the win. Hopefully the superbullpen starts being super again soon.
Leftovers
Big game for Hicks. He went 3 for 3 with a walk and was a triple short of a cycle. The best center fielder in the American League not named Mike Trout is hitting .256/.359/.491 (130 wRC+) on the season. Every starter had a hit except Gregorius and Gleyber. Didi drew a walk though. Torres went 0-for-4 with two strikeouts and is 3-for-16 (.188) in five games since returning from the disabled list. He's still searching for it.
And finally, thank goodness the Yankees are done with Sal Perez this season. They couldn't get him out. He went 2-for-4 with a homer this game. Perez against the Yankees this season: .416/.467/1.000 with four homers in seven games. Perez against every other team this season: .224/.258/.399 with 14 homers in 76 games. He has more homers and total bases against the Yankees than any other team this year, including all the AL Central teams he faces all the time. Good grief.
Box Score, WPA Graph & Standings
Go to ESPN for the box score and updated standings, and MLB for the video highlights. Here's our Bullpen Workload page and here's the win probability graph:

Source: FanGraphs
Up Next
An off-day. Players love mid-homestand off-days, especially after an afternoon game. Feels like two days off. Anyway, the Orioles are coming to the Bronx next for a quick two-game series after the off-day. Masahiro Tanaka and former Yankees farmhand Yefry Ramirez are the scheduled starters for Tuesday night's series opener.