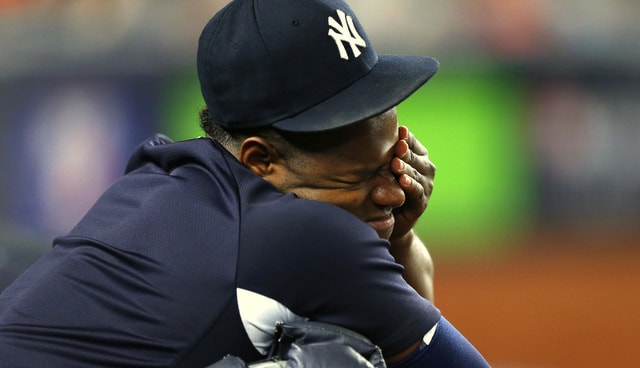 Already the halfway point of the season, eh? The season seems to fly by a little quicker with each passing season. I don't know about you, but before the season I would've signed up for 53-27 with a plus-101 run differential through 80 games pretty quickly. The Yankees will be, at worst, on pace for 106 wins following today's game, the true halfway point of the season.
Of course, it is rather annoying that the Red Sox are so good. The Yankees would have at least a three-game lead in every other division, and they'd have at least a five-game lead in four of the other five divisions. Gonna be a tight race all season, me thinks. Win today, win the series, move on to the next one. Here are tonight's lineups:
New York Yankees
1. CF Aaron Hicks
2. RF Aaron Judge
3. DH Giancarlo Stanton
4. SS Didi Gregorius
5. 2B Gleyber Torres
6. 3B Miguel Andujar
7. 1B Greg Bird
8. C Kyle Higashioka
9. LF Brett Gardner
RHP Luis Severino
Boston Red Sox
1. RF Mookie Betts
2. LF Andrew Benintendi
3. DH J.D. Martinez
4. 1B Mitch Moreland
5. SS Xander Bogaerts
6. 3B Rafael Devers
7. 2B Brock Holt
8. C Christian Vazquez
9. CF Jackie Bradley Jr.
LHP David Price
Another insanely hot day here in New York. Going to be hot tonight too. Tonight's game will begin at 8:05pm ET and ESPN will have the broadcast. Enjoy the game. Stay cool.
Injury Updates: Austin Romine (hamstring) is available tonight, if necessary. Aaron Boone wants to stay away from him though … Gary Sanchez (groin) has started throwing and doing strength exercises. He hasn't been cleared to start running yet though. Boone said the hope is Gary will be back around the All-Star break.
Roster Move: Welcome back, David Hale. For the third time this season, the Yankees have called him up from Triple-A. And I imagine he will soon be designated for assignment for the third time as well. Anyway, the Yankees brought Hale back to be the long man following Sonny Gray's short start yesterday. Hale was scheduled to start for Triple-A Scranton today, so he is available for super long relief today, which better not be necessary. Gio Gallegos was sent down in a corresponding move.