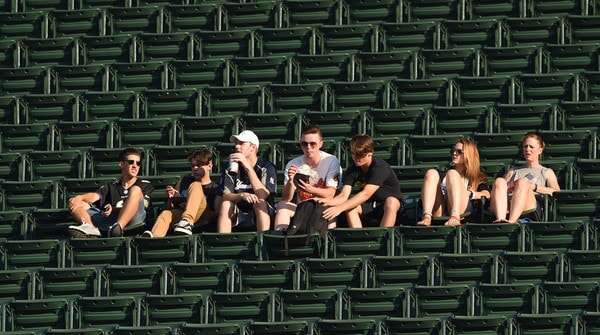 What an annoying series this has been. The Yankees have dropped two of the first three games to the Orioles and they held multi-run leads in both losses. Shaky defense and shoddy bullpen work are mostly to blame. The O's are on pace to lose 116 games this year and the Yankees are 5-6 against them. The Orioles are 2-54 when trailing after six innings this season. And what team do you think both wins have come against? Yup.
Anyway, today is a new day and the Yankees can still leave Baltimore with a series split, which is not good overall but is the best they can hope for right now. They'll (probably) need Sonny Gray to pitch well to do it, and hey, stranger things have happened. The six losses in eleven games to the O's happened. Nothing the Yankees can do about it now. Turn the page, win today, and move on to next series. Here are tonight's lineups:
New York Yankees
1. LF Brett Gardner
2. DH Aaron Judge
3. SS Didi Gregorius
4. RF Giancarlo Stanton
5. CF Aaron Hicks
6. 1B Greg Bird
7. 3B Miguel Andujar
8. C Austin Romine
9. 2B Tyler Wade
RHP Sonny Gray
Baltimore Orioles
1. 3B Tim Beckham
2. CF Adam Jones
3. 3B Manny Machado
4. DH Mark Trumbo
5. 2B Jonathan Schoop
6. 1B Chris Davis
7. RF Danny Valencia
8. LF Joey Rickard
9. C Caleb Joseph
RHP Dylan Bundy
Another great weather day in Baltimore. The Yankees have played in some of their best weather of the season this week. Tonight's series finale will begin at 7:05pm ET and YES will have the broadcast. Enjoy.