The Yankees did not lose a series to the Orioles. Exhale! They played a game that is expected of a potential 100-win team facing a potential 100-loss team. Sonny Gray rebounded nicely after two disaster starts and the offense deliver vs. the Oriole ace Dylan Bundy. It's funny how the Yankees had Sabathia, Cessa, Tanaka and Gray to start this series and the ones you'd expect the least won the games. Anywho, the Red Sox also won tonight so the Yanks are still 3.5 games back in the division.
Dingers!
The Yankees struck in the third in a big, big way. With two outs and runners on first and second, Stanton hit a grounder that deflected off of 3B Tim Beckham for a run-scoring single to give the Yankees a 1-0 lead. Had the ball been hit slightly differently, we could be talking about another scoreless inning and RISPFail, but the luck was on the Yankees side. Bundy walked Hicks to load the bases and Greg Bird stepped up to bat.
Bird got a breaking ball that spun towards middle and he didn't miss any of it. He drove it high and deep into the far right corner for a foul-pole grand slam. I can't lie though – the way the things went for the Yankees in this series, I thought, for a split-second, that it would just miss being a home run and result in a frustrating foul, but boy I'm glad that didn't happen. After tonight's game, Bird is hitting .208/.324/.440, which isn't really sexy, but he's been taking walks and power numbers are gradually climbing. As of now, he's sporting a 109 wRC+, which isn't bad! Imagine the kind of run production he can contribute if he continues heating up.
A Yankee second baseman hit a home run in the sixth inning to pad the lead. Nope, it wasn't Gleyber Torres. It was… Tyler Wade!  Wade got a hold of a Mike Wright Jr. cutter and drove it for a 410-feet solo homer into the seats in right-center. Wade is not really a power guy but that was no cheapie. Take a look.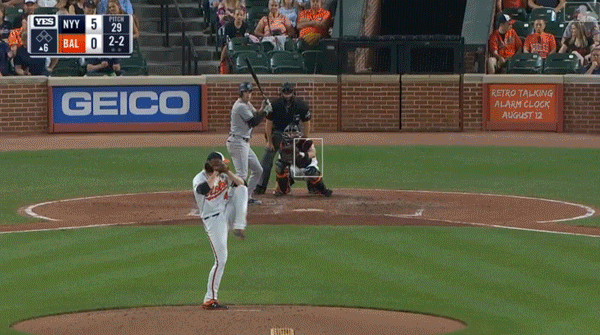 You gotta feel good for Wade. Dude came into the season determined to win a spot, suffered slumps and demotions, and is taking advantage of an opportunity at hand. Torres is the second baseman of future in Bronx, but Wade is doing himself a favor proving that he can hit in the majors. The Yanks tacked on another run in the seventh with an Austin Romine dinger.
Gray Good?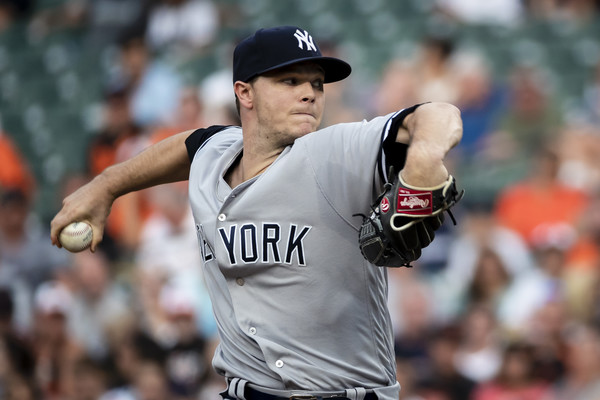 After two of the worst outings of the season, Gray followed it up with one of the bests. He went six scoreless innings, struck out eight and allowed only three hits.
Not for nothing, but it seems like Gray returned to his old mechanics from start of the season. Marc Carig noted that Gray had his hands closer to his body and displayed different delivery tempo. Does that mean Gray is fixed? Not really. It's only one start and facing the Orioles is much, much different than facing the Red Sox. But given on the situation that Gray is in, any kind of change that leads to slight improvement is encouraging.
Looking at Gray's pitch map, it seems clear on what was his game plan: away, away and away. The Orioles had a very RHH-heavy lineup (the only LHH being Chris Davis) and Gray was locating'em like this: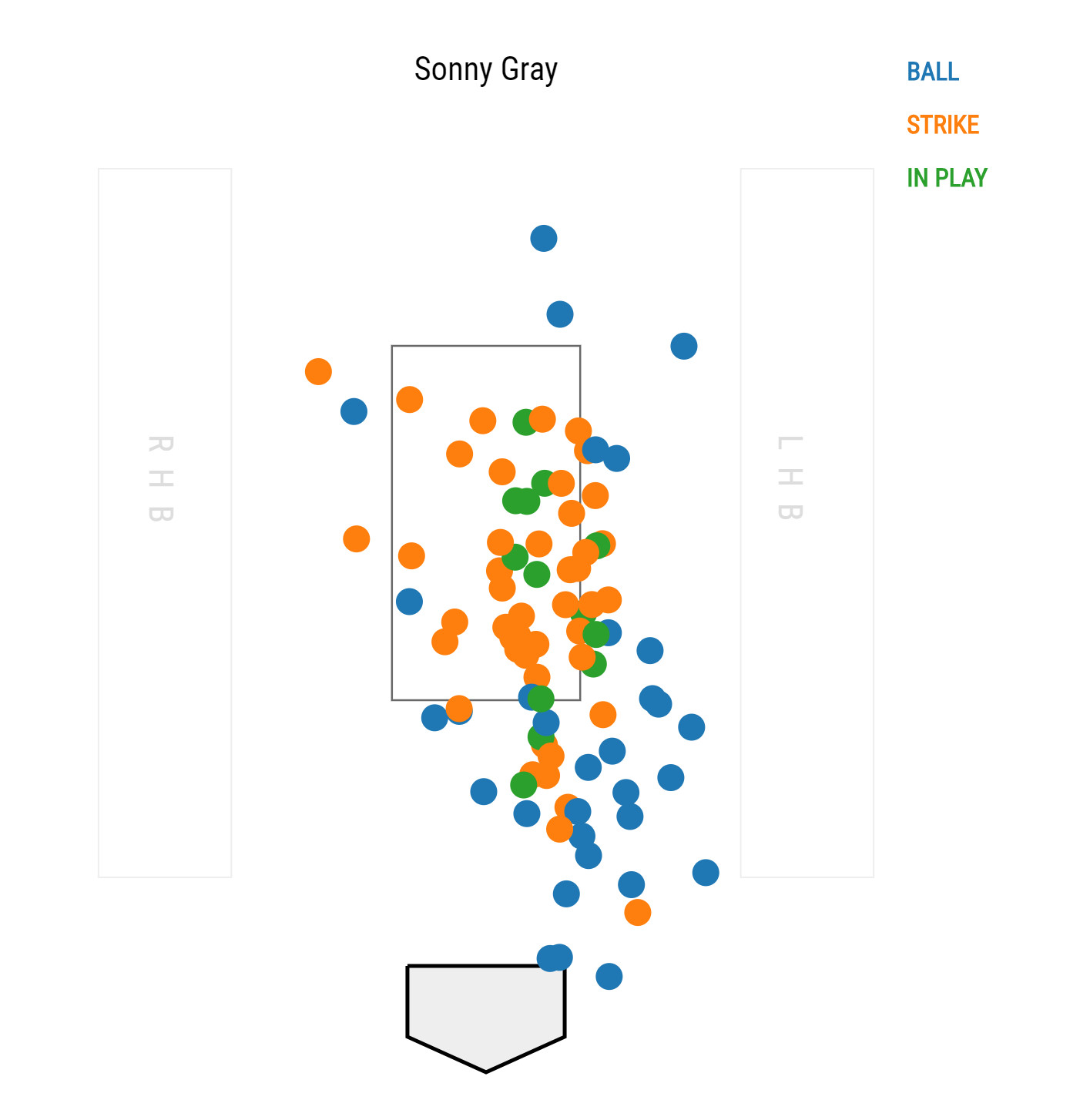 It's also worth mentioning that the strategy also worked because his command was on more than usual tonight. He threw 58 out of 90 pitches for strikes (a 64.4% rate) allowed only a walk. All in all, this is the Sonny Gray that the Yankees envisioned when they acquired him last summer. The next items in the wishlist is 1) for Gray to keep pitching like this 2) adding another solid arm in the rotation.
I assume this outing earned a bit more vote of confidence for Gray in the rotation. Something of note is that Gray has had his best starts of the season versus Blue Jays, Orioles and Royals – the clubs that aren't exactly known for their lineups. Then again, he did pitch a pair of two-run, six-innings starts against the Astros and Indians. Gray is having such an enigmatic 2018 season and it would be nice for him to figure something out sooner or later.
Leftovers
AJ Cole's Yankee lore is getting deeper as days go on. The former Nationals top prospect put up two scoreless innings in relief of Sonny Gray and his ERA is now down to a minuscule 0.48. Look, he's not really a late-inning or crucial situation arm, but there's definitely a value of a guy who can soak inning in garbage situations. I'm glad Cole has worked out well for the Yankees and here's to hoping that he can stick with the team long-term in a role he's given. Speaking of garbage situation relievers, Chasen Shreve also made an appearance, striking out two in a scoreless inning.
Giancarlo Stanton, who lost out the AL All Star Final Vote to Jean Segura, had a four-hit game. His wRC+ is now up to 134, which is quite above-average and the best part is that, it very well go up from here on! Tyler Wade had a three-hit game and Romine had two hits. Greg Bird was 1-for-4 (with a grand slam) but he's hit the ball hard here and there that resulted in loud outs. The results may not show as much but I was encouraged to see him square up on pitches.
Box score, highlights, standings and WPA
Here's tonight's box score, video highlights, updated standings and the WPA.
The Yankees will head to Cleveland for a four-game series. The first one will feature a whopping Luis Severino vs. Corey Kluber matchup, which has to be one of the best pitching head-to-heads of 2018.