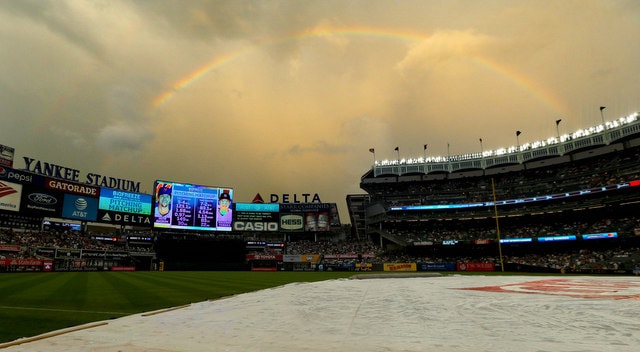 The 2018 Subway Series finale will have to wait. Tonight's Yankees vs. Mets game has been rained out, it has been announced. The game will be made up on Monday, August 13th, at 7:05pm ET. Here is the rainout ticket policy. Tonight's forecast hasn't looked good for a while now. Kinda annoying they waited this long to bang the game.
The good news: The Yankees will not face Jacob deGrom tonight and have a one-in-five chance to face him in the makeup game next month. Less than that, really, considering the trade/injury risk factor. The Yankees missed Max Scherzer thanks to a rainout in Washington earlier this season. Missing two super aces due to rain is quite a bit of good fortunate.
The bad news: The Yankees lose another off-day. They've had to surrender a few to makeup games already. That August 13th date is in the middle of a ten-game homestand, so at least the Yankees don't have to travel anywhere. The Yankees, will, however have to play 20 games in 20 days starting July 31st. That stinks. The off-day was right in the middle of that stretch.
The Yankees are going to Tampa next for a three-game series with the Rays that begins tomorrow. Aaron Boone said Luis Severino will start tomorrow as scheduled because he flew ahead of the team and is already in Tampa. Here is the upcoming rotation:
Monday at Rays: Luis Severino
Tuesday at Rays: Masahiro Tanaka (tonight's scheduled starter)
Wednesday at Rays: Luis Cessa (replacing Domingo German)
Thursday vs. Royals: Sonny Gray
Friday vs. Rays: CC Sabathia (on his bobblehead day!)
Between the All-Star break and the rotation setup, the Yankees are giving Sabathia a nice long break between starts. Not a bad idea at his age, especially given his knee. He received a lubrication injection in the knee during the All-Star break, which he's been doing for a few years now. Sabathia last started last Saturday. He's going to go 12 days between starts. Hopefully he's fresh for the second half.
This is the seventh — seventh! — rainout of the season for the Yankees, including the suspended game in Washington. Almost all of those rainouts have been made up, thankfully. The Yankees have the makeup game against the Mets on August 13th, and they have a doubleheader in Baltimore on August 25th. Really sick of rainouts, you guys.