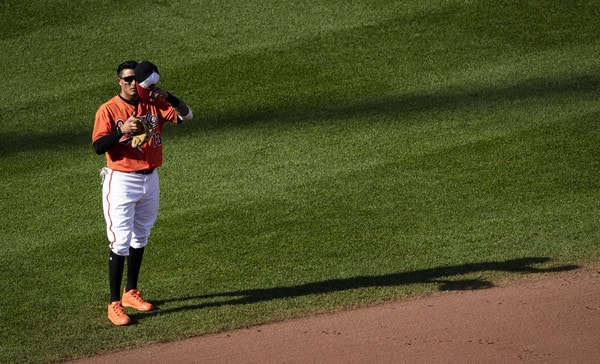 Only two weeks and one day until the 2018 non-waiver trade deadline. "I know Cash and the guys are turning over every leaf and kicking tires on everything … So, if the right deal comes about, I think we'll make it," said Aaron Boone prior to yesterday's first half finale. Here are the latest trade rumors.
Yankees may or may not be willing to trade top prospects for Machado
Conflicting reports from George King. First he said the Yankees are not willing to trade any of their top ten prospects for Manny Machado, then he said they are willing to trade some of their top prospects for Machado. Which is true? I'd guess the latter. I don't believe the Yankees would trade either Justus Sheffield or Clint Frazier for a rental, however, even one as good as Machado.
If the Yankees truly are unwilling to trade any of their top prospects for Machado, then they're not getting him. There are too many contenders in the mix — the Brewers and Phillies are said to be most aggressive — and talks seem far too serious at this point to think Machado's market will collapse a la Giancarlo Stanton in the offseason. It could happen, sure. Never say never. Just seems very unlikely. Perhaps these conflicting rumors are the Yankees putting up a smoke screen. What it accomplishes, I don't know.
Yankees interested in Heaney, Skaggs
The Yankees have started scouting the Angels more heavily and they have interest in left-handers Andrew Heaney and Tyler Skaggs, reports Jon Morosi. The Angels have crashed hard these last few weeks — they've dropped 20 of their last 32 games to fall 9.5 games back of a postseason spot — though it's unclear whether they'll actually sell at the trade deadline. I imagine winning before Mike Trout becomes a free agent following the 2020 season is their top priority.
Skaggs (2.57 ERA and 3.01 FIP) has outpitched Heaney (3.78 ERA and 3.82 FIP) this season, and he has better strikeout (26.1% vs. 24.0%) and ground ball (47.9% vs. 40.6%) rates as well. That said, Skaggs has an uglier injury history and one fewer year of team control (two vs. three). The Yankees really need another starter and I'd definitely prioritize quality over years of control at the deadline. I would be surprised if the Angels traded away non-rentals unless they get blown away with an offer. Skaggs and Heaney are a good idea. Might not be very realistic though.
Yankees have checked in with Padres
We've heard the Yankees have interest in Brad Hand but don't love Tyson Ross, and now Joel Sherman throws another Padres pitcher into the mix: Kirby Yates. Yes, former Yankee Kirby Yates. Yates was pretty crummy with the Yankees in 2016, then bounced from the Angels to the Padres on waivers. He's settled in nicely with San Diego, and this season he has a 1.43 ERA (2.06 FIP) with 32.4% strikeouts. Huh. He has a 2.80 ERA (2.92 FIP) in 93.1 innings since joining the Padres last year.
Chad Green's recent home run issues aside, the bullpen has been an overwhelming strength this season. The Yankees lead all bullpens in ERA (2.69), strikeout rate (31.6%), and WAR (+6.6), and they're second in FIP (3.00) and WPA (+7.71). There is nothing wrong with adding to a strength though, and with Chasen Shreve eminently replaceable, adding another high-end reliever at the deadline isn't a bad idea at all. Is Kirby Yates that guy? Maybe! That would be kinda weird, huh? Nothing wrong with checking in, of course.