The Yankees have had some issues beating teams they're supposed to beat recently, but, on Thursday night, there were no such issues. They walloped the Royals 7-2 in the four-game series opener. Good win. Now we all wait patiently for an update on Aaron Judge after he took a pitch to the right wrist.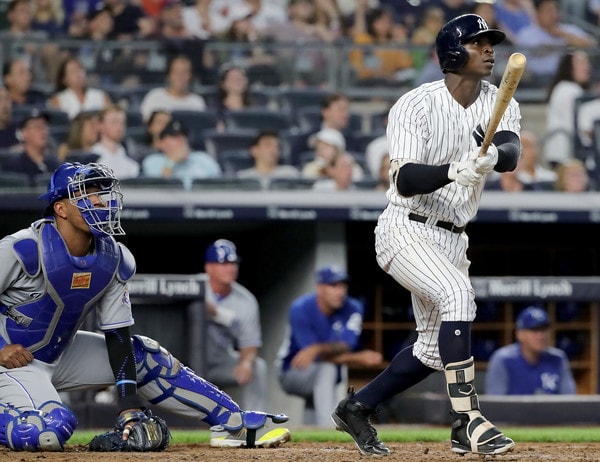 Building A Big Lead
For the first time in what felt like a long time, the Yankees took control of a game and built up a big early lead. Been a while since they played a laugher. I wouldn't call this one a true laugher, one of those "this one's over and it's only the third inning" games, but it was close enough. Right in the first inning the Yankees scored two runs on Giancarlo Stanton's sacrifice fly to right and Adalberto Mondesi's error at short. Judge was hit by the pitch and Didi Gregorius doubled to right to set that inning up.
In the third the Yankees loaded the bases with two singles and a walk, but Gleyber Torres banged into an inning-ending double play, and it felt like it was going to be one of those games again. Lots of runners, not a lot of runs. Know what I mean? Thankfully, that was not the case. Hot hittin' Neil Walker beat out a infield single and Austin Romine hammered a hanging slider into the left-center field gap to give the Yankees a 3-0 lead.
Two batters after the Romine double, Miguel Andujar hit a routine grounder to short and it should've been the final out, but Mondesi lollygagged the throw and Lucas Duda couldn't dig it out of the dirt at first base. The inning continued, and, as good teams do, the Yankees took advantage of the error. Gregorius smacked the next pitch out to right field for a three-run home run and a 6-0 lead.
It'd been so long since the Yankees hit a home run that I'd nearly forgotten what one looked like. Didi's blast was only the team's second — second! — since the All-Star break. Judge hit one against the Mets on Saturday. Coming into Thursday, every other team in baseball had hit at least two home runs since the All-Star break, and 27 of the other 29 teams had hit at least four home runs. The A's had 14! The Yankees had one before Didi's blast. Oy vey.
The Yankees scored their seventh run in the fifth inning, after back-to-back singles by Aaron Hicks and Torres set Greg Bird up for the left field sacrifice fly. Another sacrifice fly. The Yankees had two of them in this game to raise their Major League leading total to 38. They have six since the All-Star break. No other team has more than four. Sac flies are fun in their own way, but I can't wait for some of these fly balls to start going over the wall again.
Sonny For Five
Third straight start against a bad team and a third straight good start for Sonny Gray. Coincidence? Almost certainly not. Coming out of the All-Star break, the Yankees lined up their rotation in such a way that Gray would face nothing put pretty crummy teams for the foreseeable future. He faced the Mets last time out and the Royals on Thursday. He's tentatively scheduled to face the Orioles, White Sox, and Rangers his next three times out. Yeah.
Anyway, Gray hurled five shutout innings against the Royals on Thursday and he only exited the game because he took a comebacker to the barehand, and the Yankees presumably wanted to get some ice on it as soon as possible given the lopsided score. (He said he expects to make his next start.) Sonny only threw 75 pitches in those five innings. There was plenty left in the tank for another inning or two. No reason to push him after the comebacker with a big lead though.
Gray had to work out of two jams against Kansas City. Two ground ball singles and a walk loaded the bases in the third, but Gray struck out Mike Moustakas to end the inning. Then, in the fifth, Gray allowed a booming double to center and a walk, but struck out Rosell Herrera to snuff out that rally. His line: 5 IP, 3 H, 0 R, 0 ER, 2 BB, 5 K. Also, he brought back his four-seam fastball. Here is Gray's start-by-start pitch selection: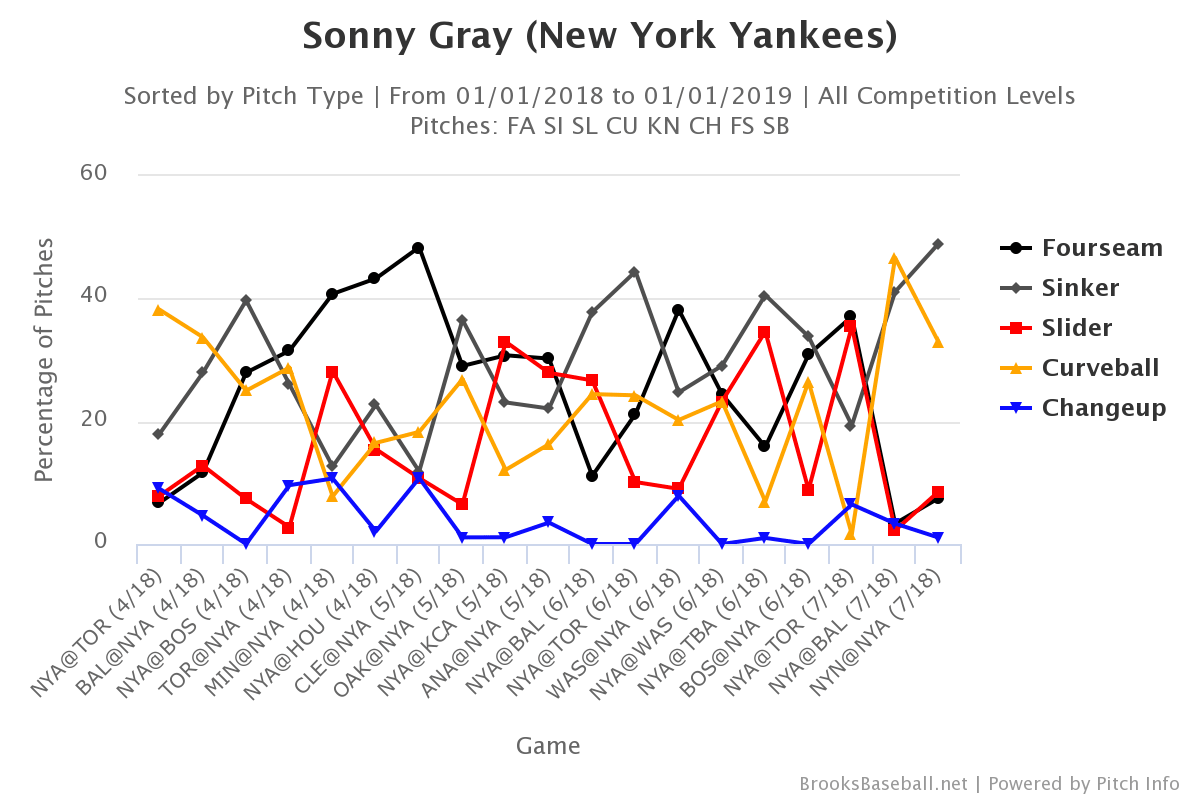 Last two starts were very two-seamer and curveball heavy. Two starts ago against the Orioles, Gray threw 87.8% two-seamers and curveballs. Last time out against the Mets, he threw 81.9% two-seamers and curveballs. Thursday against the Royals, it was only 58.7% two-seamers and curveballs. He threw 27 four-seamers against the Royals, nearly three times as many as he threw in his previous two starts combined (ten).
What does that mean? Who knows. Supposedly Gray and Romine went two-seam and curveball heavy just to simplify things and hopefully get Sonny back on track. Perhaps now he's growing more comfortable and they're branching out a bit? Maybe it was just the scouting report against the Orioles? I dunno. I'm glad Gray's pitched well lately. I don't care that it's against bad teams. He wasn't pitching well against any team earlier this year. Hopefully it continues and Sonny can build on it.
Leftovers
Welcome to the Yankees, Zach Britton. The team's new bullpen toy made his Yankees debut with a 1-2-3 eighth inning. Ground out, strike out, ground out on ten pitches. So perfectly Zach Britton. Adam Warren allowed a double and a homer to give their Royals their two runs in the sixth, and, in the ninth, Chasen Shreve allowed three singles to give the Royals some hope. The game ended with Hicks threw Alex Gordon out at the plate.
Why was Gordon going home down five runs? Not sure. Hicks played in the AL Central, Gordon and the Royals should know he has a rocket arm. If Gordon holds, the bases are loaded with two outs and the tying run is on deck, and Aroldis Chapman would've had to come in. Dumb send, but whatever. There's a reason the Royals are 31-71 on the season.
Every starter had at least one hit except Stanton and Bird. They each had a walk and a sacrifice fly. Two hits for Gregorius, two hits and a walk for Hicks, and two hits for Walker. Walker is up to .213/.295/.300 (63 wRC+) on the season, which objective sucks, but it is a heck of a lot better than the .185/.268/.254 (45 wRC+) batting line he had 18 days ago.
Box Score, WPA Graph & Standings
ESPN has the box score, MLB has the video highlights, and ESPN has the updated standings. Here's our Bullpen Workload page and here's the win probability graph:

Source: FanGraphs
Up Next
This four-game series is just getting started. The Yankees and Royals will meet up again Friday night in the second game of this four-game set. CC Sabathia and Rule 5 Draft pick Brad Keller are the scheduled starters on CC Sabathia bobblehead day.