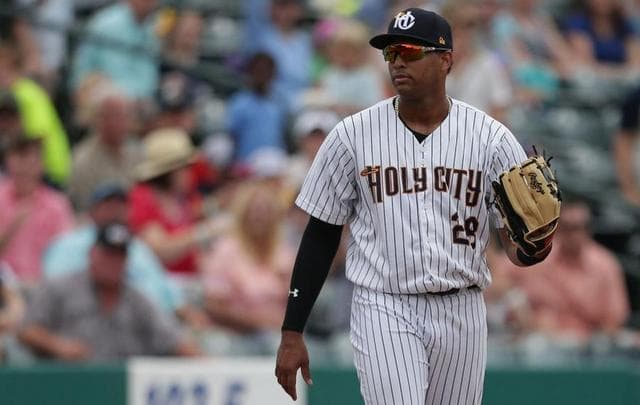 Here's a fun story. In Jon Schwartz's recent Yankees Magazine feature, it was revealed the Yankees are working to convert power-hitting corner infield prospect Dermis Garcia into a two-way player a la Shohei Ohtani. The process is underway and the hope is Garcia will be ready to pitch an inning in a game sometime in mid-August.
The Yankees gave the 20-year-old Garcia a $3.2M signing bonus as part of their well-intentioned but largely failed 2014-15 international spending spree. Dermis is a .223/.301/.451 (110 wRC+) hitter with 41 home runs in 199 minor league games, none above Low-A. All that power — 41 homers in 199 games is no joke for a kid this young — comes with a lot of strikeouts (33.2%).
Garcia is nominally a third baseman, though he's been playing first base exclusively since late-June, so that (expected) transition is underway. He does have a third baseman's arm though — MLB.com gives him a 60 arm on the 20-80 scouting scale — hence the transition to pitching. From Schwartz:
"I think the Shohei Ohtani circumstance shined a light on the capabilities there," (Brian) Cashman says. "A lot of times, the industry standard is, run the clock out on the one, and then typically another organization will pick up the slack and transition him to a pitcher. I don't want to be in a position to lose that opportunity, so I was like, 'Maybe we can do both. Let's try it.'"

…

"His stride was almost seven feet long," (pitching coordinator) Danny Borrell says. "A kid his size should have a stride of about six feet." That extra extension is going to create deception down the line. It will mean the batter will have even less time to react. "The way his fastball goes, and the way his body works, it looks like what a raw pitcher should look like. And it's easy to dream big on a guy like that."
Schwartz says Garcia is throwing 85-91 mph in bullpen sessions, though the Yankees only have him throwing at about 70% as he builds his mechanics. The process starts with fastballs only, then they'll introduce a changeup, then they'll introduce a breaking ball. Chances are Garcia pitched some as an amateur, so while it probably isn't entirely new to him, pitching in competitive games is a much different animal.
Teams have been trying to develop two-way players for a few years now, even before Ohtani came over. Ike Davis, Anthony Gose, Brett Eibner, and Christian Bethancourt have all tried it within the last two years. The Rays currently have two prospects, including 2017 fourth overall pick Brendan McKay, working as two-way players in the minors. I'm sure other teams have guys throwing bullpens on the side a la Dermis.
Ohtani has shown the two-way thing can work in the big leagues — he has a 132 wRC+ and had a 135 ERA+ before his recent elbow injury — and I think it's something that requires long-term commitment. Hard to do it with a guy who's been exclusively a position player as long as Davis, Gose, Eibner, and Bethancourt. Start him young and let the player develop as a two-way player in the minors, you know? That's what the Yankees are doing with Garcia.
Will it work? Probably not. Like pretty much everything else that involves prospects, failure is more likely than success. The Yankees have made it clear they were willing to let Ohtani be a two-way player, and I think it's pretty interesting — and kinda cool — they're going down that road with Garcia. A corner infielder who can run into a fastball and also toss an inning or two out of the bullpen would be a pretty fun — and pretty useful — player.