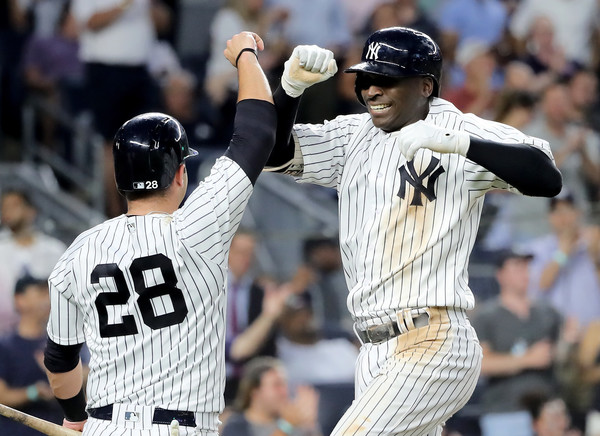 Back to business
The Yankees headed back to the Bronx, and returned to bashing baseballs with a 7-2 victory in the opener over the Royals. Didi Gregorius was swinging the hot bat on Thursday, scoring the Yankees' first run in the opening frame after belting a one-out double, and then breaking the game open with a three-run homer in the fourth inning.
Those were his 20th double and 18th home run of the season, the third straight year he's reached those double and homer totals. #FunFact Alert No. 1: Didi and Trevor Story are the only MLB shortstops to put up both those numbers in each of the last three seasons. #FunFact Alert No. 2: Gregorius is the only Yankee shortstop ever with back-to-back-to-back seasons of at least 18 homers and 20 doubles.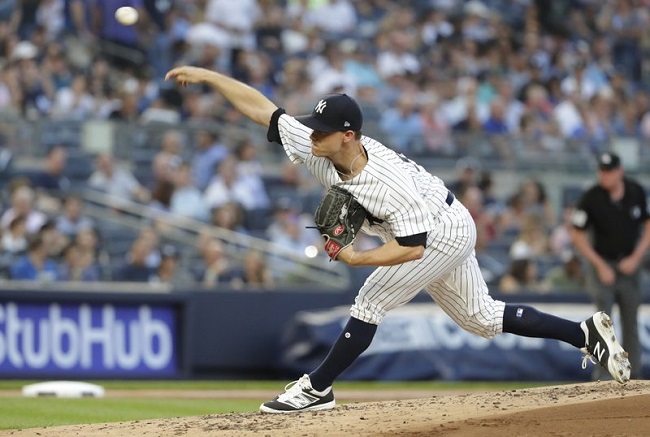 Sonny Gray continued his dominance of the league's worst teams but — in a shocking twist — also delivered a solid, homer-free performance in the Bronx. He scattered three hits across five scoreless innings, the first time since joining the Yankees last July that he didn't allow a run in a start at Yankee Stadium.
This season Gray has made five starts against the AL's three last-place teams (two vs. Royals, three vs. Orioles, zero vs. Rangers), producing a 1.45 ERA and 0.77 WHIP across 31 innings. Among the 33 players lucky enough to pitch at least 20 innings versus those teams this season (through Thursday), Gray's ERA ranks fourth-best and his WHIP is second-best.
Zach Britton took the mound in Yankee pinstripes for the first time, needing just 10 pitches to record a perfect inning via two groundouts and a strikeout. After Thursday's debut outing, his 65.9 percent groundball rate in 2018 was the highest among AL pitchers with at least 15 innings pitched.
Sevy's slide
Any momentum from the series-opening win was erased after Friday's rainout, and the Yankees produced an embarrassing and disappointing performance in losing the first game of Saturday's doubleheader. With the 10-5 loss, the Yankees still haven't swept a twinbill since April 16, 2014 vs. the Cubs, their longest drought since a 14-doubleheader sweepless stretch spanning the 1969-70 seasons.
The Yankees' RISP woes were on display again as they went 1-for-8 with runners in scoring position and stranded nine men on base. The worst failure came in the second inning when they loaded the bases with no outs and didn't plate a single run. This season, teams scored at least one run 85 percent of the time in that situation.
The Yankees had another excruciating bases-loaded failure with two outs in the sixth inning when Giancarlo Stanton lined a laser to right field that was caught near the warning track. Based on the combo of exit velocity (102.3 mph) and launch angle (22 degrees), that type of batted ball is a hit 76 percent of the time.
Their terrible clutch hitting was exacerbated by the fact that they were playing from behind the entire game thanks to the continued struggles of Luis Severino. His summer slump extended to four games as the Royals mashed him for six runs on eight hits — including three doubles and a homer — before he was pulled in the fifth inning.
*Hard-hit rate per Fangraphs.com

| | IP | ERA | HR | GB% | K% | Hard%* |
| --- | --- | --- | --- | --- | --- | --- |
| Last 4 Starts | 19.1 | 8.84 | 7 | 32.8% | 20.9% | 43.3% |
| First 18 Starts | 118.1 | 1.98 | 6 | 45.6% | 30.1% | 31.8% |
This is arguably either the worst or second-worst stretch of his career:
Only other time he had four-game span (all starts) with an ERA of at least 8.00 was April 26-May 13, 2016
First time allowed at least six runs in back-to-back games
First time allowed at least eight hits in three straight games
Second time allowed at least four extra-base hits two games in a row (also August 9-14, 2016)
And, sorry, we'll cap it off with this #NotFunFact: Before Severino, the last Yankee to give up at least six earned runs and eight hits — including at least four for extra bases — in a game was Jeff Weaver in July 2002.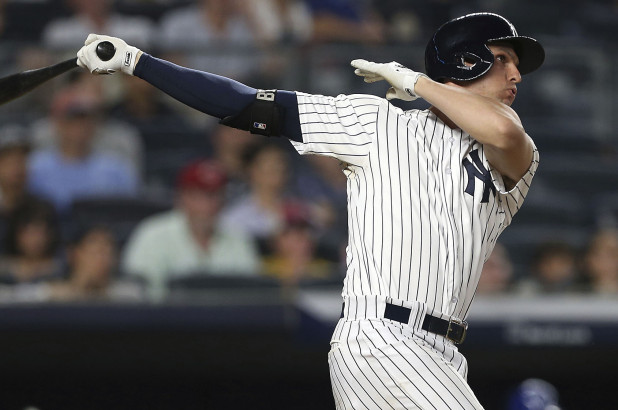 Survive and advance
The Yankees avoided what would have been an demoralizing doubleheader sweep thanks to a 5-4 back-and-forth win in the night game of Saturday's twinbill. There is no doubt that this team has the #FightingSpirit, especially compared to last year's frustrating late-inning dumpster fire:
Yankees in Games Decided by One Run
2018: Overall 17-11; Home 11-3
2017: Overall 18-26; Home 11-9
Despite a shaky performance by CC Sabathia and a rare implosion from the middle relievers, Yankee pitchers on Saturday night held the Royals to just two hits in 12 at-bats with runners in scoring position while stranding 15 men on base. That's the most men left on base by a Yankee opponent in a nine-inning game since the Red Sox stranded 16 in a 5-2 loss to the Yankee on August 30, 2011.
And when you factor in that Saturday's game was a narrow victory, the number of men left on base becomes even more important — and rare. The last time Yankee pitchers stranded at least 15 guys in a nine-inning one-run win was July 25, 1992 against the Mariners. The pitchers in that game: Curt Young, Tim Burke, Rich Monteleone, Greg Cadaret, Steve Farr. (Yes, those guys all pitched for the Yankees in the same game.)
Greg Bird ignited the final rally of the game with a solo shot to lead off the eighth inning that knotted the score at 4-4. It was the first game-tying home run of his career, though he's had his share of dramatic go-ahead homers in his career.
Aaron Hicks then capped the comeback a few batters later with a bases-loaded sacrifice fly that put the Yankees up 5-4. Hicks earns our Obscure Yankeemetric of the Series for his heroics: he's the first Yankee with a go-ahead bases-loaded sac fly in the seventh inning or later against the Royals since Bernie Williams on May 1, 1998 (hmmm … another #randominterestingstat).
Happ-y day
The Yankees finally did what they're supposed to do as the second-best team in baseball — take games and series against bad teams. Sunday's mostly stress-free 6-3 victory capped off another winning weekend in the Bronx, where they have dropped just one series all season (April 5-8 vs. Orioles).
J.A. Happ etched his name in the franchise record books when he stepped on the mound. He became the first guy to start a game for the Yankees and Blue Jays in same season since David Cone in 1995. Cone's first start as a Bronx Bomber came exactly 23 years ago, on July 29, 1995 against the Twins.
Happ produced an impressive pinstriped debut, holding the Royals to one run on three hits in six innings. A couple #FunFacts to chew on for Happ:
The only other left-hander in the last 15 seasons to allow no more than one run and pitch at least six innings in his first game as a Yankee was Randy Johnson in 2005
Happ is the first lefty to pitch at least six innings and give up three hits or fewer in his Yankee debut since Jimmy Key in 1993
Aaron Hicks provided the muscle and sparked the offense with a monster game, going 3-for-3 with a homer, double, walk and two RBI. This was his fourth game in the cleanup spot this season, and in those four games he's 6-for-11 with two dingers, a double, a triple, six walks and five RBI. We love #SmallSampleSizes.
Oh, and the Yankees are still looking for their first hit with the bases loaded since July 11.
Yankees Last 16 PA with Bases Loaded:
Groundout RBI (today)
Sac fly
Sac fly
Lineout
Double play
Double play
Sac fly
Groundout
Groundout
Groundout
Flyout
Groundout
Double play
Strikeout
Groundout
Popout (July 11)

— Katie Sharp (@ktsharp) July 29, 2018