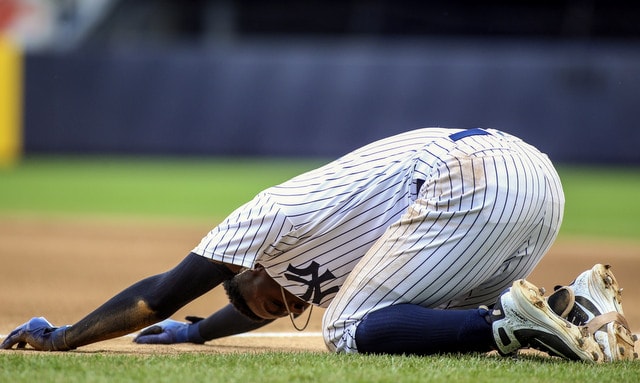 4:37pm ET: Aaron Boone said Gregorius has a "pretty significant" bruise and could wind up on the disabled list. Sigh. I guess this means Gleyber Torres takes over at shortstop with some combination of Neil Walker, Ronald Torreyes, and Tyler Wade getting time at second.
3:13pm ET: Gregorius has a bruised left heel and is going for tests, the Yankees say. I guess his heel hit the ground hard when he landed after the collision? Not sure what else it could've been. Hopefully everything comes back okay and Didi can avoid the disabled list. Fingers crossed.
2:09pm ET: Another day, another injury. Didi Gregorius exited today's game following a first inning collision with Kendrys Morales at first base. The throw took Morales into the baseline and Gregorius ran right into him. It happened quick and there was no time for Didi to avoid him. Here's the play:
Gregorius did remain in the game to run the bases and play the field in the next half inning, but he was removed following the bottom of the second. There's no word on what's wrong with Didi, but, after a collision like that, it could be anything. Hopefully it's not a concussion or anything serious. Maybe he got the wind knocked out of him?
The Yankees have not yet announced an update on Gregorius, so stay tuned. With any luck, they decided to remove Didi as a precaution given his importance to the team and the big early lead.