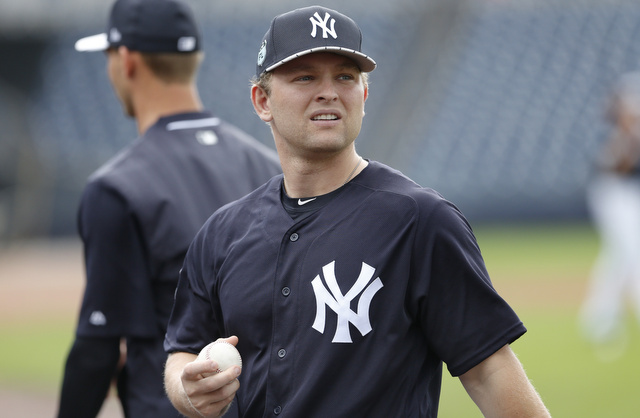 Welcome to the big leagues, Chance Adams. Now go pitch in Fenway Park in a nationally televised game against a juggernaut lineup in what is probably the Yankees' most important game of the season. A win today and there's still some hope for the AL East title. Another loss and it's probably time to start focusing on a wildcard spot.
As best I can tell, Adams will be the first player to make his MLB debut with the Yankees as a starter in Boston since Randy Keisler in September 2000. He's the first to do it outside expanded rosters since Bob Meyer in April 1964. The last two pitchers to make their MLB debut with the Yankees at Fenway Park in any role? Shane Greene in 2014 and Mark Melancon in 2009. Those two worked out well.
I really wish the Yankees would use an opener today. Let David Robertson or even Dellin Betances face the top of the lineup in the first inning, then turn it over to Adams and hope he can get through five innings while only facing the top of the lineup once. Seems like a good idea. Alas. It'll be Adams from the get-go. Go get 'em, kid. Here are the lineups:
New York Yankees
1. LF Brett Gardner
2. DH Giancarlo Stanton
3. SS Didi Gregorius
4. CF Aaron Hicks
5. 2B Gleyber Torres
6. 1B Greg Bird
7. 3B Miguel Andujar
8. C Austin Romine
9. RF Shane Robinson
RHP Chance Adams
Boston Red Sox
1. RF Mookie Betts
2. LF Andrew Benintendi
3. 1B Mitch Moreland
4. DH J.D. Martinez
5. SS Xander Bogaerts
6. 3B Eduardo Nunez
7. SS Brock Holt
8. C Sandy Leon
9. CF Jackie Bradley Jr.
RHP Nathan Eovaldi
The rain has cleared out and they should have no trouble starting this afternoon's game on time. It'll be cloudy and humid though. Today's game will begin at 4:05pm ET and both YES and Fox Sports 1 will have the broadcast. Enjoy the game.
Roster Move: Tommy Kahnle was sent back down to Triple-A Scranton to clear a roster spot for Adams, the Yankees announced. Adams takes an open 40-man roster spot, so no other move was needed.
Injury Update: Aaron Judge (wrist) has not yet started swinging a bat but he did stand in the box during CC Sabathia's bullpen session, so he's started tracking pitches. Swinging the bat should happen soon, perhaps tomorrow … J.A. Happ (hand, foot, and mouth disease) is doing much better and is expected to start Thursday, the first day he's eligible to come off the disabled list.