How does a team this good suck so much sometimes? Three losses in four days to two of the worst teams in baseball. At home! The Yankees allowed five home runs to the worst home run hitting team in baseball en route to an 8-7 loss to the Tigers on Thursday night. Garbage baseball night in the Bronx.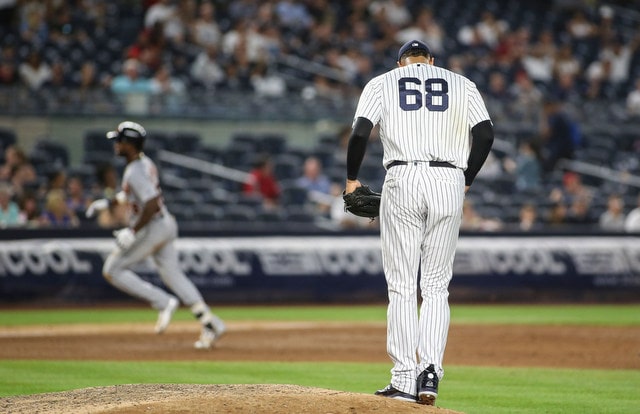 Ninth Inning Meltdown
Might as well start at the end and work backwards. The Yankees took a two-run lead into the ninth inning, and with J.A. Happ bowing out early, Aaron Boone had to use three relievers before the ninth inning. Chad Green got five outs, David Robertson got three outs, and Zach Britton got three outs. Britton pitched the eighth presumably so Dellin Betances, who's been awesome all year, could face the middle of the order in the ninth.
The plan did not go well. Betances walked Nick Castellanos one four pitches with one out, then Victor Martinez golfed a two-strike fastball into the short porch for a game-tying two-run home run. It hit the top of the wall and hopped over. Among the cheapest Yankee Stadium cheapies you'll see. Live by the short porch, die the short porch. The game was tied, then Dellin hung a breaking ball to Nike Goodrum, who hooked it around the foul pole and into the right field second deck for a go-ahead two-run home run. Lead gone, tie game gone. How annoying.
The walk and the back-to-back home runs turned a 7-5 lead into an 8-7 deficit. First time in Dellin's career that he allowed multiple home runs in an outing. Betances allowed three runs total in his previous 39 appearances and 38.2 innings. Then three runs in the span of three batters. The bullpen, which is supposed to be the backbone of the team, has now allowed at least one run in eight of the last nine games. Bad.
An Un-Happ-y Night
First clunker as a Yankee for Happ, who allowed three home runs to the team with the fewest homers in baseball, and gave up ten hits in 4.1 innings. Many of them were hard hit. He allowed 21 balls in play and seven were hit 90 mph or better. Five were 99 mph or better. Happ was behind in the count a lot and it seemed like the only thing he could throw for strike was his four-seamer. His pitch locations: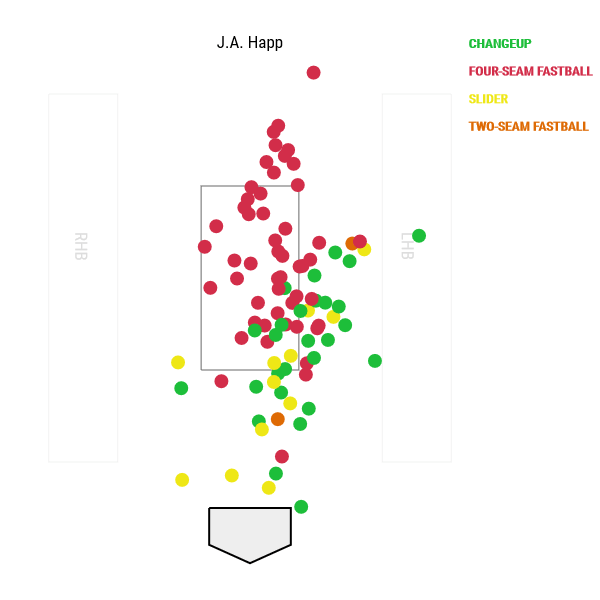 Not enough non-four-seamers around the zone to keep hitters honest. Happ threw a first pitch strike to 13 of 24 batters faced, or 54.2%, his eighth lowest rate this season. It was a grind. For sure. Happ gave up a leadoff homer to Jeimer Candelario on his fifth pitch of the night — it was the second time this season Candelario hit a leadoff homer against Happ — and also two-run shots to Ronny Rodriguez and Martinez. Yuck. Happ allowed four homers in his first five starts and 30.1 innings with the Yanks.
Happ's final line: 4.1 IP, 10 H, 5 R, 5 ER, 0 BB, 3 K, 3 HR on 92 pitches. Bad. Bad bad bad. Happ has been so good with the Yankees and so good this year overall that I'm inclined to chalk this up as one of those nights. Even good pitchers have bad nights now and then. Happ had one Thursday. Hopefully he shakes it off and bounces back well next time out. My guess is he will.
Three Two-Run Home Runs
The Yankees and Tigers traded two-run home runs for a few innings there. Giancarlo Stanton swatted his 300th career home run in the bottom of the third, turning a 1-0 deficit into a 2-1 lead. He's the fifth fastest player to 300 homers by games played and the ninth fastest by age. Congrats, Giancarlo.
Rodriguez hit his two-run home run in the top of the fourth to give the Tigers a 3-2 lead. Then Gleyber Torres smacked a two-run home run in the bottom of the fourth to give the Yankees a 4-3 lead. And then Martinez hit a two-run home run in the top of the fifth to give the Tigers a 5-4 lead. Four straight half-innings with a two-run homer. Martinez went into this game with six homers in 443 plate appearances. Now he has eight in 448 plate appearances.
The Yankees tied the game 5-5 in the fifth inning when Aaron Hicks scampered home from second base on Candelario's throwing error. He fielded Miguel Andujar's hard-hit grounder, fired across the diamond, and Goodrum couldn't handle the throw in the dirt. Hicks went from second to third, and once he saw the ball get away from Goodrum, he broke for him and made it safely. Heads up baserunning by Hicksie.
In the seventh inning, the Yankees swatted their third two-run home run of the game and the fourth of what would prove to be six two-run home runs in the game overall. Luke Voit — Luke Voit! — did the honors. Stanton yanked a double to left field with one out, and Voit hammered Victor Alcantara's middle-middle first pitch sinker into Monument Park to give the Yankees a 7-5 lead. Voit is 15-for-36 (.417) with four homers in his last 12 games now. I reckon more playing time is in his future.
More Mistakes
How many unforced errors can one team make? Let us count the ways. First, Neil Walker played Goodrum's second inning ground ball a little casually and turned it into an infield single. Second, Brett Gardner was thrown out going first-to-third in the third. Replays showed he slowed down rounding second base before going for it. That happened with Stanton coming up. Yet another out on the bases in front of Stanton. Amazing how often they do that.
Third, Walker again played a Goodrum ground ball a little too casually and turned it into an infield single in the fourth. The first one didn't lead to a run. This one did on Martinez's two-run shot. Fourth, Green picked Goodrum off second base in the fifth inning, but, during the rundown, Andujar's throw hit Goodrum in the back and everyone was safe. That didn't lead to a run, but still. And fifth, Gleyber was throwing out trying to stretch a single into a double in the seventh. He was thrown out by this much: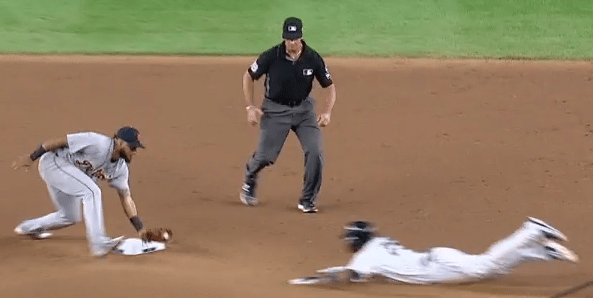 I'm walking to chalk Gleyber's baserunning mistake up to youthful exuberance. Walker turning two grounders into infield singles? Gardner getting thrown out at third with Stanton coming up? Andujar hitting Goodrum with a throw? Nope, nope, and nope. So many careless mistakes. Been going on all season too. You'd think the Yankees would've cleaned it up at least a little by now, but nope.
Leftovers
The Yankees did have 12 hits in the game. Everyone in the starting lineup had at least one except Kyle Higashioka and Shane Robinson, which is in no way surprising. Hicks (two singles), Stanton (homer, double, walk), Voit (single, homer), Torres (homer, two singles), and Walker (single, walk) all reached base multiple times. Three two-run homers and 2-for-6 with runners in scoring position, and it still wasn't enough. Lordy.
And finally, the YES Network debuted a new score bug Thursday night. Kinda weird to do it in the middle of the season, but whatever. You can see it here. I'm not a fan of having the pitcher's pitch count and hitter's average in a second box. It's a bit clunky. The font in the second box is small too. Maybe it'll grow on me.
Box Score, WPA Graph & Standings
Go to ESPN for the box score and updated standings, MLB for the video highlights, and RAB for our Bullpen Workload page. Here's the yucky loss probability graph:

Source: FanGraphs
Up Next
This four-game weekend series with the Tigers is just getting starting. The two clubs will be back at it Friday night. Luis Severino and Jordan Zimmermann are the scheduled starting pitchers.