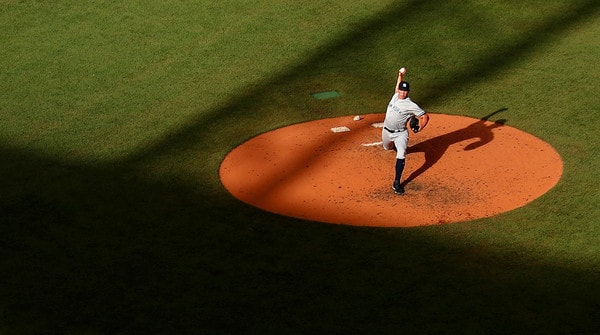 As expected, the bullpen has been a strength for the Yankees this season. Yeah, they've had their hiccups along the way, but that's normal. Every bullpen goes through ups and down. The Yankees have had fewer than most. Their bullpen leads all bullpens in WAR (+7.7), strikeout rate (30.5%), and WPA/LI (6.40), among other things. They pile up strikeouts and get outs in high-leverage situations. Exactly what you want from your relief crew.
Chad Green has again been an important part of the bullpen, throwing 59 innings with a 2.75 ERA (3.01 FIP) and excellent strikeout (29.2%) and walk (4.7%) rates. Has he been as good as last season? No. But he's been very good overall. Green fell into a bit of a rut around the All-Star break but has since shaken it off, thanks in part to a change in pitch mix. Specifically, he's throwing a changeup now.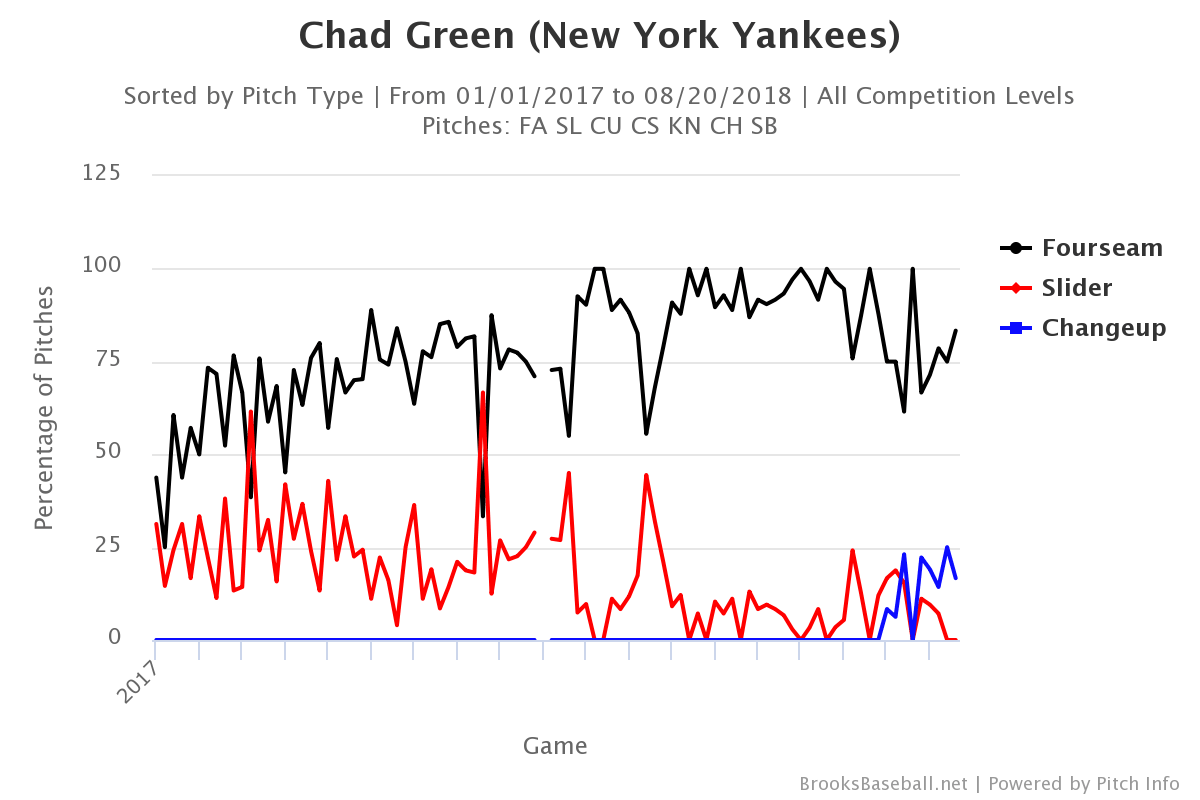 Green has thrown 23 changeups in his last nine appearances after throwing two changeups in his previous 92 big league games, both of which came as a starter in 2016. Hitters were sitting on his fastball — I'm surprised it took them that long, honestly — and he had to adjust, so he did. He's still a fastball heavy pitcher, but at least now there's something else to get hitters off the heater.
So far this season Aaron Boone has used Green as more of a true one-inning reliever. Last year Green recorded at least four outs in 29 of his 39 relief appearances, and he threw two full innings 16 times. This year Green has recorded at least four outs 17 times in 49 appearances. Only nine times has he thrown two full innings. There's been a definite change in his usage and I think it's time to turn him back into a multi-inning reliever, for two reasons.
1. The bullpen is deeper than it was on Opening Day. The Yankees added Zach Britton at the trade deadline and Jonathan Holder has emerged as a reliable secondary bullpen piece, so Boone is not short on one-inning setup types. There's Britton, Holder, David Robertson, and Dellin Betances now. Then there's Aroldis Chapman for the ninth inning. Pretty excellent bullpen fivesome right there. I'm not sure any other team can match it.
Britton gives the Yankees another one-inning setup type, affording them the luxury of pulling one guy aside, and stretching him out as a multi-inning reliever. Green's done it and he's the obvious candidate. So, when a starter bows out early or the Yankees run into extra innings trouble, Green can soak up two or three innings at a time rather than forcing Boone to go through a parade of one-inning guys.
Point is, having a variety of weapons in the bullpen is the good thing. The Yankees have an extreme ground baller in Britton, two strikeout heavy righties in Betances and Robertson, and a change-of-pace guy in Holder. With Sonny Gray relegated to mop-up duty and Adam Warren traded, the Yankees are short a reliever who can throw multiple high-leverage innings. Green should be that guy.
2. Green prefers pitching multiple innings. This is kind of a big deal. Green himself has said he prefers pitching multiple innings one or two times a week rather than one inning three or four times. Well, he didn't say it in so many words, but Green strongly indicated the change in roles this year has been a difficult adjustment.
"It's a way different role. I was throwing multiple (innings) every time out and throwing twice a week. This year, it's more often," Green said to Dan Martin last weekend. "(My role) has changed as of late because of the four guys at the back end of the pen and somebody's got to throw the other innings. I have no problem with how they're using me … You've still got to pitch, regardless of the situation."
The total number of innings may be the same, but throwing multiple innings twice a week is not the same as throwing one inning four times a week. Some guys thrive with a lot of work. Betances has said he likes pitching in a lot of games because it helps him keep his mechanics under control. Green may be the opposite. He'd rather pitch more innings at a time but in fewer games. It works for him.
* * *
There's really no wrong way to use a guy like Green. He's pitched well in his mostly one-inning role this year — again, not as well as last year, but well — and if the Yankees keep him there, that's fine. Green has also shown he can thrive as a multi-inning reliever (not many can!) and hey, that's pretty valuable. The Yankees have plenty of quality one-inning relievers. Taking one and turning him into a multi-inning guy could make the bullpen even stronger, and Green is the obvious candidate for that role.