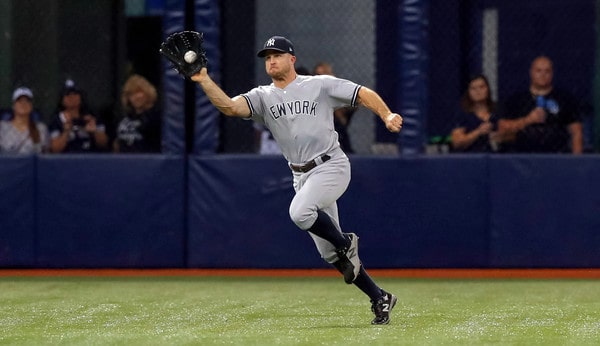 All things considered, this series is going well for the Yankees. They've won two of the first three games and, even in the loss yesterday, they showed some serious ninth inning fight and simply ran out of outs. This afternoon the Yankees will look to earn their first series win in Tropicana Field since, well, last September. Surprised it was that recent. Then again, the Yankees are 2-5 in their last seven series at the Trop, so yeah.
(Update: I was just reminded that last September's series win was the alternate site series at Citi Field, so the Yankees haven't won a series in Tropicana Field since September 2016.)
Anyway, the magic number for homefield advantage in the Wild Card Game is two, but the Athletics have an off-day today, which means the Yankees can not clinch until tomorrow at the earliest. Sucks. I was hoping they'd go to Boston and play three meaningless games this weekend. That won't be the case. Just worry about today though. Win today, win the series, knock the magic number down to one. Here are this afternoon's lineups:
New York Yankees
1. CF Brett Gardner
2. RF Aaron Judge
3. 1B Luke Voit
4. LF Giancarlo Stanton
5. 3B Neil Walker
6. DH Miguel Andujar
7. 2B Gleyber Torres
8. C Austin Romine
9. SS Adeiny Hechavarria
LHP CC Sabathia
Tampa Bay Rays
1. CF Mallex Smith
2. LF Tommy Pham
3. 3B Joey Wendle
4. DH C.J. Cron
5. 2B Brandon Lowe
6. SS Willy Adames
7. 1B Jake Bauers
8. RF Carlos Gomez
9. C Jesus Sucre
RHP Jaime Schultz
It is nice and sunny in St. Petersburg today and dark and gloomy in Tropicana Field. Good day to play baseball outside. First pitch is scheduled for 1:10pm ET and you can watch on YES locally and MLB Network out-of-market. You can also watch on Twitter. Twitter? Twitter. Enjoy the game.
Injury Updates: Aaron Hicks (hamstring) is tentatively scheduled to return to the lineup tomorrow, Aaron Boone said … Didi Gregorius (wrist) took batting practice on the field, though Boone cautioned they're not out of the woods yet. Gregorius remains day-to-day and there is no firm timetable for his return to the lineup … Walker (shin) went for x-rays after the hit-by-pitch last night. They came back negative and he's fine, hence his presence in the lineup.
Rotation Update: J.A. Happ starts Friday, Lance Lynn starts Saturday, and Luis Severino starts Sunday. That presumably takes Severino out of the running for the Wild Card Game start, though Sunday could be a short "throw day" outing rather than a full blown start. Right now, Happ lines up to start the Wild Card Game on normal rest with Masahiro Tanaka lined up on two extra days rest.