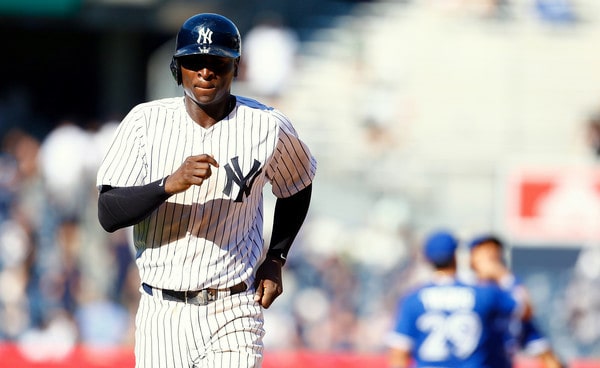 The 2018 season just ended and already the 2019 Yankees have suffered a major loss. Didi Gregorius needs Tommy John surgery. He hasn't had the surgery yet, but he does need it, and he'll have it soon. The rehab is expected to keep him out until sometime next summer. That is not a great way to start the offseason, folks. Here are some thoughts.
1. The typical Tommy John surgery rehab timetable is 6-9 months for position players but that does vary by player and position. Catchers need more rehab time than outfielders, for example. Gleyber Torres had his Tommy John surgery in June and was more or less ready to go by January, though he had surgery on his non-throwing elbow, which is a different animal. Gregorius needs surgery on his throwing elbow. Jay Jaffe did some digging and found that middle infielders who had Tommy John surgery on their throwing elbow missed ten months, on average. That puts Gregorius on track to return next August. Tony Womack returned in six months. Rafael Furcal was out 15 months. Mets utility man T.J. Rivera had Tommy John surgery last September and missed the entire 2018 season with setbacks and whatnot. There's a wide range of possible outcomes here. Point is, no one really know when Gregorius will be back. There is a chance — a pretty good chance, really — he will play next season. Possibly even as early as May or June. That seems to be the best case scenario. More than likely, the Yankees and Gregorius are looking at a return around the All-Star break, maybe even later than that. That's a major bummer.
2. Given the nature of the injury and the uncertain rehab timetable, the Yankees have to proceed this winter as if they won't have Gregorius at all next season. Plan on not having him and, if he returns at some point, great. But the Yankees have to plan around the worst case scenario. Betting on internal options like Tyler Wade or Ronald Torreyes until Gregorius returns would be a mistake, and I like Wade and Torreyes. Torreyes is a nice utility guy and Wade has more to offer than what he's shown to date. But yeah, the Yankees have to do something here. They can't bank on Gregorius returning early in the season and not missing a beat. Gleyber's versatility allows the Yankees to look for a shortstop or a second baseman this winter, which gives them more options. My preference would be to find another shortstop and keep Torres at second, though that is much easier said than done. Quality shortstops are hard to find. The good news ("good" news) is the timing of the injury. Sir Didi's elbow didn't give out in Spring Training or during a late offseason workout. He's having surgery in October, before the postseason even ends, so the Yankees have the entire offseason to go out and find a middle infield solution. This isn't something that will pop up and surprise them in January or February or March.
3. So I guess this is where we talk about Manny Machado, huh? Machado is either the best or second best free agent on the market this winter — he and Bryce Harper are essentially 1 and 1A — and it is entirely possible the Yankees were planning to pursue him aggressively even before the Gregorius injury. (Remember, they did try to get him at the trade deadline.) Sign Machado, put him at third base, move Miguel Andujar elsewhere (first base? left field? trade for pitching?), then profit. Now the Yankees need a shortstop. Machado is a shortstop, or at least he considers himself a shortstop. He did not look good at the position while with the Orioles. It seemed like every time a ball was hit his way, he was on the ground. Machado has been better defensively with the Dodgers — Ken Rosenthal (subs. req'd) recently wrote the Orioles are miffed players perform better after leaving the team — to the point where keeping him at shortstop in the short-term seems viable. Earlier this year it looked like a return to third base was in everyone's best interests. I don't know what the years and total dollars will be, but I do know Machado is going to be a $35M+ per year player. That's the market right now. He could very well wind up a $40M per year player. I think $35M annually is his floor though, and I don't think the Yankees are going to make a $35M per year decision based on another player getting hurt. This is one of those things that happens more in video games than reality. "A player got hurt? Better go sign that free agent to a massive contract to replace him." That sorta thing. If the Yankees were already planning to pursue Machado, then nothing's really changed. If the Yankees weren't planning to pursue Machado, or at least not go all out to sign him, I don't think the Gregorius injury changes their plan much. Giving Machado a couple hundred million bucks was never going to hinge on Didi's health. That was always going to be a money decision rather more than a roster needs decision.
4. One non-Machado name to keep in mind: Josh Harrison. The Yankees were connected to him a bunch last offseason (the last few offseasons, really) and the Pirates are expected to decline his $10.5M option, making him a free agent. In fact, the Pirates pulled Harrison mid-inning in their home finale a few weeks ago so the crowd could give him an ovation, so yeah, they're declining the option. Harrison did not have a good 2018 season (.250/.293/.363 and 78 wRC+) but he is one year removed from a .272/.339/.432 (104 wRC+) batting line and is regarded as a good defender who can play pretty much anywhere. (Harrison went from 23 hit-by-pitches in 2017 to five in 2018, dragging down his OBP. Last winter I mentioned his reliance on hit-by-pitches to prop up his OBP worried me.) I don't think Harrison would be Plan A or even Plan B. He seems like someone the Yankees could pick up with an eye on filling in at second base (with Torres at short) until Gregorius returns before sliding into a true utility role the rest of the season. I don't love it and I would prefer to see the Yankees aim higher when searching for a Gregorius replacement. Harrison just seems like someone to watch this offseason. The Yankees reportedly liked him enough to pursue him in trades the last few years, but not enough to give in to Pittsburgh's demands. Now that he's available for nothing but cash, they could pounce.
5. Something I could see happening quickly: Adeiny Hechavarria re-signing with the Yankees on a minor league contract. Hechavarria is a great defensive player but he can't hit (.246/.283/.347 and 68 wRC+ the last three years) and similar all-glove/no-bat middle infielders like Darwin Barney, Danny Espinosa, Ryan Goins, Cliff Pennington, and Ruben Tejada inked minor league contracts last offseason. It's possible some team will step forward with a guaranteed Major League contract — the Royals gave Alcides Escobar a one-year deal worth $2.5M last winter for some reason — and one team is all it takes, so maybe Hechavarria and his camp will wait things out in the offseason. I could see the Yankees pushing to get this done soon. A minor league deal with a base salary around $2M at the MLB level (plus incentives for games played?) with an opt-out at the end of Spring Training seems possible here. Before the Gregorius injury, I didn't think there was much of a chance the Yankees would retain Hechavarria. He was a useful late season pickup who didn't seem to have a spot on the normal 25-man roster from April through August. The Didi injury changes the equation though. Hechavarria is no great shakes by any means, but, if the Yankees can bring him back on a no risk minor league contract, they'll at least be able to move forward knowing they have a defensive whiz at shortstop in their back pocket should they strike out on the free agent/trade market.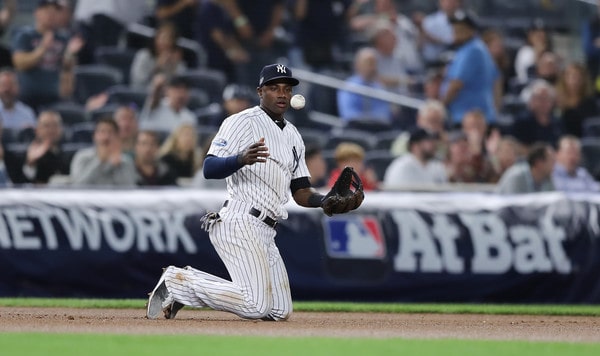 6. Some rapid fire thoughts on other potential middle infield targets: Daniel Murphy can hit righties but can't really play second base anymore, and I don't think the Yankees want another disaster defensive infielder after living through the Andujar experience this year. Brian Dozier is a very good defender whose offensive game has really slipped the last year or two. The name value is greater than the on-field value at this point. Jed Lowrie, Asdrubal Cabrera, and Logan Forsythe are boring yet perfectly cromulent second base possibilities. I hope the Yankees aim higher. I suspect Eduardo Escobar and Marwin Gonzalez will get larger than expected multi-year contracts as super utility guys and I'm not sure the Yankees want to spend big on a Gregorius replacement not named Machado. DJ LeMahieu is a sleeper option. He's great defensively at second base and he's a high contact hitter. It is fair to question how much he'll hit outside Coors Field though. The last three seasons LeMahieu has hit .345/.411/.479 (110 wRC+) at home and .277/.330/.405 (96 wRC+) on the road. Eh. Would the Brewers trade Jonathan Schoop so soon after acquiring him at the deadline? They gave up some pretty good prospects to get him. (Sonny Gray for Schoop?) The Orioles are presumably open for business and Jonathan Villar could be a target. He played well for them last season and is a major stolen base threat. The Yankees have been connected to Derek Dietrich a bunch over the years and he could be an option, though he hasn't played much second base the last few seasons. The Phillies are said to be planning "significant changes" this winter and I'd be very open to a Cesar Hernandez trade. Hard pass on Addison Russell, who seems destined to be traded this winter.
7. I don't think it'll happen but I don't think non-tendering Gregorius is as outlandish as it may seem on the surface. Matt Swartz and MLBTR posted their annual salary arbitration projections last week and their (very) accurate system pegs Gregorius for a $12.4M salary in 2019. If, once surgery is complete, the prognosis has Gregorius returning sometime in August or September, the Yankees could non-tender him and use that money elsewhere. It would be somewhat similar to the Nathan Eovaldi decision two years ago. Eovaldi blew out his elbow with one year of control remaining, and rather than pay him a pretty good salary to rehab in 2017 only to have him become a free agent after the season didn't really make sense. It was money for nothing. Gregorius is expected back next season, possibly not until late in the season though, and the Yankees may decide getting less than two months of Sir Didi is not worth that projected $12.4M salary, especially since he'll be a free agent after the season. Plus he's probably going to need some time to get back up to speed once he returns. He may play 50 games next year, but the Yankees might only get 30 games of fully healthy and productive Gregorius after the injury. Know what I mean? Like I said, I don't think a non-tender will happen. Gregorius is expected back at some point next year and he is a 28-year-old middle infielder who has established himself as a +4 WAR player. Those dudes are hard to find and you don't just give them away. I just think the chances of a non-tender went from 0% to something like 5% after the injury. Probably not going to happen, but never say never after a major injury and surgery like this.
8. The Yankees have not been particularly aggressive locking up their young players to long-term extensions — they haven't signed a player to a multi-year extension during his arbitration years since giving Brett Gardner his about to expire four-year deal in February 2014 — but, if they were ever going to do it again, doing it with Gregorius this winter would've made sense. He's a comfortably above-average two-way player at an up-the-middle position who is right smack in the prime of his career and is an important figure in the clubhouse. Didi is exactly the kind of guy you lock up and build around, right? Right. The injury changes things though. If the Yankees were planning to explore a long-term extension with Gregorius this offseason, it might be off the table to completely now, only because we have no idea what he'll look like post-surgery. Chances are he'll be fine. Tommy John surgery has a fairly high success rate, even moreso with position players. But what if he's not fine? What if he has complications and misses more time than expected, or his throwing arm is diminished to the point where he can't remain at shortstop? No one wants that to happen but sometimes it does. Gregorius is one year away from free agency and, historically, players who sign multi-year extensions at this service time level get free agent dollars. There is no discount. Perhaps Gregorius would be open to signing a discounted multi-year deal now — a major injury like this can be scary and could push him to take the guaranteed money now rather than bet on himself post-surgery — though he has made some good money already (his career earnings are north of $17M) and he might not be desperate for that big payday. I love Didi and hope he'll be a Yankee forever and ever. That said, I wouldn't blame the Yankees for holding off on a long-term contract until seeing what he looks like after elbow reconstruction. This isn't like getting a tooth pulled. It could change his career outlook going forward.
9. As for Gregorius personally, wow does the injury suck. The injury and the timing. He's gotten better offensively literally every season with the Yankees …
2015: 9 HR and 89 wRC+
2016: 20 HR and 97 wRC+
2017: 25 HR and 107 wRC+
2018: 27 HR and 121 wRC+
… and he's a standout defensive shortstop who has had some huge postseason moments. He replaced Derek Jeter better than I think anyone expected and he's been a controversy-free fan favorite with the Yankees. Unless he signed a long-term extension this offseason, Gregorius was poised for a massive 2019 contract season that sent him into free agency in position to cash in big. Now he won't have a fully healthy contract year and, fairly or unfairly, there will be questions about his elbow next winter. Even if he comes back strong next year and rakes. How will the elbow hold up long-term? How much longer does he have at shortstop? Those sorta things. You know teams will use the injury against Gregorius during contract talks. Sucks. Sir Didi has been a great Yankee these last few years and I was happy he would finally be able to cash in on his success. The Tommy John surgery throws a big wrench into that. Poor guy.