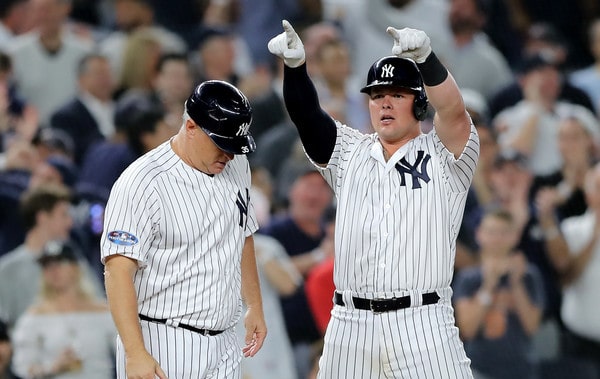 First base has been a glaring weakness for the Yankees over the last three seasons. Mark Teixeira had his last great season in 2015 — he hit .255/.357/.548 (143 wRC+) with 31 homers in 111 games that year — and Greg Bird helped picked up the slack after Teixeira went down with his shin injury that August. That was the last great year at first base in the Bronx.
From 2016-18, the Yankees had 20 (!) different players play at least one game at first base, two more than any other team. Among those 20 first basemen are Dustin Ackley, Billy Butler, Chris Parmelee, and pitcher Bryan Mitchell. The Yankees really scraped the bottom of the barrel, eh? Here are New York's first base ranks the last three years:
AVG: .230 (28th in MLB)
OBP: .306 (26th)
SLG: .426 (25th)
wRC+: 95 (26th)
WAR: +1.9 (27th)
That is turrible. The league average first baseman hit .259/.339/.459 (112 wRC+) the last three years. Yankees' first basemen hit like 2018 Ian Desmond (.236/.307/.422) in almost 2,000 plate appearances during that time. This season their first basemen hit .234/.309/.453 (104 wRC+), which is only slightly better than their aggregate 2016-18 output. First base has been a black hole since Teixeira.
Bird was expected to man first base this past season but that didn't work out. He got hurt and didn't hit when healthy. Backup plan Neil Walker didn't fare well in part-time duty. Tyler Austin had his moments early in the season, for sure, but his production slipped in May and he was traded in July. The Yankees even had Brandon Drury start two games at first base as they looked for a solution.
Enter Luke Voit. Voit effectively replaced Austin as the depth right-handed hitting first baseman — Voit has minor league options remaining beyond 2018 whereas Austin did not, which was a factor in the swap — and he became much more than a depth pickup. Voit took over as the everyday first baseman in late August and hit .333/.405/.689 (194 wRC+) with 14 homers in 148 plate appearances in pinstripes. What a shot in the arm. Let's review Voit's season.
Finding Voit
"He was somebody that was on our radar. Our analytics crew had noticed him early on, and so in a lot of our meetings last year he was someone that we coveted from St. Louis," said Brian Cashman last month. "We finally matched up (at the deadline), but we had a lot of guys in the office … those guys were all pushing his name hard and brought it to me."
The key words there: "last year." The Yankees had Voit on their radar for some time. Cashman added the team's analytics department zeroed in on Voit because he hit the ball really freaking hard. In 124 plate appearances with the Cardinals last year, Voit posted a 41.0% hard contact rate and a 7.2% soft contact rate, numbers that are Aaron Judge-ian. His exit velocity (91.3 mph) was quite strong as well.
Minor league Trackman data (i.e. Statcast) exists but it is not publicly available. MLB and the 30 teams keep it all in-house, which is a bummer, but I get it. Anyway, that information also contributed to the Yankees pursuing Voit. The Yankees saw that he was hitting the ball hard, hard enough to overcome his weak defense at the position at the bottom of the defensive spectrum, and the fact he's on the light side of the platoon. He was worth a shot.
Prior to the trade Voit hit .299/.391/.500 (135 wRC+) with nine homers in 271 plate appearances at Triple-A, and had gone 2-for-11 (.182) with the Cardinals. Matt Carpenter crushed the ball this season and St. Louis didn't have a need at first base. Carpenter's excellence and the presence of Jose Martinez made Voit expendable, and the Yankees pounced. On July 28th, the Yankees sent Chasen Shreve and Gio Gallegos to the Cardinals for Voit and international bonus money.
The Wally Pipping of Greg Bird
On one hand, the Yankees stuck with Greg Bird way too long this year. He hit .199/.286/.386 (81 wRC+) in 311 plate appearances. Awful. Just awful. On the other hand, if the Yankees hadn't stuck with Bird that long, they might not have ended up with Voit, and may've been worse off overall because they replaced Bird with someone else at midseason. The Yankees initially stuck with Bird after the Voit trade too. Voit went right to Triple-A after the trade. He then resurfaced for a quick five-game cameo in early August before heading back to Triple-A.
In the first three and a half weeks after the trade, Voit played five games with the Yankees (3-for-16) and nine games with Triple-A Scranton (9-for-29). Aaron Judge (wrist) and Gary Sanchez (groin) were on the disabled list and had been since prior to the trade deadline, and I was Mad Online the Yankees didn't do more than add Luke Voit.
Inexplicable that Judge and Sanchez were both out and the only bat the Yankees got at the deadline was Luke Voit.

— Mike Axisa (@mikeaxisa) August 6, 2018
Shows what I know. Voit rejoined the Yankees for good in late August, when they went to Miami for a two-game interleague series and wanted an extra bench bat for the National League games. The Legend of Luke Voit began in earnest on August 24th, in the first game of a four-game weekend series in Baltimore. Voit went 3-for-5 with two homers that night. Two days later, he hit another homer. Four days after that, another homer. Two days later Voit started a streak in which he went deep in three consecutive games.
It wasn't just the homers either. Voit played 16 games from August 24th through September 9th and he went hitless in only four of those games. One of the four was an 0-for-1 pinch-hitting appearance. Another was an 0-for-1 with two walks game. The dingers and the raw production gave Voit the first base job outright in September and he finished the season with a flourish. He went 4-for-4 with two homers against the Red Sox on September 19th. From that day on, he went 18-for-43 (.419) with seven homers in his final eleven games of the regular season.
Voit played with a ton of energy and he was, by no small margin, the most productive hitter traded at the deadline. By the end of the season he was taking regular turns as the No. 3 hitter between Judge and Giancarlo Stanton. Voit of course started the AL Wild Card Game and of course had a hand in the win, driving in two insurance runs with a sixth inning triple that damn near left the ballpark.
That was a nine-pitch at-bat against Blake Treinen, who had an absurd season and held right-handed batters to a .123/.206/.166 (.171 wOBA) batting line with a 36.0% strikeout rate. Voit fouled away three two-strike pitches until Treinen make a mistake with the slider, and he punished it. His folk hero status had been cemented. We've seen plenty of guys do great things in small samples during the regular season (Shelley Duncan, anyone?). Have a moment like that in October though, and it's hard for the fans to forget you.
Is This Sustainable?
"This is sustainable. He could be a really good hitter in this league," said Aaron Boone in September. Cashman gave a more diplomatic "hard to answer on (the) sample size" answer when asked whether Voit is legit. I'll say this much: I don't expect Voit to repeat his .333/.405/.689 (194 wRC+) effort going forward. Almost no one does that. Super early 2019 projections have him at .262/.336/.459 (115 wRC+) next year, for what it's worth.
Voit's post-trade production was not a fluke. Not a fluke in the sense that he played way over his head. Voit punished the ball with the Yankees and was rewarded appropriately. A total of 336 hitters put at least 50 balls in play after the trade deadline. Voit's ranks among those 336 hitters:
Exit Velocity: 93.0 mph (sixth highest)
wOBA: .458 (third highest behind Christian Yelich and Mookie Betts)
Expected wOBA: .450 (second highest behind Yelich)
Voit had a 47.3% hard contact rate and a 34.4% ground ball rate with the Yankees. He crushed the ball and he got it airborne. Do that and good things tend to happen, and good things sure happened when Voit was at the plate for the Yankees. His xwOBA, which is based on exit velocity and launch angle and things like that, was right in line with his actual wOBA. Voit was rewarded for the contact he made. He wasn't living off bloops and grounders with eyes.
Given his statistical track record, Voit's ability to hit the ball extremely hard is very real. Say what you want about exit velocity — I know I'm tired of hearing about it after every batted ball — but you can't fake it. You can either hit the ball that hard consistently or you can't. Voit can. He showed the ability to go the other way — his 20.4% opposite field rate with the Yankees was lower than I would've guessed — and work counts. They were professional at-bats, as broadcasters like to say.
There are two things working against Voit going forward. One, he put up the bulk of those numbers in September, and September has a way of playing tricks on you. Call-ups and teams with nothing to play for — there are a lot of teams with nothing to play for late in the season these days — can skew numbers. And two, Voit won't catch teams by surprise next year. They're going to make adjustments and he'll have to adjust back.
In fact, it's already happening. The Red Sox attacked Voit with high-velocity right-handed fastballs whenever possible in the ALDS, and for good reason. They give him fits. Here are some numbers, with the MLB averages for right-handed hitters vs. right-handed pitchers in parentheses:
| | AVG | ISO | xwOBA | Whiffs-per-Swings |
| --- | --- | --- | --- | --- |
| Voit vs. all RHB fastballs | .276 (.259) | .483 (.195) | .558 (.348) | 32.4% (21.2%) |
| Voit vs. RHB fastballs <95 mph | .462 (.275) | .846 (.226) | .800 (.373) | 16.7% (18.5%) |
| Voit vs. RHB fastballs =>95 mph | .154 (.236) | .231 (.144) | .377 (.309) | 45.5% (24.9%) |
Voit's time with the Yankees was a small sample size to start with. Only 148 plate appearances. Now we're slicing and dicing it even more, so take this all with a giant grain of salt. Right now, all we know is that in his limited time with the Yankees, Voit hammered right-handed fastballs below 94 mph and struggled to make contact against right-handed fastballs at 95 mph and above. Moreso than the typical righty hitter. Hence the Red Sox pounding him with righty heaters in the ALDS, and his 3-for-13 (.231) showing with zero extra-base hits.
Point is, Voit hits the ball really hard and that is a skill you can not teach. He has it and it drew the Yankees to him. Whether he can remain productive outside the pathological liar that is September and once the league adjusts to him remains to be seen. His performance this past season happened and it helped the Yankees win games. There's no taking it away. The tools are there for Voit to remain productive going forward. Perhaps not that productive, but productive. Now it's up to him to do it.
What's Next?
Both Cashman and Boone stopped short of naming Voit the 2019 starting first baseman during their end-of-season press conferences, which makes sense. No need to declare an uncertain position settled before the offseason. "He certainly came over here and was given that opportunity and took it and kicked the door in. I'm sure there will continue to be competition on all kinds of levels," Boone said.
At the very least, Voit earned a chance to win a big league job in Spring Training. He's a late-bloomer — Voit turns 28 in February — and the Yankees owe it to themselves to find out whether Voit can be their late-bloomer. Their Nelson Cruz or Jesus Aguilar. Cruz didn't get his first opportunity as an everyday big leaguer until his age 28 season. Ditto Aguilar. These defensive challenged right-handed bats can get written off quickly. Every so often they surprise.
There is a lot of offseason left to go and, even though pitching and a Didi Gregorius replacement are the top priorities, it wouldn't surprise me to see the Yankees bring in another first baseman. Maybe they'll go big and trade for Paul Goldschmidt. That'd be cool. Or perhaps they'll opt for a lower cost pickup to compete with Voit (and Bird?) in Spring Training. Either way, Voit was awesome this year and I expect him to get a chance to prove he can do it against next year.