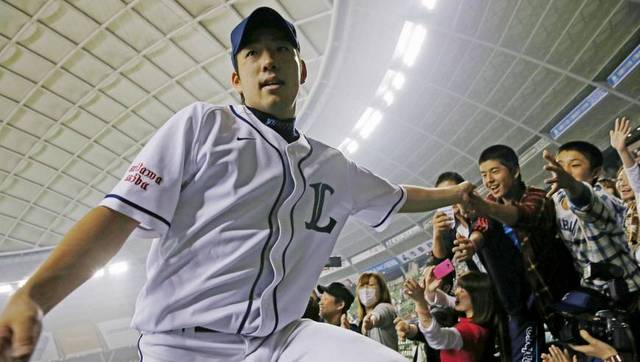 The Yankees came into the offseason needing three starting pitchers. They've since added two: James Paxton and CC Sabathia. Paxton and Sabathia join incumbents Luis Severino and Masahiro Tanaka. Well, Sabathia is an incumbent himself. You know what I mean. Point is, the Yankees needed three starters, they've added two, and that means they still need one more.
"Once we had CC in the fold we felt we had to at least get two more guys back into this as imports, and so obviously Paxton now is one of those," said Cashman during a recent radio interview. "We'll continue our focus on the rotation, whether that's a free agent or trade … I don't know how much longer it's going to take between the free agents or trades and stuff like that, but we're going to stay engaged."
The Yankees have remained connected to the usual suspects (Patrick Corbin, J.A. Happ, Corey Kluber, etc.) since the Paxton trade and I'm sure they've checked in on some not-so-usual suspects (Wade Miley? Gio Gonzalez?) as well. It seems the Yankees have their sights set fairly high though. They're not looking for a back-end innings guy. They want an impact pitcher like, well, Corbin or Happ or Kluber.
Among the other pitchers the Yankees have at least discussed internally this offseason is lefty Yusei Kikuchi of the Seibu Lions in Japan's Nippon Pro Baseball. "I saw film on him during the pro scouting meetings. We talked about that individual," said Hal Steinbrenner recently, which hardly qualifies as interest or an endorsement. Kikuchi will be posted this offseason though, so he's a potential target. Let's dig in to see whether he's a fit for the Yankees.
Background
Kikuchi, 27, flirted with skipping NPB entirely and signing with an MLB team as an international free agent out of high school back in the day. The Yankees were among the teams to touch base with him. NPB is very much against Japanese high schoolers jumping straight to MLB, that's not a precedent they want set, and they were able to convince Kikuchi to stay in Japan. The Lions drafted him and he's been with Seibu ever since. Kikuchi owns a career 2.81 ERA in 1,035.1 innings in parts of eight NPB seasons.
Performance
Because of injuries and general young player struggles, it took a few years for Kikuchi to settle in and establish himself as one of the top pitchers in NPB. Here are his 2016-18 numbers (with a big shoutout to 1.02 – Essence of Baseball):
| | IP | ERA | FIP | K% | BB% | GB% | HR/9 | WAR |
| --- | --- | --- | --- | --- | --- | --- | --- | --- |
| 2016 | 143 | 2.58 | 3.66 | 21.3 | 11.3 | 48.7 | 0.44 | +3.7 |
| 2017 | 187.2 | 1.97 | 2.87 | 29.5 | 6.7 | 50.3 | 0.77 | +6.6 |
| 2018 | 163.2 | 3.08 | 3.50 | 23.4 | 6.9 | 53.2 | 0.88 | +5.6 |
| 2018 NPB AVG | – | 3.90 | 4.21 | 18.6 | 8.5 | 46.9 | 0.97 | – |
Context time! First and foremost, Kikuchi played in NPB's Pacific League, the DH league, so his numbers have not been skewed by facing the opposing pitcher. Secondly, park factors indicate MetLife Dome is the most neutral park in NPB. It is slightly pitcher friendly but not enough to be significant. Kikuchi's park adjusted ERA and FIP this past season were both about 20% better than league average.
Third, there are way more balls in play in NPB than MLB. Generally speaking, the obsession with launch angle has yet to catch on in NPB. Because of that, the league average strikeout rate is still relatively low. Kikuchi's 23.4% strikeout rate this past season was 26% better than league average. That's like an MLB starter putting up a 28.1% strikeout rate.
Fourth, Kikuchi has played in front of some strong defenses. In 2018 the Lions led NPB in UZR (+68.5) and ranked third in Defensive Efficiency (.703). Last year they led in UZR (+41.7) and were second in Defensive Efficiency (+.708). It's hard to know exactly how much that helped Kikuchi — he is high strikeout pitcher, after all — but I reckon it did help to some degree. Just something to keep in mind.
And fifth, Kikuchi did not allow much hard contact in 2018. This past season he had a 27.7% hard contact rate, which is comfortably below the 32.1% league average. Kikuchi had a 34.7% hard contact rate last year and a 31.2% hard contact rate the year before, so this season is the exception rather than the rule. He's been closer to the league average throughout his career. Overall though, the numbers are good. Not overwhelming, but good.
Current Stuff
Relative to pro baseball players, Kikuchi is short and stocky at 6-foot-0 and 220 pounds. Since 1990, a completely arbitrary endpoint, only 15 lefties standing no taller than 6-foot-0 have racked up at least +10 WAR. Huh. Four of them were full-time relievers. Maybe that's why the Yankees traded the 6-foot-0 Justus Sheffield? Eh, whatever. I guess this means height is not on Kikuchi's side.
Anyway, the scouting reports (including this one, this one, and this one) say Kikuchi is a fastball/slider guy who also mixes in a curveball and a changeup. A few weeks ago Jon Morosi spoke to former big leaguer Frank Herrmann about Kikuchi. Here's what Herrmann said about playing against him in Japan:
"When we have faced him, we have hit him pretty well, and that's with a heavy left-handed lineup," Herrmann told MLB.com. "The [velocity] and sharpness of the slider seems to be down from last year. The one positive I've seen from him is that is he's becoming more than a [two-pitch] guy, which he predominantly was last season. He will now flip in a curveball early in the count and uses his changeup to guys that [are] on his fastball. Last year, there was never a need to get away from the [fastball/slider] combo.

…

"They all mention that his work ethic and competitiveness are top-notch," Herrmann said. "It's also known that he really wants to go to MLB and compete against the best."
The comp game is dangerous because it creates unrealistic expectations, but, for what it's worth, Patrick Corbin has been the most common comp for Kikuchi these last few weeks. It fits. They're both lefties who rely heavily on their fastball and slider, and will flip in a curveball and changeup from time to time. Corbin is three inches taller though, which is not nothing. The extra downhill plane helps.
There is not as much velocity in NPB as there is in MLB. Not even close, really. The average NPB fastball clocked in at 89.4 mph in 2018. Kikuchi averaged 91.5 mph and that was the third highest in the league. That's all well and good, but 91.5 mph plays much differently in MLB as it does NPB. The MLB average fastball this past season was 93.2 mph overall and 92.2 mph for lefties. Crazy. A 91.5 mph fastball looks very different to MLB hitters than it does NPB hitters.
That isn't to say Kikuchi can't succeed in MLB with a 91 mph heater. Lots of guys do it, including Corbin. Everything works together and the slider helps keep hitters off the fastball. Here are some numbers on Kikuchi's arsenal over the years:
Fastball
Slider
Curveball
Changeup
%
Velo
R/100
%
Velo
R/100
%
Velo
R/100
%
Velo
R/100
2016
55.9
91.4
-0.24
27.7
82.8
+1.43
10.6
71.2
+1.96
5.8
78.4
+2.03
2017
56.3
92.3
+1.66
28.5
85.6
+1.13
9.3
73.3
-0.40
4.0
81.3
+0.32
2018
48.6
91.5
+0.45
34.7
85.7
+1.16
11.1
74.1
-0.50
5.3
79.3
+0.08
Kikuchi's fastball velocity was down in 2018 compared to 2017, but it was right in line with 2016, so is 2017 the outlier? Also, he used the fastball less than 50% of the time in 2018 — not coincidentally, his slider usage has been ticking up — so he's embracing the anti-fastball lifestyle. Bottom line, Kikuchi has thrown roughly 85% fastballs and sliders the last three years. They are his go-to pitches.
The run values (R/100 is runs above average for every 100 pitches thrown) indicate his slider has been a true plus pitch the last three years. The fastball has been up-and-down — it's not a coincidence his fastball posted its highest run value the year he had his best velocity — while the curve and change have been kinda okay. They've hovered right around average the last two years in small samples.
There are shockingly few videos available of 2018 Kikuchi. Instead, here's video of an August 2017 start in which he struck out eleven and set a new NPB record by throwing a 98 mph fastball, the fastest ever by a left-hander. (I have no idea if the record still stands.) Come for Kikuchi looking nasty, stay for former Yankee Zelous Wheeler striking out three times on three different pitches:
If nothing else, the video shows that Kikuchi threw quite hard at one point and that his slider can be a devastating pitch. The slider Wheeler struck out on at the 0:54 mark is as nasty as any left-handed slider you'll find in MLB. That's an Andrew Miller at his best slider. A slider that good helps a fastball play better than its velocity.
Also, Kikuchi is into analytics, which is pretty cool. Specifically, he uses Trackman data (Statcast) to make sure his mechanics are where they need to be. Here's what he told Jim Allen back in June:
"Now I check each game's data with our analysts, three or four points, my release point, my extension and so on," he said Saturday, a night after he threw seven scoreless innings against the Pacific League-rival Lotte Marines. "It allows me to make adjustments, and as I make adjustments and see how they go in games, I get a sense for where I need to be."

"My release point has been higher recently. I noticed in my game against the Giants (on June 8). It turned out to be 9 centimeters higher than a year ago. I worked on that by tilting my torso slightly and got it down to around 3 cm higher than last year in my last start against Chunichi (June 15). I haven't seen the data for last night's game, but I would bet that in my final inning, I was within a centimeter of the release point I want, which is 167 cm."

"In the past, all I had to rely on was video. This is completely different because just looking at a video didn't give you an exact figure. In the end it was always about feel."
Based on the written scouting reports, the numbers, and the little video we have, Kikuchi works with an average-ish MLB fastball that might even be a touch worse when he goes from the once-a-week NPB schedule to a once-every-fifth day MLB schedule, a knockout slider, and a show-me curveball and changeup. The slider is the key pitch. That's the moneymaker.
Given the difference in styles of play, it is not unreasonable to expect Kikuchi's strikeout rate to tick up once he moves to MLB. All the recent Japanese imports struck out more batters in their first MLB season than they did in their last NPB season:
Masahiro Tanaka: 22.3 K% to 26.0 K%
Kenta Maeda: 21.3 K% to 25.0 K%
Shohei Ohtani: 27.6 K% to 29.9 K%
The consensus is Kikuchi is a notch below Tanaka and Ohtani (and Yu Darvish) and closer to Maeda. Tanaka and Ohtani (and Darvish) were seen as potential aces. Maeda was more of a mid-rotation starter. That's where Kikuchi is believed to fit. A mid-rotation guy rather than a rotation headliner. Mid-rotation starters are important! You need those guys. And hey, everyone could be wrong. Maybe Kikuchi will be an ace. It seems he'll be something less than that though.
Injury History
MLB injury data is readily available. NPB injury data is not. Kikuchi does have an injury history — an arm injury history at that — and here's what I've been able to piece together:
2010: Missed entire season with shoulder trouble.
2013: Missed part of the season with shoulder trouble.
2016: Missed two months with a right side injury.
2018: Missed time with shoulder tightness.
When the Yankees made the Paxton trade last week, he said the "good news, so far, is all the injuries I've had haven't reoccurred." Kikuchi's injuries have been reoccurring. He's missed time with shoulder problems in three different seasons now, including 2018, and they date all the way back to 2010. The side injury seems to be one time thing. Maybe he pulled an oblique or something? It happens. Ongoing shoulder trouble though? Eek.
I guess the good news is Kikuchi has not had surgery, as best I can tell. Once you start cutting into shoulders, things get messy. I've said this countless times before and I'm going to say it again: The best predictor of future injury is past injury. A guy like Kikuchi, who's had shoulder trouble throughout his career, is probably going to have shoulder trouble again at some point going forward.
It's worth nothing that, according to Joel Sherman, Kikuchi came to the United States two weeks ago to take a pre-signing physical. That's standard nowadays. Tanaka, Maeda, and Ohtani all took a physical before being posted. That allowed teams to review their medical information up front and also save time later. The two sides won't have to squeeze in a physical before the end of the negotiating period. Kikuchi's shoulder will surely be scrutinized.
How Does The Posting System Work?
Late last week the Lions announced Kikuchi will be posted on Monday, December 3rd, and his 30-day negotiating period will begin on Wednesday, December 5th. It'll end on Thursday, January 3rd. "My talks with my agent are moving forward, and we've concluded this is the best day to do it," said Kikuchi to the Japan Times last week.
The posting system has undergone several revisions in recent years that have made it more favorable to MLB teams and more favorable to the player. NPB teams got hosed. Now the player gets 30 days to negotiate with all 30 teams like a true free agent. And the release fee, rather than be set by the player's former team in Japan, is now a percentage of his contract. The release fee breakdown:
Contract worth $25M or less: 20% of total guarantee
Contract worth $25M to $50M: $5M plus 17.5% of guarantee over $25M
Contract worth $50M or more: $9.375M plus 15% of guarantee over $50M
Additional 15% of all bonuses and escalators earned, and options exercised
Let's say that, hypothetically, Kikuchi signs a six-year deal worth $60M with $5M in bonuses per season and a $15M club option for a seventh year. The Lions would receive a $10.875M release fee up front ($9.375M plus 15% of the guarantee over $50M) plus potentially an extra $750,000 per year (15% of the $5M) if he maxes out his bonuses. And, if the $15M option is exercised, that's another $2.25M down the line (15% of the option).
Long story short, Kikuchi will be able to negotiate with any team for a 30-day period, and the team that signs him has to pay a release fee as laid out above. Every team can afford it. They're just really good at pretending they can't. As far as the Yankees are concerned, only the contract counts against the luxury tax. The release fee does not. The same was true with Tanaka back in the day.
Contract Estimates
I don't think any of the recent Japanese imports set a contract benchmark for Kikuchi. Tanaka was very highly regarded and that led to a seven-year, $155M contract. Maeda settled for eight years and $25M guaranteed with $81.5M (!) in workload bonuses due to a preexisting elbow injury. Ohtani was limited to a minor league contract because his age made him subject to MLB's international spending rules. None fit as a Kikuchi benchmark.
It's possible Hyun-Jin Ryu's original six-year, $36M contract with the Dodgers could serve as a contract benchmark for Kikuchi, but keep in mind that contract was negotiated under a different posting system. Los Angeles placed the high bid for Ryu's negotiating rights and he could only talk to them. He had limited leverage. Here are some Kikuchi contract estimates:
Two very different predictions! One is basically double the other in terms of annual salary. Split the difference and it's five years and $10M per season. That would be a bargain for a 27-year-old lefty with a swing-and-miss slider who put up Kikuchi's NPB numbers in MLB. Kikuchi didn't put up his numbers in MLB though. He put them up in NPB and there's an element of the unknown here. And there's his history of shoulder trouble too.
I should mention that, because he was subject to the international spending rules, the Angels will get six years of control with Ohtani like any other rookie. I don't believe that will be the case for Kikuchi, however, because he is not subject to those international rules. My reference here is Tony Barnette. Texas acquire Barnette from the Yakult Swallows through the posting system in December 2015 and signed him to a two-year deal with an option. They declined the option last offseason and he became a free agent despite having only two years of service time.
Because of that, I think Kikuchi will become a free agent after the contract he signs this winter expires regardless of service time. If he signs a four-year deal, he'll become a free agent in four years, etc. Not counting Ohtani, five NPB starting pitchers have come to MLB through the posting system. All five received at least four years and four of the five received at least five years. Kikuchi's going to get good term this offseason. His contract will have some length to it. The dollars? Who knows.
Does He Make Sense For The Yankees?
Man, I don't know. On one hand, a 27-year-old southpaw who misses bats would fit nicely into that open rotation slot. Especially since his contract could be (will likely be) a bargain compared to what a similar MLB pitcher would get in free agency. Even if Kikuchi is a third or fourth starter long-term, a guy who settles in around +2 WAR per year, that's someone worth bringing into the organization. Those guys are tougher to find than you'd think.
On the other hand, Kikuchi has no MLB track record and a history of shoulder problems, and that's always scary. And the Yankees wouldn't just be bringing him over into MLB either. They'd be bringing him into Yankee Stadium and the AL East, and that might be the most pitcher unfriendly environment in baseball. Every pitcher is risky. Kikuchi carries additional risk given his injury history and lack of an MLB track record. For a guy who might top out as a mid-rotation starter, it might be a little too much risk for a win now team.
The Yankees did scout Kikuchi this past season. How much? We don't know, exactly. The Yankees were all over Tanaka in the weeks and months leading up to his posting. The rumors started in May 2013, eight months before Tanaka was actually posted. We haven't seen nearly as many reports about Kikuchi now as Tanaka back then. That doesn't mean the Yankees aren't interested in Kikuchi. It just means there are fewer reports about it. They might be keeping things closer to the vest.
Also, we don't know anything about Kikuchi's preferences. Does he want to go a contender? The West Coast? A small market? Wherever the largest contract offer comes from? I'm not sure anyone except Kikuchi, his family, and his agent (Scott Boras), know that. As we learned with Ohtani last year, the Yankees could be ruled out before the chase even begins. Kikuchi may prefer an entirely different situation. I guess we'll find out.
Personally, I prefer signing Corbin or even Happ to signing Kikuchi. I am intrigued by the possibility of nabbing a younger Corbin on a smaller contract, but, ultimately, the history of shoulder trouble scares me, and I think the Yankees need more of a sure thing. They are ready to win and need players they are reasonably certain can help them win right now. Kikuchi is too much of an unknown for my liking.