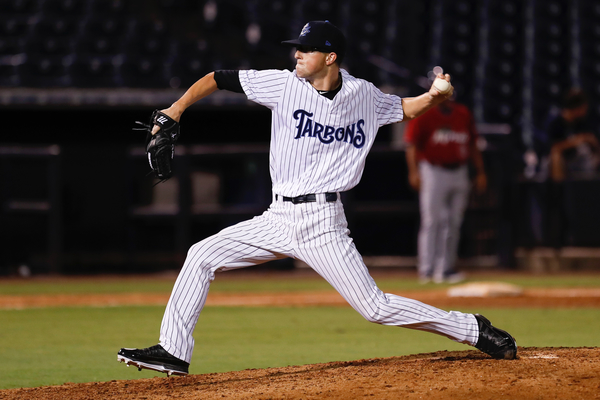 Have we mentioned before that the Yankees are hoping to snag two relievers to fill the voids left by Zach Britton and David Robertson? I imagine so, but you can never be too sure.
As of this writing, several of the higher-end bullpen options have signed – Jeurys Familia with the Mets, Joe Kelly with the Dodgers, Andrew Miller with the Cardinals, and Joakim Soria with the A's – but there are still plenty of intriguing options out there (including the aforementioned Britton and Robertson). It's way too early to worry about the Yankees missing out on a top reliever or two, but it's never to soon to peruse the system and see what sort of help they may have waiting in the wings. So let's take a look at four relievers that aren't too far from the show.
Phillip Diehl, LHP
2018 Stats (High-A & Double-A) – 75.1 IP, 36.2 K%, 7.7 BB%, 2.87 ERA
The 24-year-old Diehl was drafted in the 27th round back in 2016, and he has been nothing but terrific since making his professional debut. He has a 2.78 ERA in 194.1 professional innings, and is equally effective against righties and lefties, which is a great sign (even at such low levels). Here's a peak at his approach:
Diehl is a two-pitch reliever, working with a low-90s four-seamer and a low-80s slider, which he throws at about a 60/40 split. The slider, when it's on, has excellent movement, and is a true swing and miss offering. As you can see from the video he throws from a three-quarters slot with a bit of crossfire, so he hides the ball fairly well, which makes the velocity play up a bit more. And it helps against righties, too. It's not elite stuff, but he's far from a junkballer.
There's a non-zero chance that Diehl could add some weight and some velocity, given that he's 6'2″ and relatively slim, but it's far from a guarantee. And, in the Yankees organization, that uptick in velocity tends to come sooner rather than later. With more velocity, he could be an serious asset in the bullpen. As-is, I think of him more as a middle reliever than a late innings type – and that's just fine.
Raynel Espinal, RHP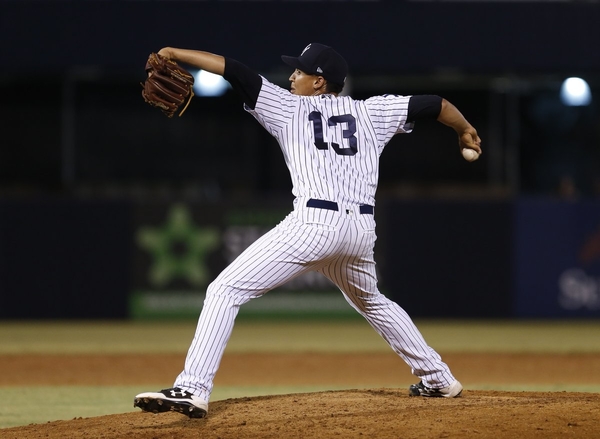 2018 Stats (Triple-A) – 67.0 IP, 33.1 K%, 9.1 BB%, 3.09 ERA
Espinal is the old man on this list, having turned 27 a couple of months ago. He has been in the Yankees organization since signing out of the Dominican Republic in 2013, posting a 3.04 ERA, 29.2 K%, and 6.8 BB% in five full seasons. The Yankees tried him out as a starter in 2016, but the results were ugly (4.63 ERA), and the experiment was scrapped thereafter.
In terms of stuff, Espinal has the classic reliever profile with his low-to-mid 90s fastball and big-breaking mid-80s slider. Both pitches have big-time movement, and his 14.5% swinging strike rate was among the best at Triple-A last year. There are reports out there indicating that Espinal's pure stuff is legitimately above-average, which would suggest that his ceiling may be a bit higher than the other arms on this list. However, his delivery is somewhat open, which removes any semblance of deception … which makes him the opposite of the aforementioned Diehl, in a way.
Espinal is probably the most MLB-ready reliever that the Yankees have and, as he was invited to Spring Training last year, he might just have an inside track to the show in 2019.
Joe Harvey, RHP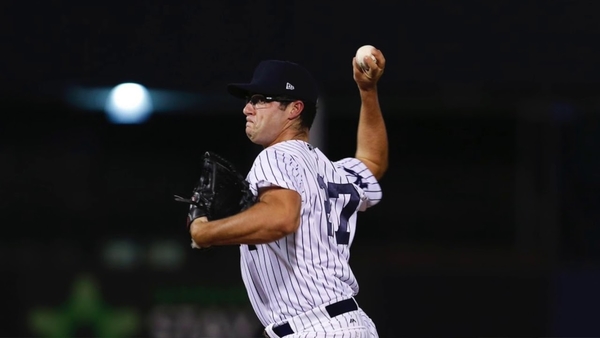 2018 Stats (Double-A & Triple-A) – 59.1 IP, 29.1 K%, 10.7 BB%, 1.67 ERA
Mike wrote about Harvey a bit over a month ago, when he was somewhat surprisingly added to the 40-man roster in advance of the Rule 5 draft. The important stuff, for our purposes:
Harvey, 26, was the Yankees' 19th round pick in 2014. He was a trusted late-inning reliever for Triple-A Scranton this past season, throwing 54.1 innings with a 1.66 ERA (2.49 FIP) with a very good strikeout rate (28.5%) and an okay walk rate (9.8%). He's a mid-90s fastball guy with a curveball and something resembling a changeup. Classic reliever profile.
Harvey is one of those minor leaguers that leaves fans wondering when he'll get the call to the show. He has amassed 144 IP in parts of five seasons, with an excellent 1.75 ERA, and has only once finished a year with an ERA above 2.00. Of course, minor league numbers don't mean nearly as much as the process that yielded the results – but the Yankees likely love the process, too:
Harvey had great numbers with the RailRiders last year. He's got a fastball with a high spin rate that the Yankees love. https://t.co/IkEGLrJDnx

— Conor Foley (@RailRidersTT) November 20, 2018
Harvey probably isn't an elite reliever, either, but he's knocking on the door to the majors, and the Yankees clearly like him. If I had to pick one of these guys to spend most of the season in the Bronx, it'd certainly be him.
Matt Wivinis, RHP
2018 Stats (High-A & Double-A) – 56.0 IP, 34.5 K%, 6.7 BB%, 2.41 ERA
The 25-year-old Wivinis was signed as a non-drafted free agent in October of 2016, after posting an excellent 1.59 ERA in 39.2 IP in the independent Frontier League. He was dominant in 2017 (0.88 ERA and 46 strikeouts in 30.2 IP) between Rookie Ball and Single-A, and that brilliance continued in 2018. He was quite good at this year's Arizona Fall League, as well, posting a 1.50 ERA in 12 IP. It's a short track record of success, to be sure – but his results have been outstanding.
Wivinis is more of a pitchability reliever than the other guys on this list, however, working with a low-90s fastball, a mid-80s change-up, and a low-80s slider:
It's not overwhelming stuff. However, it is worth noting that he's another spin rate guy,
with all of his pitches purportedly boasting above-average rates
. With solid control and three pitches that move, it's not too hard to see him being successful in a middle relief role. He might not be a stud, but there's more here than meets the eye.