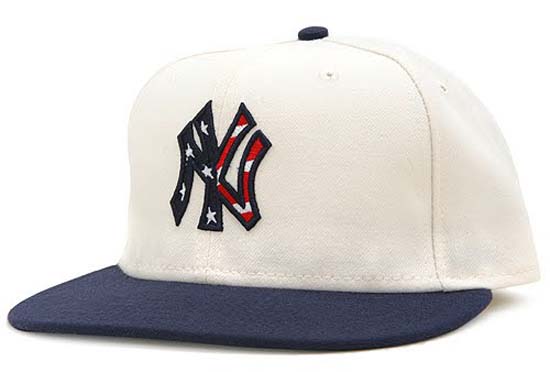 There was so much discussion on yesterday's post about what not to wear that I felt it was absolutely necessary to do a sequel. I wasn't clear where I should have been, and people brought up some questions that I wanted to answer and arguments that I felt needed to be refuted. After all, there is nothing more important than dressing well for the game, short of winning.
Hats
First of all, I don't care how old you are, how young you are, if you're purple, black, green, gray, or white. I don't care if you're a girl, a guy, or you identify as some other gender. I don't care if you're from New Jersey, New York, Alaska, the moon, California, or France. Not taking the sticker off your cap looks dumb. If I saw Derek Jeter wearing the sticker on his cap, I would first stare with huge eyes, then turn to the person next to me and go, "Oh my god, Derek Jeter looks like a total moron with the sticker on his cap."  No stickers on caps. For anyone. Ever.*
I realized afterwards that all the caps I posted were $35+ and up. You might have tight finances and still want a proper Yankees hat, so I'll propose another option. Now, granted, I haven't been to New York City in about four years now (this sucks), so maybe this assumption is wrong, but aren't there those shifty stands run by people that sell bootleg Yankees caps for $5 or $10? Did I just make this up? Do they only sell hideously ugly oil spill caps? Did I just superimpose Oakland on New York (I'm so sorry)? Those caps tend to be black and white or navy and white. Cheap and fashionable, the perfect combination!
A few additional notes on hats:
The 2010 Memorial Day hats are a solid maybe. Go for it. The Yankees one is nice, but I'd be careful picking a team indiscriminately. Much like the quality of baseball, some of them are not as good.
Rally caps are okay in extra innings only.
You can wear your hat sideways if you are seven years old or younger. It's cute. If you're 35? Not cute.
Wearing your hat backwards is a maybe leaning towards no.
Adjustable caps due to ponytails are totally acceptable.
Jerseys
Again, there are financial ways to get a good jersey. There are plenty of fake jerseys you can buy from China for $20. A simple googling displays plenty of jerseys that are close to the authentic jerseys. Here's some. They've got lots of numbers, home and away, and all for the low, low price of $21 plus shipping. Combine that with your street-bought cap, and you're correctly dressed for the game for $30, give or take shipping and tax. Even someone living on a shoestring budget should be able to scrape that up, right? And if not, I don't know if I'd advise going to too many baseball games.
There's a lot of discussion on whether the named jerseys for the Yankees are okay or not. Well, I've decided that they're acceptable stadium wear, but not advisable. Like above money-related issues, you might want to divide up your finances. Say you've got $200, but you want both a Rivera and a Posada jersey. If you're looking to get both authentics, you're out of luck. However, if you can tolerate the names, you're in business! The Jeter replica jersey will cost you a cool c-note, where the nameless authentic is almost double. Can't blame a guy for not wanting to drop an extra hundred bucks to lose fabric.
Alternately, if you do not want a fake jersey and can't afford an authentic/replica, I would suggest a player-customized shirt, sometimes known as a shirsey. Even if you pick these up from MLB.com and they cost only $25 or so. You can also get them customized for an additional $10, give or take. The great thing about these shirts is you can wear them everywhere. Jerseys aren't really good everyday wear, but you can't lose with a t-shirt. Looking for an affordable piece of clothing you can wear in and out of the ballpark? Look no further.
I had a couple of specific questions that I'd like to answer before I wrap up Fashion Weekend on River Ave. Blues:
Rodriguez jerseys are stability jerseys. The guy's not going anywhere, and he'll be good for a while, probably.
I had a tough time deciding on Cano.  While I do truly believe he is going to be a great player for a long time, he's still in the trendy jersey category.
I hope you all had as much fun with this like I did.
(*Mariano Rivera can wear the sticker on his cap if he wants, because he's freaking Mariano Rivera.)