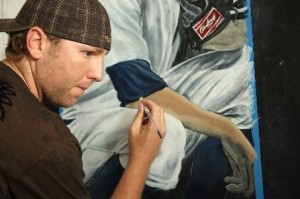 Yankee fans aren't too fond of Brett Tomko – the 12th pitcher on the staff – these days. After all, he allowed those two homers in the middle innings that one time. Well, believe it or not Brett's earned a pretty decent living for himself throwing a baseball (B-Ref says he's raked in over $20M in his career), and it looks like he's got a nice career lined up for when his playing days are over.
Tomko, you see, is a rather talented artist. He started copying the comics section of the newspaper when he was five, then stuck with it all through high school and majored in art at Florida Southern. Once he was drafted in the second round by the Reds, everything kind of got put on hold until he got together with Opie Otterstad, a prominent sports artist.
Since then, Tomko's painted everyone from Nomar Garciaparra to Trevor Hoffman to Joakim Soria, and his current project is for fellow reliever Phil Hughes. "You could just see these perfect creases in the jersey," Hughes said. "It's insane. He's really, really good. Some people think he paints, so what? But if you actually see him, it's like, 'Wow, he could do this for a living.'"
Marc Carig of The Star-Ledger wrote all about Tomko and his art today, so make sure you check it. There's even a short video clip showing Tomko working on the painting for Hughes and explaining what goes in to it. Cool stuff, give it a read.
* * *
Feel free to use this as your open thread for the evening. The Braves and Cubs are on ESPN, but the Mets are off. Anything goes, just be nice.
Photo Credit: John O'Boyle, The Star-Ledger