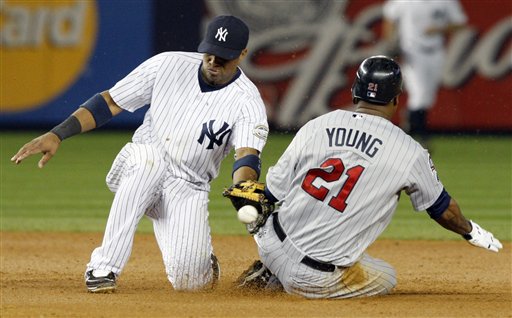 Like every other team in the postseason, the Twins are only going to go as far as their best players take them. Francisco Liriano needs to match the opposing team's ace pitch-for-pitch, Joe Mauer needs to take advantage of whatever opportunities he's given, and Jim Thome has to be that second offensive force. It's imperative that those three do their part, but like everyone else the Twins are also going to need contributions from other players as well.
The Yankees certainly benefited from some unexpected contributions during last season's title run, whether it be Damaso Marte's shutdown relief work or Jerry Hairston spot starting in rightfield, so we know how important complimentary players can be. Here's a few names that they shouldn't overlook when preparing for the ALDS, because if they do, chances are they'll regret it…
Delmon Young
The Twins' lineup certainly features plenty of dangerous lefty bats, but the Yanks are going to be able to counter that somewhat with CC Sabathia in Game One and (more than likely) Andy Pettitte in Game Two. Minnesota hasn't had too many righthanded power bats beyond the good, but not holy crap good Michael Cuddyer to help balance out their lineup over the years, but now they have that extra power righty in Young.
A former first overall pick who didn't turn 25 until just three weeks ago, Young finally started to deliver on his immense promise this season, hitting .298/.333/.493 with career bests in wOBA (.352), homers (21), doubles (46), and strikeout rate (14.2%). He's done a huge chunk of his damage against lefthanded pitchers, posting a .390 wOBA against them in 2010 and .352 for his career. Young will still expand the zone and have poor at-bats on occasion, but he's growing into some more power and mistake pitches are leaving the yard more often than ever before. Sabathia and Pettitte are going to have to make sure they're careful with Minnesota's best righthanded threat.
Brian Fuentes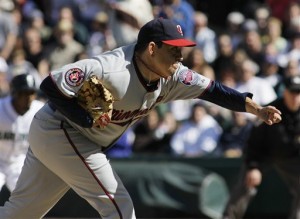 I'm sure at least some of you snickered when you read Fuentes' name, because we all remember him being pretty shaky in the closer's role over the last two seasons or so. Well, Fuentes isn't a closer now, instead shifted to a role that's much more suited to his skill set: lefty specialist. Fuentes crushed lefthanded batters this season, holding them to a .128/.222/.149 batting line and just a single extra base hit. Over the last three years, his dinosaur arm delivery limited lefties to a .196/.258/.234 line, and he's surrendered just two (!!!) extra base hits to same-side batters since 2007 and one homerun since 2006.
Laugh at him for his failures as a closer or for Alex Rodriguez's game-tying blast in last year's ALCS, but the guy is shutdown lefthander that will create some matchup havoc late in games. Marcus Thames, and even … gulp … Austin Kearns are going to have to pull their weight against Fuentes this series.
Danny Valencia & J.J. Hardy
Young isn't the only righthanded bat worth worrying about, the Twins new left side of the infield improved their team immensely in that area as well. Hardy, acquired from the Brewers in the offseason, brings what amounts to a league average bat from the shortstop position, an upgrade over what Orlando Cabrera gave them last season. The defensive improvement is considerable as well.
Valencia, the second half rookie sensation, looks like Alex Rodriguez compared to the dreck Minnesota has run out at the hot corner over the last few seasons. He brings a .351 wOBA from the right side, and like Young he murders lefthanded pitching (.424 wOBA this year). Compare that to Brendan Harris, who (mostly) started at third last year and was lucky to get his slugging percentage over .351, forget wOBA. Automatic outs like Harris, Nick Punto, and Carlos Gomez are nowhere to be found this year, so Yankee pitchers are going to have to be much more careful once they get past the heart of the order.