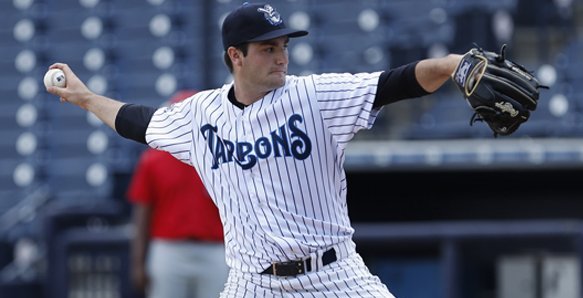 The 2018 Winter Meetings came to an unofficial close earlier today with the annual Rule 5 Draft. It is baseball's way of ensuring players aren't trapped in the minors indefinitely. The Yankees have a fairly deep farm system and it is no surprise then that they lost several players in this year's Rule 5 Draft, mostly in the minor league phase.
Here are the full Rule 5 Draft results. Here are the players the Yankees lost:
Diamondbacks: RHP Nick Green (in MLB phase)
Athletics: OF Mark Payton (in minor league phase)
Cubs: RHP Alex Vargas (in minor league phase)
Phillies: RHP Gilmael Troya (in minor league phase)
Red Sox: RHP Anyelo Gomez (in minor league phase)
Royals: C Chris Rabago (in minor league phase)
As a reminder, players taken in the Major League phase of the Rule 5 Draft have to stick on their new team's 25-man big league roster all next season, or be placed on waivers and offered back to their original team. Players taken in the minor league phase are just gone. There are no roster rules. Those teams get to keep those players.
Green, 23, came over from the Rangers in the Carlos Beltran trade and he is a personal favorite only because he has a funky cutter/sinker hybrid that helped him post to a 66.4% ground ball rate this season, highest in the minors (min. 130 innings). Green threw 132.2 innings with a 3.32 ERA (4.28 FIP) with 17.7% strikeouts and 11.1% walks this season, with most of that coming with High-A Tampa.
The D'Backs are rebuilding, the Paul Goldschmidt trade confirmed that, so I imagine Green will get a long look in Spring Training and have a chance to stick in their bullpen. Jumping from High-A to the big leagues is not easy, especially with a walk rate like that, but Green's funky cut-sinker is a dominant ground ball pitch and he could have staying power as a reliever who pounds away with that one pitch.
Among the minor league phase losses, Payton is the most notable because he's been in the system the longest. The 27-year-old spent most of the last three seasons in Triple-A and hit .259/.368/.401 (120 wRC+) with six homers in 62 games in 2018. A guy like Payton had little hope of cracking New York's outfield in the near future. He has a much greater chance to reach the big leagues with the Athletics.
Going into the 2018 season I ranked Vargas as the No. 30 prospect in the farm system but clearly I overrated him. The Yankees never used him like a prospect this year. The 21-year-old bounced between the rotation and bullpen, from level to level. They sent him wherever an arm was needed, basically. Vargas threw 83 innings with a 4.01 ERA (4.07 FIP) with 14.3% strikeout and 4.6% walks this season, mostly with Low-A Charleston.
Gomez, 25, was selected and returned by the Braves as a Major League Rule 5 Draft pick last offseason. He threw only 7.1 innings with Triple-A Scranton this season before going down with a significant shoulder injury. The 21-year-old Troya showed some promise a few years ago but hasn't taken that step forward. He's yet to pitch above rookie ball. Rabago, 25, was a waiver claim from the Rockies late this year. He played only seven games in the organization, all with Double-A Trenton.
The Yankees did add two players in minor league phase of the Rule 5 Draft, first grabbing righty Adonis De La Cruz from the Mariners. The soon-to-be 24-year-old is a converted outfielder who threw 57.1 relief innings with a 4.71 ERA (2.80 FIP) with 30.2% strikeouts and 7.7% walks in Low Class-A. The Yankees have had some recent success with minor league Rule 5 Draft picks, most notably turning Yefry Ramirez into a tradeable asset, so maybe they can do it again with De La Cruz.
According to Emily Waldon, the Yankees acquired outfielder Tyler Hill from the Tigers after the Rule 5 Draft. Detroit took him from the Red Sox in the minor league phase. Huh. Every year one or two players selected in the Major League phase get traded right after the Rule 5 Draft. I can't remember the last time a minor league phase guy was flipped. Anyway, the 22-year-old Hill authored a .254/.348/.312 (95 wRC+) batting line with one homer and 27 steals in 124 High-A games in 2018. Sox Prospects calls him a "a bat-first, organizational player," so there you go. The Yankees likely sent the Tigers cash or a similar organizational player in the trade.
So, all told, the Yankees did lose an interesting prospect in Green and some upper level inventory in Payton, Gomez, and Rabago in this year's Rule 5 Draft. Green could still be returned. The other three plus Vargas and Troya are gone for good. I can't find a scouting report on De La Cruz but a recently converted position player with a 30.2% strikeout is interesting enough. Hill's an organizational guy who will help fill out rosters. Nothing exciting, but the Rule 5 Draft rarely is.