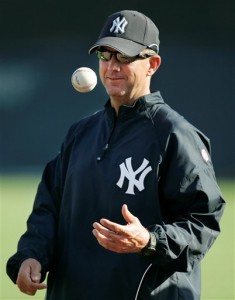 As the Cubs and Red Sox were busy introducing their new President of Baseball Ops and GM on Monday, respectively, the Royals very quietly announced that they had hired Dave Eiland to be their pitching coach. Eiland, of course, filled that same role with the Yankees from 2008-2010, getting the job because he was familiar with the team's young pitchers (Phil Hughes, Joba Chamberlain, and Ian Kennedy) after serving as their pitching coach in the minors.
During his final season in New York, Eiland took a month long and still unexplained leave of absence from the team, forcing bullpen coach Mike Harkey into pitching coach duties for the month of June. Although we still don't know why he had to leave the team, Bob Dutton of The KC Star spoke to Eiland about the absence after the Royals announced his hiring…
Eiland took a 25-day leave of absence for personal reasons stemming from family issues in June 2010 from his job as the Yankees' pitching coach. He was fired after the season and joined the Rays as a special assistant to general manager Andrew Friedman.

"It was something that if it happened in the off-season," Eiland said, "nobody would have known anything about it. It was something I had to take care of. I came home, got everything where it needed to be and moved on.

"All is well, and I couldn't be happier from a personal or professional standpoint. As I told Ned (on Monday), I wish spring training was starting tomorrow."
When the Yankees decided to fire Eiland (technically they didn't fire him, his contract expired and they decided not to renew it) after last season, Brian Cashman would not go into detail about the decision other than to say it was made for "private and personal" reasons. "He knows why [he was let go]", said Cashman. "He was given conditions that needed to be followed. So he knows why." Eiland spent last season with the Rays, scouting amateur pitchers prior to the draft.
Like A.J. Burnett's black eye, Eiland's leave of absence is one of the Yankees' great unsolved mysteries. It was blamed for Burnett's disastrous June last season (11.35 ERA and a 2.26 WHIP in five starts), but after his awful performance carried over into 2011, I think it's safe to say the only person that deserves blame for that is A.J. himself. Eiland may be a public figure, but frankly his personal life is none of our business. We're curious and we can't help but wonder about the juicy details, but as if often the case with these kinds of things, the reason is something a) not all that juicy, or b) better left unsaid.