Tonight Javy Vazquez makes his Yankees debut against the Tampa Bay Rays. Only, it isn't really his Yankees debut. That happened six years ago, on April 8, 2004. Though Vazquez was Joe Torre's No. 3 starter, behind Mike Mussina and Kevin Brown, he didn't start until the fifth game of the season. That was the year the team played two games against Tampa Bay in Japan. Mussina and Brown pitched those, and then pitched the next two games, played a week later, in Tampa Bay. That set up Vazquez, acquired from the Expos that off-season, to start the home opener against Chicago.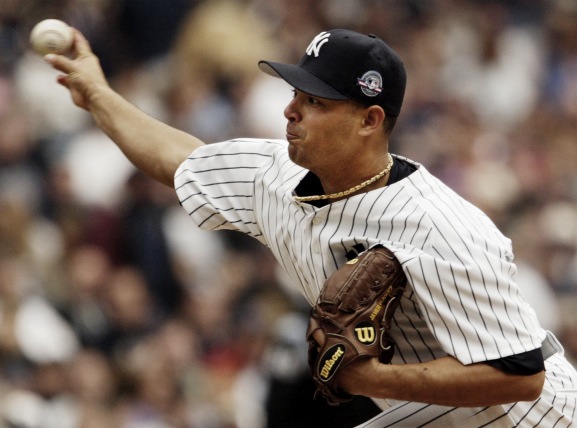 Vazquez had quite a task on his hands. While the top two hitters in the White Sox lineup, Willie Harris and Jose Valentin, were no great shakes, the middle of their order appeared a powerful bunch. Magglio Ordonez, coming off an All-Star season in 2003, hit third. Behind him was Frank Thomas, who had rebounded in 2003 with a .404 wOBA after two sub-standard seasons. A third straight righty, Carlos Lee, came next. A solid hitter during the first five years of his career, Lee was poised for an even better 2004. Paul Konerko hit sixth, though he wasn't long for the spot. He had a poor 2003, but was set to rebound in 2004.
(Strangely, after the lefty Harris and switch-hitter Valentin, Ozzie Guillen's lineup featured seven straight right-handed hitters. Not something you see very often.)
Javy didn't have any troubles to start. Harris flied out to Matsui in left, Valentin struck out swinging, and Ordonez popped one behind the plate. The Yankees went to work in defense of their new pitcher, scoring two runs in the first thanks to Scott Shoeneweis walking two straight to load the bases. With the lead in hand, Vazquez was in control. He worked around a pair of singles, including one by Thomas, in the second, and then avoided damage after walking the speedy Harris in the third.
A one-out walk to Thomas in the fourth proved costly, as tapper by Lee advanced him to second, and then a Konerko single scored him. That, however, was all the White Sox would manage off Vazquez. He retired the next 13 batters he faced, inducing seven ground balls and two infield pop ups while striking out one. The only batter to come close to another hit was Konerko, who hit a fly ball deep to center. Bernie tracked it down, though. With a 3-1 lead in hand, thanks to a Jorge Posada solo homer, Mariano Rivera came on to close it, securing a win for Vazquez in his pinstriped debut.
The Yankees could not have asked for more in Vazquez's first start. He went eight innings, using just 106 pitches to record those 24 outs. Only five White Sox reached safely and only one came around to score. While he struck out only one from the fifth inning on, he struck out four in the first four frames. He also worked quickly, greatly aiding the game's pace. It finished in just under two and a half hours, a great departure from the three games we saw to open the 2010 season.
Tonight Vazquez will face a lineup perhaps tougher than the 2003 White Sox. The middle of the Rays order — which features Ben Zobrist, Evan Longoria, Carlos Pena, and B.J. Upton — figures to be its strongest in years. The top of the order, too, with Jason Bartlett and Carl Crawford, could cause problems for Vazquez. I don't think we can expect anything like the eight innings Javy pitched in his 2004 debut, but I also have faith that he can work through the Rays lineup with minimal damage. I, for one, and pretty psyched to have him back in the rotation.