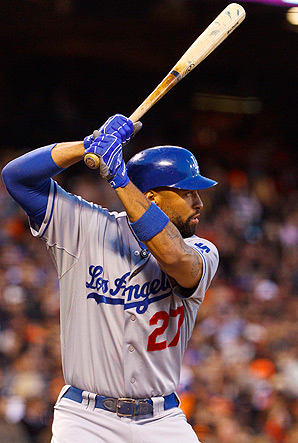 The Dodgers' ownership situation is a total mess at the moment, but that didn't stop the club from locking up Matt Kemp for the better part of a decade. The center fielder and likely NL MVP agreed to an eight-year contract extension worth $160M yesterday, securing the kind of deal that only comes along when 27-year-old center fielders have MVP-caliber seasons. Funny how that worked out.
Many Yankees fans, myself included, were already fitting Kemp for pinstripes since he was due to become a free agent after next season. Nick Swisher's contract also expires then, so naturally the Yankees would just sign one of the very best players in the world to fill the right field void, he'd crush opposite field bombs like this, and we'd all live happily ever after. I had a feeling  the Dodgers would find a way to keep Kemp long-term (it's only a matter of time before they sign Clayton Kershaw long-term as well), but now that dream scenario of signing him after next season is officially the table.
The Yankees still have to figure out what's going on in right field though, because there isn't anyone in the farm system coming up to fill the void and the idea of moving Jesus Montero or Derek Jeter out there is just a pipe dream. The free agent market without Kemp still boasts some star caliber names, but none are as young or offensively dominant as the Dodgers' cornerstone. Josh Hamilton is a great story, but he'll be 32 shortly after Opening Day 2013 and has had major problems staying healthy in recent years. It's fair to wonder how his past substance abuse will hinder his ability to stay on the field down the road. Andre Ethier can't hit lefties (.270 wOBA vs. LHP last three years) and is arguably the worst defensive outfielder in the game. Unless you happen to have a strong affinity for Carlos Quentin or Shane Victorino, there's not much else to see here.
Without Kemp on the market, it's entirely possible that the Yankees' best long-term option in right field is the guy they have out there right now. Swisher certainly isn't without his faults, but he's extremely durable, hits for power from both sides of the plate, and catches everything he's supposed to in the outfield. The Yankees know him (and his medical history) better than anyone else, and he offers a level of certainty that I really don't see in the other candidates. Hamilton is the high upside play, but he could easily turn into the position player version of Carl Pavano. If a reasonable agreement – say three years or so – can be worked out between the Yankees and Swisher, then that is probably the team's best bet with Kemp now a non-option.
Thankfully, the right field question isn't one that needs an answer right now. The Yankees have an above-average player set to man the position in 2012 and twelve months for the market to develop. Trade options could emerge, internal options could emerge, all sorts of stuff can happen. Unfortunately Matt Kemp won't be the answer, but that's okay. That'll give the Yankees more money to spend on pitching anyway.