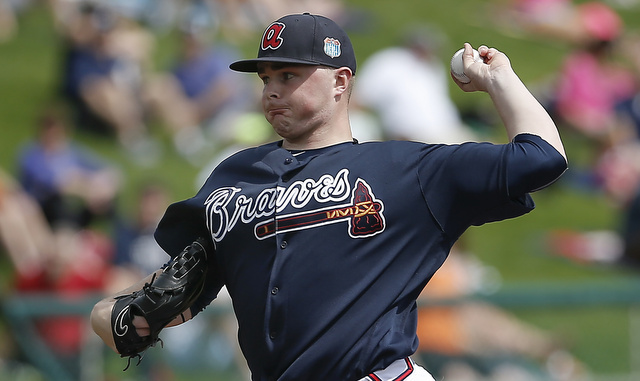 After 20 years and zero World Series wins, the Atlanta Braves are moving out of Turner Field and into brand new SunTrust Park next season. I have some fond memories of Turner Field. There's the 1999 World Series, Derek Jeter being named All-Star Game MVP in 2000, the Frankie Cervelli home run in 2009, the blowout series in 2015 … it was a good place for the Yankees. They're 14-2 all-time at Turner Field, you know.
Anyway, Turner Field is closing its doors next season and the Braves are moving into their new ballpark. They lost 93 games in 2016, but the goal is to be as competitive as possible in 2017, which is why they've already signed R.A. Dickey and Bartolo Colon to bolster the rotation. The Braves are said to be in on Chris Sale, Sonny Gray, and Chris Archer too, among others. And we know they were in on Brian McCann during the summer as well.
The McCann trade rumors have picked up again this offseason. He grew up in nearby Athens and still lives in Atlanta in the offseason, plus he played his first nine seasons with the Braves, so it stands to reason McCann would be willing to wave his no trade clause to go back home. The Braves want his power bat and veteran leadership to guide all their young pitchers through the rebuild. It's easy to understand why any team would want him, really.
Atlanta has a stacked farm system that is especially loaded with pitchers, something the Yankees crave. They reportedly asked for righty Mike Foltynewicz and outfielder Ender Inciarte at the trade deadline, but no dice. Maybe the team's willingness to eat $17M of the $34M left on McCann's contract will be enough to change the Braves' mind. We'll see. Let's take a trip through their organization and look at some possible trade targets. All scouting reports come from MLB.com unless otherwise noted.
LHP Kolby Allard
Background: Allard, 19, was the 14th overall pick in the 2015 draft. He was arguably the top high school pitching prospect in the draft class, but he fell due to a stress reaction in his back that caused him to miss most of his senior season in high school. Allard had a minor procedure following the 2015 season and has been fine since. He had a 2.62 ERA (2.98 FIP) with 26.3% strikeouts and 7.0% walks in 99.2 innings split between rookie ball and Low-A in 2016. MLB.com currently ranks Allard as the 60th best prospect in baseball.
Scouting Report:
"He was throwing his fastball in the 90-94 mph range (in 2015). He's shown the ability to reach back for more in the past. Allard has a plus curve, with some evaluators seeing it as a 70 eventually. He has a feel for a changeup, especially given his age and experience. Allard hides the ball well, with Cliff Lee-like deception, and his fastball has good late life."
Why Should The Yankees Want Him? Allard has a ton of potential even if he doesn't have a true ace ceiling. A polished southpaw with an out-pitch curveball and feel for a changeup, especially at such a young age, has a chance to pitch a very long time in the big leagues. And, as always, quality left-handed starters are always welcome in Yankee Stadium.
Why Should The Yankees Stay Away? There aren't many pure baseball reasons. The biggest concern with Allard is his back. He had the stress reaction last spring, which lingered long enough to require some kind of surgery last November. Also, as a 19-year-old pitching prospect in the low minors, there's still plenty of time for things to go wrong.
RHP Aaron Blair
Background: The Diamondbacks made the 24-year-old Blair the 36th overall pick in the 2013 draft, then traded him to the Braves last winter in the ridiculous Shelby Miller deal. Blair made his MLB debut this past season and it was not pretty. He had a 7.59 ERA (6.15 FIP) with 14.2% strikeouts and 10.5% walks in 70 innings. His Triple-A showing was just okay: 4.65 ERA (3.38 FIP) with 22.6% strikeouts and 10.2% walks in 71.2 innings. Blair shuttled up and down all year.
Scouting Report:
"The Marshall product has three above-average pitches in his repertoire with a good feel for pitching. His fastball can touch 95 mph and will sit in the low-90s consistently. He throws it with movement and sink, generating a good amount of ground ball outs. He's always had a very good changeup and his breaking ball has improved to the point where it, too, flashes above average. He works quickly and tends to go right after hitters, typically not hurting himself too much with walks … He has the makings of a workhorse No. 3 type starter."
Why Should The Yankees Want Him? Coming into the season Blair was a consensus top 100 prospect — MLB.com ranked him 56th and Baseball America ranked him 60th — so the kid obviously has some talent. He had a tough start to his MLB career, but so what? It happens. Blair has three pitches and pitchability, so there are still reasons to believe he can be a solid long-term starter. The Yankees would be buying low on him right now.
Why Should The Yankees Stay Away? We can't completely sweep Blair's terrible 2016 performance under the rug. It happened and there's information to be gleaned from it. Was his fastball command not up to snuff? Did hitters lay off his breaking ball? It's a small sample, sure, but there's still stuff in there that could be a reason to stay away.
RHP Mike Foltynewicz
Background: Foltynewicz, 25, was the 19th overall pick in the 2010 draft by the Astros. They traded him to Atlanta during the 2014-15 offseason in the Evan Gattis deal. Foltynewicz threw 86.2 ineffective innings for the Braves last year (5.71 ERA and 5.05 FIP), though he was much better in 2016. This season he had a 4.31 ERA (4.24 FIP) with 21.1% strikeouts and 6.7% walks in 123.1 innings around an elbow issue.
Scouting Report (from 2015):
"According to Pitchf/x his fastball reached 101 mph in the Major Leagues last season and he routinely throws in the upper-90s as a starter. Like most young flamethrowers, he has had to work on his fastball command and improving the consistency of his offspeed pitches … He has all the tools necessary to start for the Braves if he can harness his powerful fastball. Otherwise, he'll fit well at the back of the bullpen."
Why Should The Yankees Want Him? Foltynewicz does throw really hard — he averaged 95.2 mph as a starter in 2016 — and his array of offspeed pitches include a mid-80s slider, mid-80s changeup, and an upper-70s curveball. It's the kind of power stuff the Yankees love. Foltynewicz has also made some real strikes with his secondary stuff and overall command the last two or three years, so he's improving.
Why Should The Yankees Stay Away? For starters, Foltynewicz missed time with bone spurs at midseason, though he didn't need surgery. Secondly, his non-fastballs still aren't great. The curveball had an average swing-and-miss rate in 2016 and the slider was below-average. Foltynewicz doesn't have a good ground ball pitch, hence his career 36.9% ground ball rate (and 1.50 HR/9). He's a classic good fastball/so-so everything else pitcher, and the Yankees haven't had much luck with those.
OF Ender Inciarte
Background: Once upon a time Inciarte was a Rule 5 Draft pick by the Phillies, but they returned him to the D'Backs and opted to keep Delmon Young on the roster instead. D'oh. Inciarte, now 26, has been a regular for close to three full seasons now, and during that time he's hit .292/.337/.385 (95 wRC+) with 13 homers and 56 steals in just under 1,600 plate appearances. This past season he hit .291/.351/.381 (97 wRC+) with three homers and 16 steals after coming over in the Shelby Miller heist.
Scouting Report (from me):
Inciarte is a left-handed hitting contact machine, with a career 11.3% strikeout rate and an 89.2% contract rate. He's top ten in contact rate since 2014, alongside guys like Michael Brantley and Joe Panik and Daniel Murphy. Inciarte doesn't have much power, he doesn't steal a ton of bases, and he doesn't draw many walks either, so his offensive value depends heavily on his batting average. In the field, he's an excellent defender capable of playing all three outfield positions.
Why Should The Yankees Want Him? The Yankees don't have a hitter like Inciarte, that high-contact lefty who opponents can't shift against. Jacoby Ellsbury was supposed to be that guy, but it hasn't worked out. Inciarte is similar to Ellsbury and Brett Gardner as a low power lefty bat, but unlike those two, his best years probably aren't already behind him. Also, at some point Ellsbury is going to have to move to left field, so the Yankees need a long-term center fielder. Inciarte would fit the bill.
Why Should The Yankees Stay Away? How many of the same player do the Yankees need? Even if they trade Gardner, they'd still be trotting out two defense first, no power outfielders. The Yankees have outfield depth too, including some very highly touted prospects. Add Inciarte to Ellsbury and there's one less spot for Aaron Judges and Clint Fraziers of the world.
LHP Sean Newcomb
Background: Newcomb, 23, was the 15th overall pick in the 2014 draft by the Angels. They traded him to the Braves in the Andrelton Simmons deal last offseason. This past summer Newcomb had a 3.86 ERA (3.19 FIP) with 25.6% strikeouts and 11.9% walks in 140 innings, all at Double-A. MLB.com currently ranks him as the 46th best prospect in baseball.
Scouting Report:
"There were readings of Newcomb's fastball touching triple digits in 2015 and he'll sit in the 94-97 mph range. Big and physical, he maintains that velocity and does so without too much effort. Newcomb's curve has become a plus pitch, one that misses plenty of bats. His changeup gives him a third at least Major League average offering. Newcomb does have to cut down on his walks to reach his ceiling."
Why Should The Yankees Want Him? Again, quality lefties are always good to have when you call Yankee Stadium home. Newcomb is a physically huge guy — he's listed at 6-foot-5 and 255 lbs. — and he's never been hurt, so you're looking at a workhorse southpaw with three quality pitches and above-average velocity. You can be dealt worse cards.
Why Should The Yankees Stay Away? Newcomb has a lot of problems throwing strikes. Has his entire baseball life. Just last season he walked 13.2% of batters faced at Single-A and Double-A. It's not a mechanical problem either. Newcomb has a very smooth delivery and he repeats it well. It's a "throwing strikes is hard" problem. Newcomb has really good size and stuff, but it comes with bad control and basically zero command.
3B Rio Ruiz
Background: The Astros took the 22-year-old Ruiz in the fourth round of the 2012 draft and paid him a huge overslot bonus ($1.85M). He went to the Braves in the Gattis trade with Foltynewicz. Ruiz hit .271/.355/.400 (118 wRC+) with ten homers, 21.8% strikeouts, and 11.4% walks in 133 Triple-A games this year. He made his MLB debut in September and went 2-for-7 (.286) with a triple.
Scouting Report:
"With a smooth swing from the left side and excellent plate discipline, Ruiz should hit for average. He also has more power than he's shown thus far. He goes very well to left-center … While there have been concerns about Ruiz's ability to stay at third, he improved his agility just enough, adding a touch more range that could help him stay at the hot corner."
Why Should The Yankees Want Him? Ruiz is not one of Atlanta's very best prospects, but the Yankees have a long-term opening at third base. I like Miguel Andujar too, but you can never really count on one prospect to be the guy. Ruiz is lefty hitter with plate discipline, two traits synonymous with most successful Yankees teams, plus the presence of Chase Headley means they could send the kid to Triple-A for more seasoning if it's deemed necessary.
Why Should The Yankees Stay Away? There are questions about Ruiz's power potential and ability to stay at third. He's not an atrocious defender by any means, but he's not going to save a ton of runs either, which means he'll draw most of his value with his bat. Yankee Stadium would help Ruiz pop a few more dingers, but he's seen as more of a 10-15 homer guy than a 20+ homer guy long-term. The downside here is a low power first baseman. The upside is an average offensive third baseman with mediocre defense. Meh.
RHP Mike Soroka
Background: The Braves selected the 19-year-old Soroka with the 28th overall pick in the 2015 draft. They jumped him right to Low-A this season, where he had a 3.02 ERA (2.79 FIP) with 21.4% strikeouts and 5.5% walks in 143 innings. That's quite a performance (and workload) for a kid who was nearly four years younger than the average South Atlantic League player. MLB.com currently ranks Soroka as the 90th best prospect in baseball.
Scouting Report:
"The 6-foot-4 right-hander brings an exciting mixture of stuff and feel for pitching to the table … His fastball sits in the low-90s and he commands it well. He can really spin his breaking ball and has a good feel for a changeup. He absolutely pounds the strike zone and could have above-average command when all is said and done. Wise beyond his years, he takes things like nutrition and conditioning seriously."
Why Should The Yankees Want Him? Pretty obvious, no? Soroka already has good stuff and command — he does have to improve the consistency of his breaking ball and changeup, which is typical 19-year-old pitching prospect stuff — plus he's a very driven player who works hard to get better.
Why Should The Yankees Stay Away? Not many reasons, really. Soroka is inherently risky as a 19-year-old pitching prospect in Single-A because there's still so much that can go wrong before he reached the big leagues. That's about it. The tools and pitchability are already there.
RHP Matt Wisler
Background: The 24-year-old Wisler was a seventh round pick by the Padres in 2011, and he developed into one of the best pitching prospects in baseball. Baseball America ranked him as the 34th best prospect in baseball prior to last season. Wisler was the headliner in the Craig Kimbrel trade last year, and in 265.2 big league innings, all with Atlanta, he has a 4.88 ERA (4.88 FIP). This season it was a 5.00 ERA (4.85 FIP) with 17.1% strikeouts and 7.3% walks in 156.2 innings.
Scouting Report (from 2015):
"While Wisler won't overpower hitters, he does have a pair of plus pitches and throws strikes with four offerings. His main two weapons are a 90-95 mph sinker and a changeup with plenty of deception and fade. Both of his breaking balls are effective, with his low-80s slider featuring some tilt and his mid-70s curveball used more to keep opponents off balance."
Why Should The Yankees Want Him? It wasn't too long ago that Wisler was a top pitching prospect, and since the bloom is off the rose now, his value is down. They'd be buying low. Despite the low strikeout rate, Wisler's slider has registered an above-average swing-and-miss rate in the big leagues, plus both his four-seamer and sinker sit comfortably in the mid-90s. The Yankees would be acquiring Wisler and hoping to tap into the potential he showed going into last season.
Why Should The Yankees Stay Away? More than a few reasons. One, that supposedly plus changeup has been a terrible pitch in the big leagues, getting neither whiffs nor ground balls. Also, Wisler has had problems keeping the ball on the ground (career 37.5% grounders) and in the park (1.42 HR/9). At this point we have more than 250 innings of big league hitters telling us Wisler doesn't fool them.
* * *
Here is MLB.com's top 30 Braves prospects list. Their tank job has led to a very deep and very good farm system. One of the best in the game. I picked only eight guys for this post, but there are plenty others the Yankees should consider in trade talks. Just don't expect to get Dansby Swanson, Ozzie Albies, or any of the three big arms the Braves drafted in June (Ian Anderson, Joey Wentz, Kyle Muller).
Unlike Joe Musgrove and the Astros, there's no one with the Braves who jumps out at me as a must-have in a McCann trade. I like the idea of Newcomb because it could just click one day and he'll start throwing strikes, but he's risky. Foltynewicz throws hard and that's about it. I've seen enough Inciartes in my lifetime to know those guys go from WAR All-Stars to barely playable in a hurry. The teenage arms in Single-A are exciting, but they're teenage arms in Single-A. The Braves could offer New York prospects of all shapes and sizes. It's just a question of who much risk they're willing to assume.