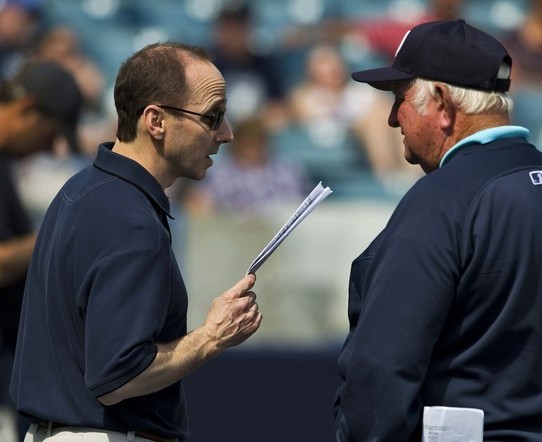 Now that just about all of the Yankees' offseason business has been addressed, we can take one final look at the team's (approximate) payroll for the upcoming season. A lot has happened since we last checked in, most notably the Eric Chavez and Raul Ibanez signings. Brett Gardner, Russell Martin, and Boone Logan have since avoided arbitration as well, and yesterday the Yankees added David Aardsma for good measure. Here's a look at the team's commitments for the 2012 season…
Guaranteed Contracts (21 players, $188.4M): Alex Rodriguez ($27.5M), CC Sabathia ($24.4M), Mark Teixeira ($22.5M), Derek Jeter ($17M), Mariano Rivera ($15M), Robinson Cano ($14M), Rafael Soriano ($11M), Nick Swisher ($10.25M), Curtis Granderson ($10M), Hiroki Kuroda ($10M), Martin ($7.5M), Freddy Garcia ($4M), Phil Hughes ($3.2M), Gardner ($2.8M), Andruw Jones ($2M), Logan ($1.875M), Joba Chamberlain ($1.675M), David Robertson ($1.6M), Ibanez ($1.1M), Cory Wade ($500k), David Aardsma ($500k)
Contracts Pending Physicals (one player, $900k): Chavez ($900k)
Dead Money (three players, $15.75M): A.J. Burnett ($11.5M), Pedro Feliciano ($4M), Damaso Marte ($0.250M)
The money listed is in terms of average annual value, which is what is used to calculate the luxury tax. The players' actual salaries are slightly different in some cases, but nothing crazy.
All told, that gives us $205.05M for 25 players, three of whom will contribute nothing to the team this season. Joba and Aardsma are going to be out until midseason, so that $205.05M is filling 20 roster spots on Opening Day. The other five spots will go to guys making the league minimum — Ivan Nova, Michael Pineda, Eduardo Nunez, Frankie Cervelli, and a mystery reliever — so that adds another $2.5M to our grand total ($500k each). The projected Opening Day 25-man roster will cost roughly $207.55M.
The remaining 15 players on the 40-man roster will cost less than the league minimum since they'll earn a different salary in the minors, but let's conservatively estimate their salaries at $500k each and $7.5M for the group. The brings the approximate cost of the entire 40-man roster to $215.05M. In reality, those last 15 players will end up making something like $4-5M combined, if that. Add in player benefits  — which are typically estimated at $10M and count against the luxury tax — brings us to a $225.05M payroll for luxury tax purposes. Last year the team was taxed on a $212.7M payroll, so at least we're in the ballpark. This year's luxury tax penalty would be $18.82M or so.
Had the Yankees kept Burnett and instead used him as that last mystery reliever, the luxury tax payroll would have been $229.55M assuming they would have still signed Ibanez, Aardsma, and Chavez. I don't know if /how much the Yankees have in reserve for a potential trade deadline addition, and chances are they don't either. That's probably one of those things Brian Cashman brings to Hal Steinbrenner on a case-by-case basis. The roster is pretty much set right now though, barring injury or something completely unexpected. I don't anticipate any significant changes to the 25-man roster or payroll through the rest of Spring Training, and this year's Yankees figure to be the most expensive baseball team in history.