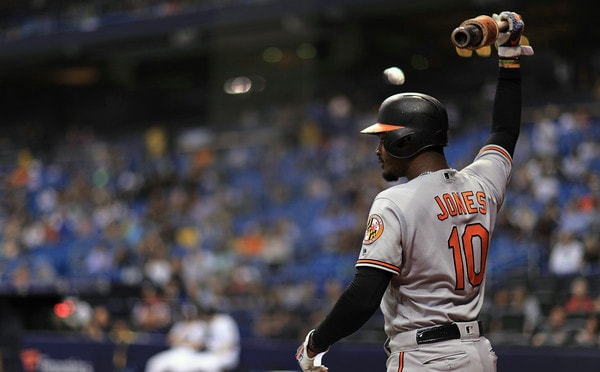 Later tonight the Yankees and Orioles kick off Players' Weekend with the first of four at Camden Yards. They'll play one game today, two games tomorrow, then one game Sunday. Inexplicably, the series finale is an ESPN Sunday Night Baseball game. The 2018 Orioles have to be the worst team ever on Sunday Night Baseball, right? Well, anyway, here are some links and notes to check out.
Orioles called Yankees about Jones
According to Jon Heyman, the Orioles approached the Yankees about a potential Adam Jones trade at some point earlier this month. Jones has cleared trade waivers and can be dealt anywhere, but he has 10-and-5 no-trade protection, and he used it block a deal to the Phillies before the trade deadline. Heyman says there's some belief he'd be more willing to consider a trade to an AL contender. Jones spoke about his decision to block the trade to Philadelphia during a recent R2C2 podcast.
Jones, 33, is hitting .281/.315/.431 (101 wRC+) with 13 home runs this season, which is a typical Adam Jones season. He's an impending free agent and he recently shifted over to right field in deference to center field prospect Cedric Mullins. I'm all in Jones. Good player, great and honest dude. The money doesn't work with regards to the luxury tax plan, but Jones would be a great fit as an Aaron Judge fill-in and spare bat down the stretch. Heyman says the Yankees passed because they expect Judge back soon. Alas.
Rosenthal holding showcase in October
Former Cardinals closer and current free agent Trevor Rosenthal will throw for teams in October, he announced on Twitter. Rosenthal is currently rehabbing from Tommy John surgery. He blew out his elbow late last year and St. Louis non-tendered him over the winter because it was his final season of team control, and there's no sense in paying a dude several million dollars to rehab when he'll become a free agent after the season. The Yankees did the same thing with Nathan Eovaldi in 2016.
Rosenthal, who is still only 28, struggled as he battled elbow woes in 2016 and 2017, but he was a monster from 2012-15, pitching to a 2.66 ERA (2.49 FIP) with 30.5% strikeouts as the top high-leverage reliever on a contending team. Greg Holland's contract with the Rockies last year set the market for a former All-Star closer rehabbing from Tommy John surgery. Colorado gave Holland a one-year deal worth $7M guaranteed that including a player option and bonuses that could've pushed the total value to $35M across two years. It's been a while since the Yankees rolled the dice on one of these injured guys (I think Andrew Bailey was the last?), but I'm sure they'll check out Rosenthal's workout.
Baseball America best tools survey
The crew at Baseball America (subs. req'd) posted their annual MLB Best Tools survey last week, in which managers, scouts, and executives chime in on who does what the best. Several Yankees make appearances on the American League survey:
Brett Gardner: Second best bunter (behind Dee Gordon)
Aaron Judge: Best power, best outfield arm
Aaron Hicks: Third best outfield arm (behind Judge and Jackie Bradley Jr.)
Luis Severino: Second best fastball (behind Chris Sale), third best slider (behind Sale and Trevor Bauer)
Aroldis Chapman: Third best fastball, third best reliever (behind Edwin Diaz and Craig Kimbrel)
Giancarlo Stanton: Second best power
No Dellin Betances among the best relievers? Betances gets no respect. His failures get magnified and his successes are just something people ignore until the next time he fails. I still love ya, Dellin.
Mattingly managing MLB team for Japan All-Star Series
Here's a fun one. According to Kaz Nagatsuka, Don Mattingly will manage a team of MLB All-Stars during an exhibition series against NPB All-Stars in Japan in November. The five-game series will be played in three different ballparks from November 9th to November 15th. The MLB Japan All-Star Series has been played irregularly since 1986. MLB is 48-20 all-time in the series but Japan did win three of five in 2014, the last time they played.
The MLB All-Star roster won't be finalized until "sometime in October or late September," according to MLB vice president for Asia Pacific Jim Small. I am certain MLB wants Shohei Ohtani there. I am also certain they'd like a Yankee on the roster because the Yankees are the sport's most recognizable team. The Yankees are going to the postseason though. It might be tough to get a firm commitment from a player on any postseason bound team in September or early October. The last Yankee to participate in the MLB Japan All-Star Series? Mike Myers in 2006. For real. Jason Giambi and Bernie Williams both participated in 2002.