Yesterday's WPA chart has been deemed too ugly to display on this site. Instead, we bring you: Rocky Dennis!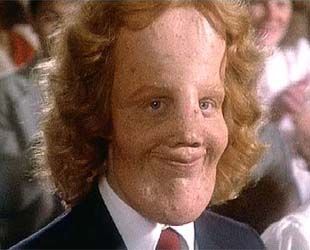 Okay, okay. Here's the WPA chart.

Player
WPA
pLI
Pitcher
WPA
pLI
Matsui
.076
1.80
Henn
.063
0.30
Posada
.066
1.82
Proctor
.037
0.34
Abreu
.026
1.29
Myers
.018
0.43
Cano
.018
1.88
Mussina
-.389
1.03
Alex
.003
1.58
Phelps
-.041
1.29
Minky
-.047
1.80
Jeter
-.057
1.13
Melky
-.083
1.22
Giambi
-.190
1.59
Really, what can you say about a loss like that? Moose looked like shit right from the beginning, and didn't get better as time went on. Even after it looked like he might have been settling in after finishing the first, he opened the second with a walk to Millar. At least Dave Roberts didn't pinch run for him.
We (or at least I) always enter panic mode when we're scored on in the first and don't answer. I can't really explain it, but it every inning just feels longer. So a big thanks to Moose for making the second inning seem even longer. And you knew during the second that he was only going five innings max. Then you pray for the bullpen.
The good news was that I just purchased a monthly pass to MiLB.tv, and Phil Hughes was pitching for Scranton. Chris Basak hit a bomb during the second, which was followed almost immediately by a Moose strikeout. That helped ease the burden…a little.
The next great coincidence came in the second half of the frame. About a minute after Alex smacked a double, Phil Hughes retired his third batter in order: 1-3, K, 4-3. And then Alex scored, and I was a bit happier. Too bad it didn't last longer.
Seriously, by the time the fourth rolled around, my attention was almost completely on the Scranton game. Hughes was rolling, and Eric Duncan hit a shot towards State College to give Hughes a 5-2 lead.
Even after Moose left the game, little good could be taken from it. Yeah, Henn went three scoreless innings and gave Bruney, Farnsworth, and Vizcaino a day off, which will be nice for the weekend. If Moose had gone four innings in an April game last year, the bullpen would have been toast. I'm not sure how Henn's going to hold up over the course of the year, but he sure helped us a ton in the early going. It still makes me cringe to think that it would have been Tanyon Sturtze in that spot last year.
A couple of final notes:
Melky looks like shit. Seriously. The reason I really took to him early last year was that he didn't look over-anxious and would actually take a walk. This year, he's hacking at everything. Meanwhile, even though he doesn't have any walks to show for it, his buddy Robby has been much more selective at the plate. He even takes the first pitch the majority of the time. Can Damon play today?
Alex looked absolutely clueless against Chad Bradford. I don't understand why he didn't just take the first pitch from him. He seems like the kinda guy you don't mind falling behind 0-2, as long as you got a good look at his delivery during those two pitches.
Rob Neyer, who has been railing against Jeter's defense for some time now, makes an astute observation from last night's game (registration required).
I make no mirage of my hatred for Miguel Tejada. So it was quite gratifying to see him make two dumb errors on the same play. The first error — his booting a grounder — was great, but then the over throw (when he shouldn't have been throwing at all) was just gravy.
At least the weather wasn't like it was in Cleveland:

(Hat tip to Lookout Landing)
If Kei Igawa goes six innings today, I promise I'll try to be easy on him, even if he kinda stinks.