I'm sure everyone has heard that tonight's game is a washout. No, they won't play a doubleheader tomorrow.
This, of course, is great news. And it extends beyond the fact that I still get to see Phil Hughes pitch tomorrow night.
First, it allows Andy Pettitte to move back to Friday's start against the Red Sox. Instead of Karstens – Igawa – Wang, the rotation is now Pettitte – Igawa/Karstens (hopefully Karstens) – Wang. They'll be lined up against Matsuzaka – Wakefield – Tavarez. I definitely like the Yankees chances better under this scenario. If the Yanks can pull a repeat performance on Matsuzaka, well, let's just say that Pettitte won't be giving up four straight bombs.
The news gets better, though. The game being rained out means that the Yankees bullpen gets a freakin' full day off! Woo hoo! If Hughes can go six tomorrow, the pen should be decently rested for the weekend series — which will be followed by an off day. And, if the Yankees tee off on Burnett, we can just bring in this guy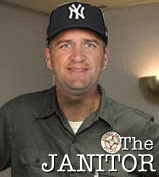 and continue resting the guys in the bullpen who, given proper rest, can actually shut down the opposing team in a big spot.
On Monday, when Hughes's start was announced, Mike immediately informed me that rain was in the forecast. It worried me for a second, until I realized that weathermen are as good at predicting the weather as Orestes Destrade is at predicting the baseball season.
Of course, when weathermen make these predictions, they don't factor in the will of the Baseball Gods. For if they did, they would have known that it wouldn't rain on Thursday, the Major League debut of Phil Franchise.
The Yankees needed two things immediately: some rest for the bullpen and a sweep against Boston. Today's rain facilitates those needs. The Baseball Gods are smiling upon our New York Yankees.