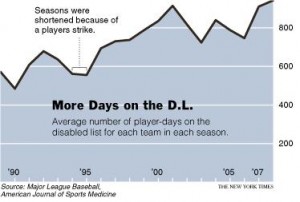 The Yankees have dealt with more than their fair share of injuries this season, having lost their two primary setup men, number two starter, starting third baseman, backup third baseman, and top two catchers at various points this year. The Yankees aren't alone though, because injuries around Major League Baseball increased 26% from 2006 to 2008 as Michael S. Schmidt, writing for The NY Times, shows. The number of injuries in 2009 is similar to those in 2008 midway through the season.
Jeff Zimmerman at Beyond the Box Score recently put together a database of players that went on the disabled list from between 2002 and 2008, which also shows that injuries have gone up over the last three seasons (see graph below). The Yankees are actually near the bottom of the league in the number of total trips to the disabled list and total days lost due to injury since '02, but their average DL trip was among the longest in the league (thanks, Carl).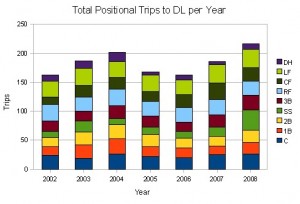 So why have the number of injuries gone up? Well no one knows for sure. "There are a lot of theories around about why it has gone up, and a lot of them make sense, but I am not convinced that it's one thing," said Stan Conte, the director of medical services and the head athletic trainer for the Los Angeles Dodgers. "Anyone who thinks they have the one answer is lying or wrong."
That doesn't stop anyone from formulating theories however, but in all likelihood there"s more than one thing at work here. Coincidentally, or maybe not, amphetamines were added to Major League baseball's banned substance list in the '05-'06 offseason. It's no secret that players have long relied on "greenies" to help then battle through the 162-game grind, and now that they're unavailable players are finding out that they can't play hurt as frequently any more.
Better medical technology may also be contributing to the increase in injuries. Torn hip labrums – which have shelved Alex Rodriguez, Mike Lowell, Carlos Delgado, Chase Utley and Alex Gordon within the last 12 months along – are not a new injury, they've just become easier to diagnose through technological advancements. Then you have the possibility of teams abusing the disabled list, or players not willing to play hurt because it could cost them a big payday down the road. There are plenty more potential reasons that I won't even begin to try to touch on.
Peter Nash, director of underwriting for a syndicate of Lloyd's of London, a firm that insures contracts for both teams and players says "We believe that injuries move in five-year increments: they go up for five years, then plateau, then go up for five years, and plateau, and over time, they are going higher and higher. As long as athletes are pushing themselves as hard as they can, the number will continue to go higher and higher."
What do you think is the cause behind the increase in injuries? Is it PEDs? Better technology? Something else? A fluke?