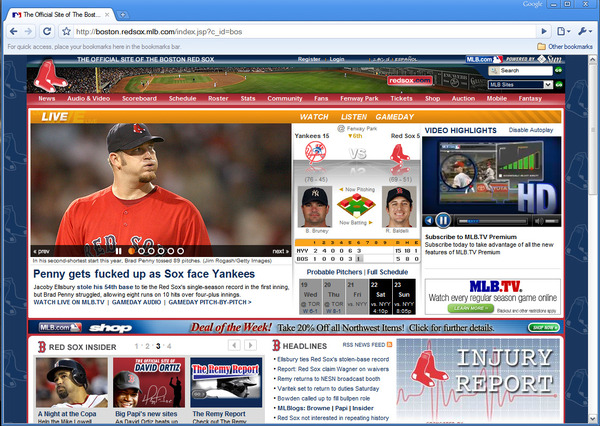 (hat tip for the image goes to @MikeRoper)
It's late and we're all kinda tired, so let's buzz right through this one…
Holy cow, does Brad Penny stink. Eleven baserunners and eight runs in four plus innings? Downright Ponsonian.
Poor Mike Bowden. That kid has to have like, no confidence left, right?
Hideki Matsui had his knee drained earlier in the week, and it's clearly done the trick. Two jacks and seven steaks is quite the night. That's a career high RBI in a single game for Godzilla; his previous career high was six, which came way back in 2004.
How about that A-Rod kid? He might have a future in this game, no? Four-fer-four with his first triple in a long as time. Our boy Adam noted that he missed the cycle by a combined two feet, give or take. One more foot and he's safe at second in the second for a double, and one more foot and his shot off the wall in the fifth is in the people.
Andy Pettitte, you have to do better when given a lead like that. Five innings of seven run ball is just unacceptable.
Brian Bruney … you stink. Walking the eight hitter to force in a run with a ten run lead? Absolutely inexcusable.
Damaso Marte looked pretty dang good. He threw six pitches – two fastballs and four sliders. Gameday clocked the two heaters at 94 and 93, exactly what you want to see out of him.
Division lead is up to 7.5 games, magic number is down to 35.
Seriously, Brad Penny is terrible. He needs to get back to the National League ASAP so he can finish in the top three in Cy Young voting again.
And after all this, the Yanks are now trotting AJ Burnett and CC Sabathia out the mound for the next two games. Life is good.