Breaking news: Yanks will have a limit on payroll this season. Buster Olney even tries to peg it at between $190 and $200 million. "Of course," he adds, "it's not a hard ceiling." Damn right it's not a hard ceiling. The Yankees have some important spots to fill, and they're not going to cheap out on them. No, they're going to hit the free agent and trade markets hard. At least, that's what Yahoo!'s Tim Brown1 tells us in his AL East hot stove primer.
Holes to fill: In spite of their World Series championship, the Yankees could use help in places, but nothing they can't throw a few dollars at. The obvious issues are in the rotation, in left field, in the bullpen ahead of Mariano Rivera(assuming Joba Chamberlain and Phil Hughes are going to the rotation) and at DH. Yankees problems, however, aren't often like other people's problems. They'll have Andy Pettitte back, or jump in hard on John Lackey and/or Roy Halladay (or all of the above). They'll have Johnny Damon back, and/or add Matt Holliday or Jason Bay. They'll have Hideki Matsui back, or run the DH at-bats through the guys they already have.
Yes, there will be a hard cap on the Yankees' payroll this season. It'll be somewhere around $260 million, but it'll be there. Somewhere.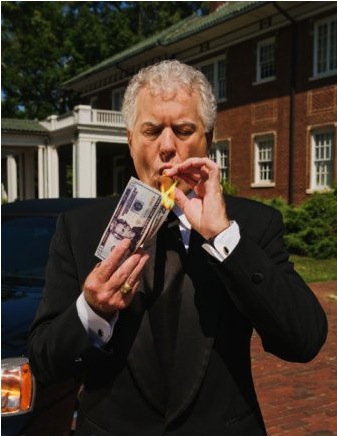 Exclusive photo taken outside the Yankees organizational meetings.2 Photo credit: Tim Brown3
Don't think that's it. Oh, no. Brown wants to make sure you know that the Yankees are prepared to pick up salary in trades, too.
They'll be in on Halladay. And they'll talk to the Tigers about Edwin Jackson and Curtis Granderson.4 They'll talk to the Reds and Braves about pitching.5 In some cases, they'll have to be prepared to part with Hughes or Chamberlain and outfielder Austin Jackson.6
Projected 2010 Yankees lineup:
C: Jorge Posada
1B: Mark Teixeira
2B: Robinson Cano
SS: Derek Jeter
3B: Alex Rodriguez
LF: Matt Holliday
CF: Curtis Granderson
RF: Nick Swisher
DH: Johnny Damon
SP: CC Sabathia
SP: Roy Halladay
SP: A.J. Burnett
SP: John Lackey
SP: Aaron Harang
RP: Edwin Jackson
RP: Javier Vazquez
RP: Andy Pettitte7
RP: Bronson Arroyo
RP: Phil Hughes
RP Damaso Marte
The 8th: Joba, where he rightfully belongs because he's a bull in a china shop
CL: Mo
World Series on a budget, folks.
---

1Clearly, Tim Brown is mryankee. (Up)
2Not really (Up)
3Not really (Up)
4Who will cost money (Up)
5Who will cost money (Up)
6Who will not cost much money (Up)
7Even though he's a starting pitchah (Up)