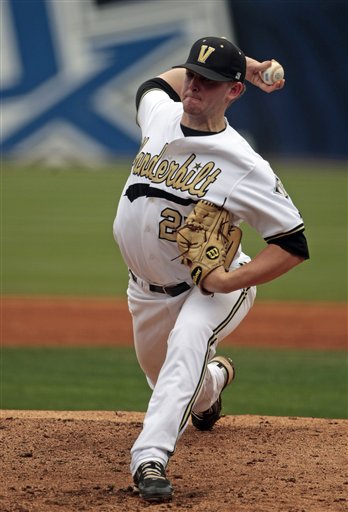 Caleb Cotham | RHP
Background
Raised in the Nashville suburb of Mt. Juliet, Cotham attended the high school of the same name and lettered in baseball all four years. He helped the Golden Bears to the regionals as a sophomore, the district championship as a junior, and both the district championship and sectional playoffs as a senior. You don't get recruited by a top tier college program like Vanderbilt without doing some special things in high school, so let's recap all of Cotham's accomplishments in bullet point form…
Three time All-District selection
District MVP as a junior
All-Region and All-State selections as a junior
9-AAA Tournament MVP as a senior
Named team captain twice
Despite an accomplished prep career, Cotham went undrafted in 2006 and followed through on his commitment to Vandy. He made just three relief appearances as a freshman, walking two and striking out one in 2.2 IP before taking a redshirt. After the season Cotham headed to the New England Collegiate League, where he posted a 4.53 ERA with a 37-15 K/BB ratio in eight starts (37.2 IP) for the Keene Swamp Bats.
Head coach Tim Corban plugged Cotham into the rotation spot left vacant by the departed David Price as a redshirt freshman, and he responded by leading the team with seven wins as the team's primary Saturday starter. He finished second among starters in ERA (4.50), and second on the team in starts (14), innings (86), strikeouts (90), and batting average against (.265). In his lone start of the postseason, Cotham allowed seven runs in 5.2 IP against Oklahoma in the Regionals, taking the loss as Vandy's season came to an abrupt end. He heading to the Cape Cod League over the summer, posting a 2.54 ERA with a 51-22 K/BB ratio in eight starts (46 IP) for the Brewster Whitecaps, making the All Star Team.
Filling the same number two starter role as a redshirt sophomore, Cotham again led the team with seven wins while finishing second in starter's ERA (4.10), innings (79), and strikeouts (84). His .222 opponent's batting average led the staff, starters or relievers, though he was suddenly very homer prone, surrendering 14 long balls in 2009 after allowing just six the previous year. In his lone postseason start, Cotham threw a four hit complete game shutout against Middle Tennessee in the Regionals, striking out eight and walking none. Vandy was eliminated the next day, so it ended up being Cotham's final appearance as a Commodore.
Baseball America rated Cotham as the 10th best prospect in Tennessee prior to the 2009 draft, when he was eligible as a redshirt sophomore. The Yankees selected Cotham with their 5th round pick, #165 overall, with the intentional of following his progress on the Cape after he had arthroscopic knee surgery to repair a partially torn meniscus in his right knee. In two starts and two relief appearances with Brewster, Cotham tossed up a zero ERA with a 15-1 K/BB ratio in 13 IP. He agreed to a well-above slot deal with the Yanks worth $675,000, which was announced on the August 17th signing deadline.
Pro Debut
Cotham was initially assigned to the rookie level Gulf Coast League Yankees after signing just for a tune up, and he struck out five in two innings of work in his only start there. He was then bumped up to Short Season Staten Island, and in two starts Cotham posted a 4.50 ERA and a 8-3 K/BB ratio in six innings. He aggravated the knee injury in mid-September, so the Yanks shut him down for the season as a precaution.
Scouting Report
At his best, Cotham features two strong pitches and two others with potential. His bread and butter is a heavy low-90's sinker that he can command to both sides of the dish. He's flashed mid-90's heat with tremendous sink working out of the bullpen. A sharp slider that has touched the upper-80's serves as his second pitch. Cotham has also shown some feel for a curveball that's more 11-to-5 than 12-to-6, as well a changeup, the latter of which will be his primary focus in 2010. He projects best as a power late-inning reliever, though starting isn't out of the question.
Packing 215 pounds onto his 6′-3″ frame, Cotham has a thick and powerful frame that reminded me of Chad Billingsley at first glance. His delivery is free and easy, that is until he releases the ball. He cuts off his follow through and recoils his entire upper body, and while it puts him a good position to field the ball, it could lead to core or back injuries down the road. It's an easily correctable flaw, but otherwise the rest of his mechanics are pretty close to textbook.
The biggest issue is his knee injury. It flared up down the stretch of Vandy's season, so he had surgery after the draft, and yet it flared up again in September. Cotham isn't a small guy, so unless they take care of this now, it could end up a chronic problem.
You can see Cotham's scouting video here.
2010 Outlook
Once the knee issue is resolved, the Yankees will take it easy and send Cotham to Low-A Charleston to begin 2010. He'll work as a starter to get as many innings in as possible.
My Take
I liked the pick at the time and I like Cotham as a prospect, but I'm certainly not in love with him. Sinker-slider college pitchers who throw in the low-90's are a dime a dozen, though Cotham stands out because he has shown more velocity as well as two other pitches with potential. Knee problems can tend to stick around if not handled properly, though I'm sure the Yanks will be extra cautious as always. Cotham will be an interesting guy to follow, because something could click and he could really take off and become an elite prospect.
Photo Credit: Dave Martin, AP