There was little to like about this game. In fact, had it not been for Ivan Nova's two scoreless innings I could have removed the word "little" from the above paragraph. The game was all around ugly, from the Yankees' hitters flailing to the Tigers' hitters squaring up tons of pitches, especially in the sixth. The Yanks drop just their second series of the year. Too bad that came in a four-game set.
Biggest Hit: Jeter leads off with a single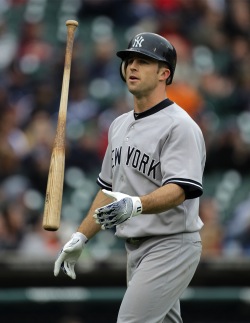 How you know your team played a horrible game: the biggest positive WPA swing came when the first batter of the game singled. That's the most the Yankees got. It increased their chances of winning by 3.5 percent, a modest little boost but nothing that would last. After Brett Gardner traded places with Jeter and then took second on an errant pickoff throw, Justin Verlander struck out Mark Teixeira looking on a cuveball, and then got A-Rod to pop out to first on a 98 mph fastball.
The second highest WPA swing of the game also involved Jeter. That would be when Verlander hit him with a pitch in the fifth. That came with one out and, with the score just 3-0 at the time, raised the Yankees' chances of winning by 2.6 percent. Both Brett Gardner and Mark Teixeira made outs behind him, though, so the Yanks couldn't bring home the run. Story of their day. Of their week, really.
Biggest Pitch: Cabrera crushes CC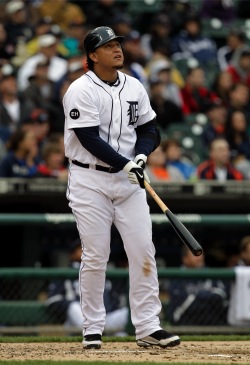 The Tigers struck first in the second, when Gerald Laird blooped one over Juan Miranda's head. That brought home Brennan Boesch. One run, though, usually doesn't phase the Yankees. They had just been shut out the previous day, and considering it was the first time that happened all season we couldn't have expected it to happen again. Things just sometimes work out that way…
In any case, the Tigers opened up the game in the fourth when Miguel Cabrera absolutely hammered a 2-1 fastball into the right field stands. It was a solo shot, and Cabrera can do that against any pitcher. That made it 2-0. One batter later Boesch reached out and slammed a slider the same way, just clearing the right field fence. While Cabrera's homer was a bit more valuable, when Boesch hit his it was the first time in the game where I seriously doubted the Yanks' ability to win it.
CC in the sixth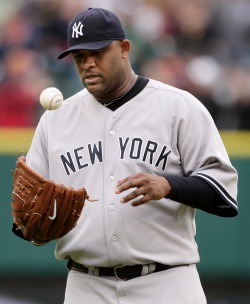 Heading into the sixth inning CC Sabathia had allowed three runs. It's not ideal, especially from the ace, but again, an offense like the Yankees' should be able to stay in a game like this. One more inning and CC would have had the arbitrary quality start, and since he was at just 54 pitches he might have been able to go all eight. A 25-pitch, 3-run sixth ended that.
When we're watching the game live, any pitch that ends with a bad result is going to look bad. If CC had thrown an on-target changeup low and away to Brandon Laird in the sixth and he hit a double off it, the initial reaction is almost always going to point to a bad pitch. CC didn't spot the changeup perfectly as it turns out — it was around the knees but caught a bit too much of the plate — but upon further review it didn't look like a bad pitch. Not a great pitch, no. Maybe not even a good pitch. It was decent at worst, though. Laird just happen to hit it squarely.
Just to extrapolate the point, mostly because there's not much to talk about in this recap, a well-struck ball is not always the pitcher's fault. Good hitters, like Miguel Cabrera, can square up pitches that others cannot. Young and vigorous hitters, like Brennan Boesch, can take advantage of the lack of a scouting report on them. Bad hitters, like Laird, get lucky, too.
That's not to excuse Sabathia's outing. It just seemed like he pitched better than the results indicated. That's going to happen from time to time with an ace.
Annoyances
Can I just say "the whole game" and get it out of the way?
The best hitters in the lineup just aren't hitting, and there's nothing more frustrating than that. I can't help but think that if the game was tied heading into the sixth that CC would have finished the game with a much better line. Maybe that's wishful thinking, but I think that the lack of run scoring has to affect the pitchers, whether consciously or subconsciously.
Hitters like Gerald Laird driving in multiple runs. Guy was hitting .157/.263/.257 heading into the game, and he drove home two of the Tigers' runs, including their first? You gotta be kidding me. The first was an excuse me hit, which makes it that much more frustrating. It's right up there with walking the 9 hitter.
Joys
There was no joy in Detroit today…except that Sabathia didn't walk anyone.
Nor did Ivan Nova, who made his major league debut. Chances of him starting the game Sunday are slim to none, but I think he should get a shot. Might as well keep Mitre around for long relief and let the actual starting prospect get a chance.
WPA Graphs and box score
I'm only posting this graph because we do it every game. If I had my druthers I'd give it the Trey Hillman treatment.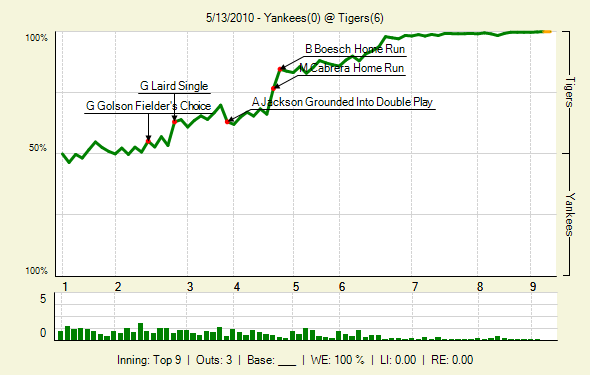 Up Next
Home again! The Yanks start a three-game set with Minnesota tomorrow night at the Stadium. It'll be a tough one, with A.J. Burnett going against Francisco Liriano.