Coming off two satisfying wins against their crosstown rivals, the Yankees caught a cross country flight to the site of one of their most heart wrenching losses, the scorching hot desert of Arizona. Temperatures outside the park checked in at 102-degrees, but the temperature inside was probably even higher because of all the missiles the Diamondbacks hit on Monday.
LaRoche Plates Three With One Swing
A.J. Burnett started the night having allowed six homeruns in three starts this year, and he definitely gave them up early an often in the series opener. The most damning of the three first inning shots was Adam LaRoche's three run bomb over the pool in right-center on the first pitch he saw. It was instant deflation. The Yanks are struggling on offense, and that blast put them in a four run hole that felt like forty. Solo homers are one thing, but those three run shots are the ones that'll kill ya.
Teixeira Kills A Mini-Rally
It wasn't much, and the game was basically in the bag by this point, but the Yanks made a little bit of noise in the 7th inning when Brett Gardner and Nick Swisher sandwiched two singles around a pair of fly outs. Instead of taking advantage of the opportunity, Mark Teixeira let Rodrigo Lopez off the hook by hacking at a first pitch changeup on the outer half, popping it up harmlessly to shallow right field. He must lead the league in those. If nothing else, at least make Lopez sweat a little man.
Two Outs, None On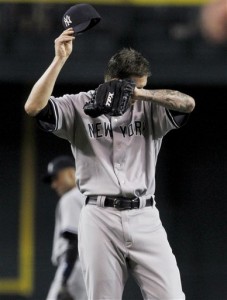 For the fifth time in his last eight starts, Burnett allowed at least six runs to score, doing one better and spotting the Diamondbacks seven runs in just four innings of work. Sure, the sheer number of runs hurt, but you know what really ticks me off? That all seven of those runs scored after their were two outs in the inning AND there was no one on base.
The 1st inning started out rather easily for A.J., he needed just nine pitches to coax a harmless fly out and a ground ball out of Kelly Johnson and Stephen Drew, respectively. The Justin Upton came to the plate with two outs and jumped all over a 94 mph fastball that ran back over the plate, sending it just to the right of the huge batter's eye in dead center. The homer stunk, but one run in the first inning is hardly insurmountable. Well, except when you let four more runs score in the inning, which Burnett did.
Single, single, homer, homer, double went Arizona's next five batters, and it wasn't until the pitcher came to the plate that Burnett was able to escape the inning. The D-Backs pushed another run across in the 2nd, when Upton singled with two outs in front of Miguel Montero's double. Same thing in the 4th inning. Two quick outs, Upton walks, steals second, scored on a Montero single. Like clockwork.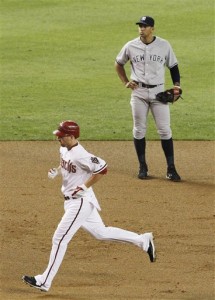 If you give up a solo homer with two outs once in a while, I can live with that. When you allow seven runs to score when there was no one on base and two outs in the inning, yeah, that's hard to forgive. Luckily the Yankees have enough pitching depth to absorb this bad stretch of starts by Burnett, but the AL East is so tight this year, they need him to at the very least give them a chance to win every five days. He hasn't been doing that for the last month and a half.
The Bad Stuff
How the hell do you let Rodrigo frickin' Lopez start the 8th inning with just 87 pitches thrown? That's just terrible. All this "he had them off balance all night" stuff is getting really old, really quick. Jamie Moyer, Kyle Kendrick, and now Lopez. Apparently everyone in the Yankee lineup is geared for 92+ and can't adjust. Frustrating as hell.
Chan Ho Park … I dunno what it is with him, but he always seems to get lit up in his second inning of work. You'd think Joe Girardi would have realized this by now. I feel like CHoP could be a lot better if used differently, but no excuses, he has to pitch better when called upon.
I don't know if it was the roof or what, but didn't it seem like the outfielders had a tough time picking the ball tonight? Not just the Yanks either, a few D-Backs' outfielders got a few late break as well.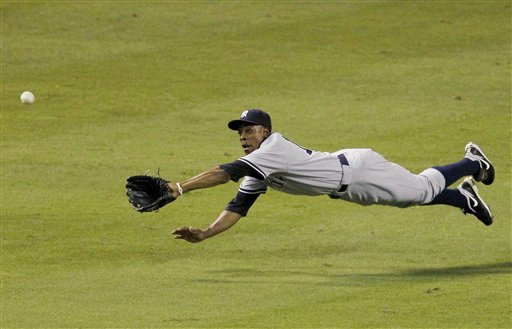 Some Good Stuff
Nick Swisher clubbed his third triple of the season, setting a new career with 55.6% of the season left to play. At age-29, Swishahouse is enjoying the best season of his career, which is not entirely unexpected. Where would the Yanks be without him?
Big ups to Colin Curtis for making his big league debut tonight, even though it was just a pinch hitting appearance and he made an out. He's the fourth player to make their big league debut for the Yanks this season, join Chad Huffman, Kevin Russo, and Ivan Nova.
Brett Gardner is on some kind of hot streak, he's 99 for his last 100. Okay fine, he's seven for his last 11 in the last three games, but that's still awesome. The little guy is hitting .324/.404/.428 in 257 plate appearances. Again, where would the Yanks be without him?
As much as A-Rod is struggling, he drove the ball with authority to right-centerfield twice tonight. Once for a double, once for an out to the deepest part of the park. Hopefully this is the start of something big.
WPA Graph & Box Score
Blah. Here's the box, here's the nerd.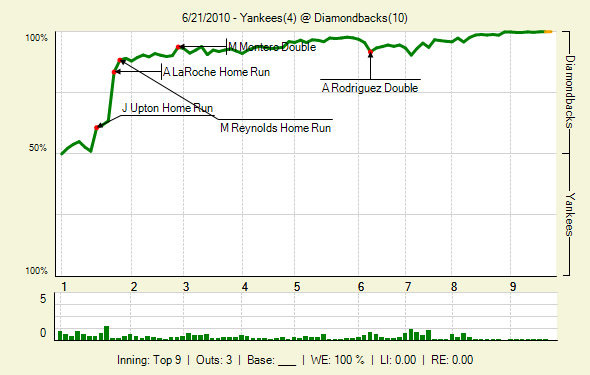 Up Next
Despite the loss, the Yankees will wake up Tuesday morning still in first place. These same two teams will go at it again later this evening, though the game starts at 9:40 pm ET, a little earlier than Monday's contest. Andy Pettitte gets the ball against a suddenly homer prone Danny Haren.