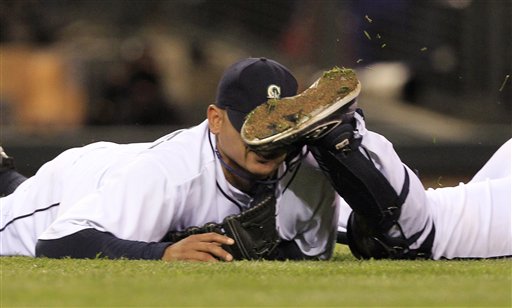 No, not that King. His time will come. I'm talking about King Felix, who will face the Yankees tonight as he tries to clinch a series victory for the Mariners. The Yanks have to stick with the same game plan as last night, jumping all over the first hittable pitch Felix gives them. If they get passive in an effort to drive up his pitch count, they'll be staring at 0-2 counts all night.
Heeeeeeeeere's the lineup…
Jeter, SS
Swisher, RF
Teixeira, 1B
A-Rod, 3B
Cano, 2B
Posada, DH – this really better not be an every day thing
Granderson, CF
Curtis, LF
Cervelli, C
And on the bump, they man they call Javy. Javy Vazquez.
It's an absolutely gorgeous day for baseball in New York, and there's no reason this one won't start on time. First pitch is scheduled for 7:05pm ET, and can be seen on good ol' YES. Enjoy.