Fresh off a 6-1 homestand against the lowly Indians and Orioles, the Yanks rolled into Toronto for the first time this season to play the powerful and surprising Blue Jays. Unfortunately, it just wasn't the Yankees' night, as the Blue Jays continued their homerun derby act early on and won by a 6-1 score that seemed a lot more lopsided than it really was.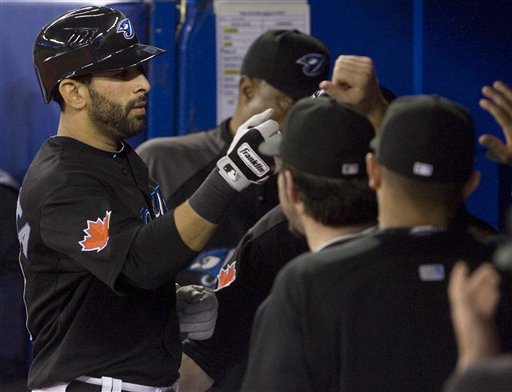 Swing Hard In Case You Hit It
That's the old saying, and Ben and I were joking about it a few weeks ago when Marcus Thames hit that walk-off homer against Jonathan Papelbon. The Jays seem to have taken that mantra to heart, leading MLB with a .226 ISO (nearly 40 points better than anyone else) while ranking near the bottom of the league with a .248 team batting average. There's no shortening up and trying to find a hole here, they just grip it and rip it.
I don't know what the hell is going up in Toronto, but it's pretty nuts how all of a sudden everyone and their mother has turned into a power hitter. Jose Bautista, a guy who came into a year with a career .162 ISO, had already tied his career high of 16 homers through the team's first 55 games of the season, and all he did was add to that total on Friday.
His first homer of the night came on a relatively harmless 3-2 fastball in the 2nd inning, a solo shot that clanked off the facade of the upper deck in left field. It was no cheapie, that's for sure, but a one run deficit in the 2nd inning is nothing. Two innings later, Bautista stepped to the plate with Vernon Wells on first thanks to a dinky little infield single, except he didn't wait around for the count to run full. After two fastballs off the plate (and a pickoff throw), Bautista jumped all over a fastball that ran back over the plate, hitting out and off the upper deck facade in left again. Another no-doubter and a three run lead.
Edwin Encarnacion tacked on another long ball in the 5th inning for good measure, giving the Jays 94 on the season. No one else has even 80. Where is this coming from?
Double Plays: A Rally Killing Story
This game felt like a blow out at times, but the Yankees certainly had a few chances to get back in it. Alex Rodriguez stepped to the plate in the 4th inning with men on first and second and no outs with the score still just 1-0, but he chopped a tailor made double play ball to shortstop Alex Gonzalez that seemingly took the Yankees' chances of scoring along with it. Nick Swisher was able to go from second to third on the play, but was ultimately stranded.
Two inning later, the Yankees again got the first two men on – this time at first and third – but Swish got caught out in front and slapped another tailor made double play ball to Gonzalez. Chad Moeller came into the score from third, but the rally was gone. They had a chance to put a dent in what was then a four run deficit, but could only manage the one run. For shame.
The Yankees also wasted a leadoff single in the 3rd and a leadoff double in the 7th, so it just wasn't happening tonight. Go back to the hotel, forget about it, and come back ready to do some damage tomorrow.
D'oh!
The Yankees have to know by now that Bautista's a fastball hitter (+2.51 runs above average for every 100 fastballs thrown) and throwing him eight straight fastballs in his first two at-bats was a dumb idea. He got four curveballs (including one in a 2-0 count) and two fastballs (well off the plate) in his third at-bat for a walk, then two straight fastballs for a double his fourth time up. Andy Pettitte and Javy Vazquez employ the kitchen sink approach, so theoretically they'll have a better chance of dealing with Bautista than Burnett and Sergio Mitre did in this game.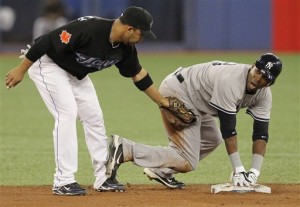 Solo homers aren't the worst thing in the world, and apparently there's no stopping the Blue Jays from hitting them. The Yanks just have to make sure they don't give their hitters free bases on walks and what not the rest of the series. Burnett walked four in six innings tonight, so it's no surprise that he got smacked around.
Tip your cap to Brett Cecil, he mixed his pitches very well (18 four-seamers, 23 sinkers, 28 changeups, 30 sliders, six curves) and recorded 19 of his 24 outs either via strikeout or ground ball. The Yanks were off balance all night, it was a great performance by the young lefty.
And what was up with Swisher forgetting the count in the 9th? He took ball four, but just stood there waiting to get back into the box to the continue the at-bat until the ump told him what was up. That's the third time he's forgotten the count/number of outs since the Twins series in Minnesota.
Brilliant!
Bob Lorenz doing the play-by-play. I love it and I want more of it. Hopefully getting Jack Curry in the booth isn't too far behind.
How about Curtis Granderson's catch at the wall of Adam Lind's liner in the 1st? Been a while since the Yankees had a guy who could make a catch like that, and now they have two. And even though he didn't have any hits to show for it, Grandy hit the ball right on the screws in his second and third at-bats. You almost don't want him to take the game off tomorrow.
Marcus Thames even flashed some leather tonight, catching a ball at the wall deep in the leftfield corner then throwing out the tagging runner at third for the double play. He doesn't make a nice defensive play often, but when he does, it's glorious.
And … uh … did I mention Lorenz killed it in the booth?
WPA Graph & Box Score
Ho hum. MLB.com has the box score, FanGraphs everything else.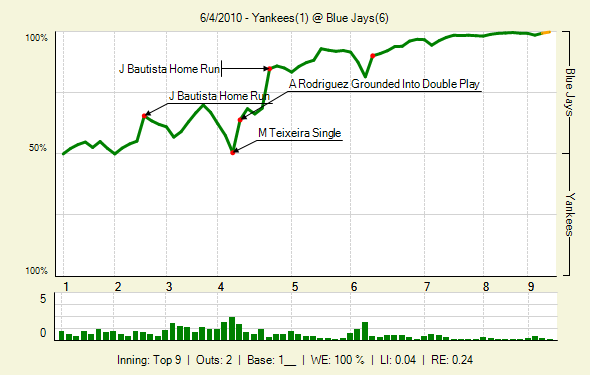 Up Next
Nice Saturday matinee tomorrow featuring a pair of lefties: Andy Pettitte and Ricky Romero. Bet you didn't know didn't know Romero leads all AL pitchers with 2.4 WAR.