Fresh of their dramatic come-from-behind win against the Dodgers on Sunday, the Yankees returned home Tuesday with a tough assignment on their hands in Cliff Lee. The Mariners' offense is dreadfully bad, but you wouldn't have been able to tell that by the picket fence they built on a well-rested Phil Hughes. Unsurprisingly Lee was too much to handle, and the Yanks suffered just their fourth loss of the month in a game not started by A.J. Burnett. Boston defeated the Rays, so they now lurk just one game back in the AL East.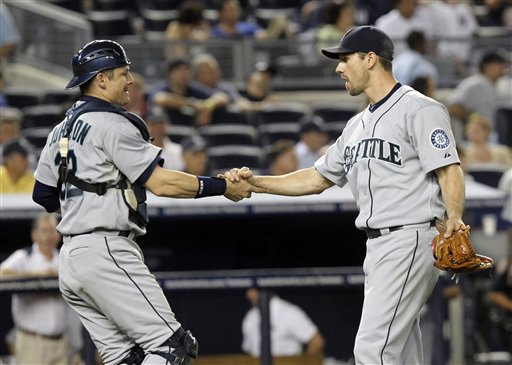 Too Much Cliff Lee
I don't think many of us expected the Yanks the light up the scoreboard in this one, though I have to say that they made a surprising amount of hard contact of Lee. They had five balls lined right at people for outs, and of course Nick Swisher clubbed a pair of solo homers. But in the end, Lee was just too much for the Yankee batters. He threw 79 of his 115 pitches for strikes in his third straight complete game, retiring 12 of 13 from the 5th through 8th innings. You wouldn't know it based on the relatively low number of swings-and-misses he generated (just four), but Lee kept the Yanks' hitters off balance all night.
If you need to know the biggest out of the game, it was Chad Huffman's double play ball in the 2nd inning. Score was tied at one, Yanks had runners at first and second with one out and a legit chance to hang some runs on Lee. Instead, we got a 5-4-3 double play and the end of the inning. Joe and I were talking the other night about how there has been a little too much tipping of the cap to the other pitcher this year, but tonight Lee deserves it. He beat the Yankees fair and square.
Fastballs & Cutters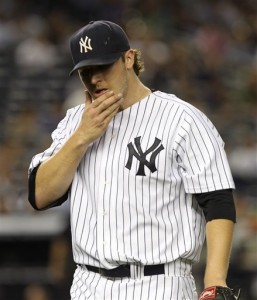 I'm not going to get on Phil Hughes too much because this was his first start in ten days, but good grief, again with the 85% fastballs and cutters. It's been 15 starts now, and it's pretty obvious the league is catching on. When Rob Johnson, Rob frickin' Johnson and his .274 wOBA whacks a pair of doubles off you, you don't tip your cap to him. You say "what the hell did I do wrong?" and stop doing it. The guy saw 11 pitches in three at-bats against Hughes, and ten of them were fastballs. I mean, what more do you need? Was the Kevin Cash homer a few weeks ago not enough?
Yes, it was good to see Hughes get two swings-and-misses on changeups (both to Russell Branyan in separate at-bats), but so what. Until he starts mixing that pitch, or at least his curveball in more, he'll keep getting hit around. Major league hitters will hit a fastball when they know it's coming, and 85% of the time Hughes is giving it to them.
Miscellany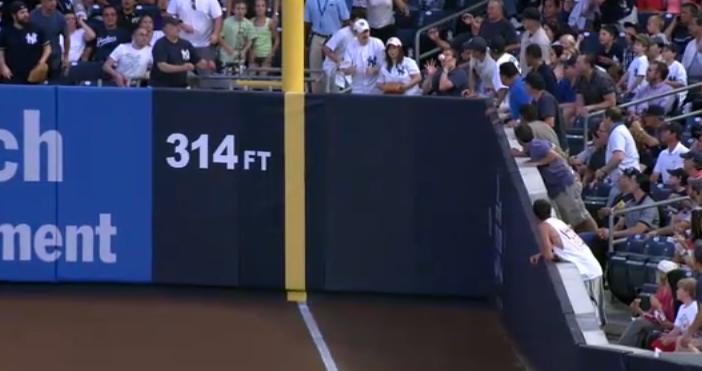 The best part of the game? Watching the guy on his cellphone get hit square in the face with the ball on Johnson's 5th inning ground rule double (above). You can't not laugh at that. Make sure you click the image for a larger view.
I didn't list it above like we usually do, but if you must know what the most damaging hit of the night was, it was Franklin Gutierrez's solo homer with two outs in the 4th to stretch the Mariners' lead to two.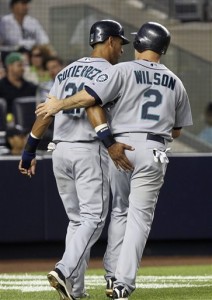 Hooray for Curtis Granderson picking up two hits and a line drive out off Lee. Any time he does something productive against a lefty, especially a tough lefty, I plan on mentioning it in the recap. He's reached base nine times in the last six games.
I really hope Joe Girardi's plan isn't to play Jorge Posada the majority of the time at DH with Frankie Cervelli behind the plate going forward. Cervelli's hitting .200/.288/.253 dating back to May 18th, and that doesn't include Tuesday's 0-for-3 effort. His defense really hasn't been all that great either. I'd rather let CC Sabathia DH every day.
Chan Ho Park goes out and throws two perfect innings against the worst offense in the league, so naturally Girardi will run him out there for multiple innings in a similar situation in the future and get burned by it. So predictable.
And seriously, how big of a hypocrite is Joe West? Calls the Yankees and Red Sox "pathetic and embarrassing" because their games last so long, yet it takes the guy five seconds to signal balls and strikes behind the plate. What a joke.
WPA Graph & Box Score
At least The O'Neill Theory is in effect for tomorrow. Here's the box score, here's the nerd score.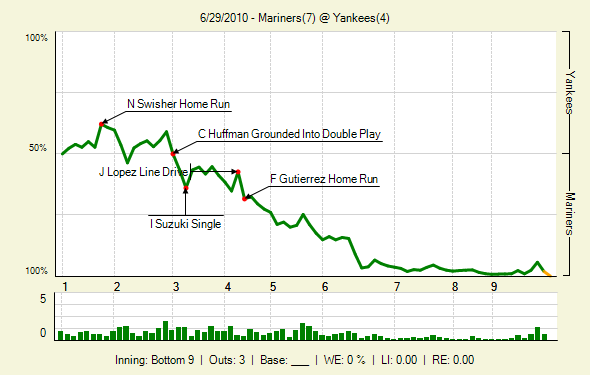 Up Next
Things don't get any easier for the Yanks tomorrow evening with Felix Hernandez taking the ball for Seattle. Javy Vazquez will oppose him and try to even this series up at one.