Despite their storied histories and long-time rivalry, the Yankees and Dodgers had played each other just three times since 1981 prior to Friday night. The Joe Torre sideshow will remain just that in this space, there's really no need to rehash it all. The Yankees captured game one of the weekend set because their best players played the best, and will wake up Saturday with a three game lead in the AL East following Boston's loss to the Giants and Edwin Jackson's fugly no-hitter against the Rays.
That's For Hitting Me Eighth
One of the bigger stories in Yankeeland over the last few weeks has been Alex Rodriguez and the state of his surgical repaired hip. Even though his latest ailment was touted as having nothing to do with the surgery, there's obvious concern anything that part of his body misbehaves. He missed a few games, then finished off the last five games of the last homestand by going 2-for-18. With his overall season production down, questions about A-Rod's bat and long-term outlook started to arise.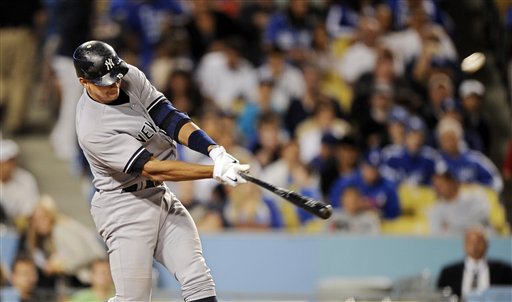 Thankfully, Alex's bat has come back to life on this west coast trip. He whacked a homer and a double and reached base eight times in the three games in Arizona, and his 2nd inning double led to the Yanks' first run in this game. The score remained tied at one until the 6th, when A-Rod seemingly decided that enough was enough; he was going to take matters into his own hands. Vicente Padilla had been screwing around with his 55 mph rainbows all game and had largely kept the Yanks off balance, but Alex jumped all over a first pitch fastball, sending it halfway up the leftfield bleachers for a solo shot and a one run lead that was never relinquished. Manny Ramirez literally took two steps back on the ball before abandoning hope.
A-Rod has now reached base safely in nine of his last 13 times to the plate, and any questions about his health have largely been answered.
Big Stoppa
It's nice have a true ace, isn't it? Sure, CC Sabathia starts off pretty much every year a little slow, but once the big guy hits his stride, it's a beautiful thing to watch. Coming into Friday's game, he had allowed just eight runs and 30 baserunners in 29 innings this month, going 4-0 in four starts. Despite some early command issues, Sabathia completed eight innings for the second time in as many starts and the fourth time this season, limiting the Dodgers to a first inning run and just four hits.
As has been his forte, Sabathia got stronger as the game went on, finishing off his final batter with a slider after four straight fastballs that clocked in at 94, 96, 96, and 95. He never faced more than four batters in an inning after the 4th. The Dodgers found it impossible to get the ball elevated, making 13 of their 17 non-strikeout outs on the ground, which is not a good way to generate offense. Games played on June 25th don't qualify as "big," but this one had a little extra electricity too it, and Sabathia fed off it. He was, quite simply, the man.
A Little Bit Of This, A Little Bit of That
The camera angle during the YES broadcast completely sucked. Far too low to be centered that much behind the plate. You practically had to look through the pitcher's legs on the mound to see the strike zone. I knows there's nothing they can do about it since that's probably where the Dodgers told them to set up, but hopefully FOX and ESPN have better angles the next two days.
Manny drove in the Dodgers' only run of the game. Of course he did.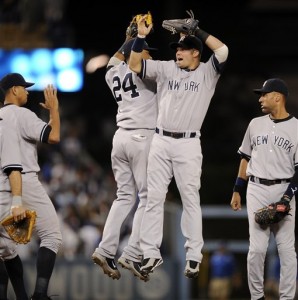 I know it didn't cost CC in the 2nd, but walking the pitcher with a man on first and two outs is just awful. I'd rather see the pitcher lace a double into the gap than draw a walk. At least he has to work for that.
On the other hand, you gotta love Sabathia sticking up for Robbie Cano. Padilla plunked Cano, the hottest hitter in the game, so CC plunked Padilla, stared him down as he walked to first, and then got the next batter to ground into an inning ending double play. Awesome.
Jorge Posada had just one hit tonight, but he scalded the ball three times. His health has been an issue recently as well, but like A-Rod, he's been up to the task on the road trip.
Brett Gardner made the third out of an inning twice, failing to clear to the pitcher. No, it's not the end of the world, but it irks me.
How do you think Joe Torre felt when he saw Mariano Rivera coming out of the bullpen to face his team? Contrary to the saying, the grass is not always greener on the other side. Mo struck out the side and lowered his ERA to 0.99. Champagne rained down from the heavens, doors opened by themselves, and velvet ropes parted.
WPA Graph & Box Score
Nice and easy, I approve. MLB.com has the box score, FanGraphs some other stuff.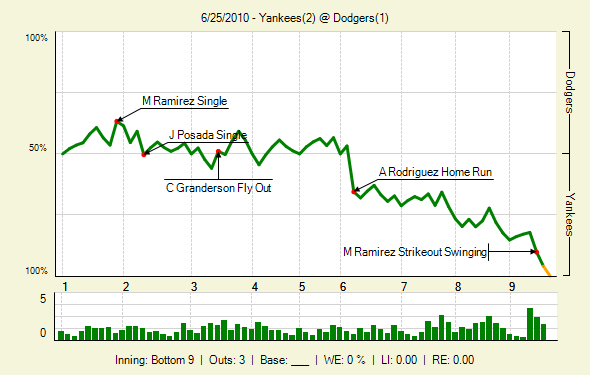 Up Next
Game two of this series will take place Saturday evening as part of FOX's raid of prime time slots. A.J. Burnett will take on Hiroki Kuroda, who's have a damn fine season (3.06 ERA, 3.69 xFIP). First pitch is scheduled for 7:10pm ET.