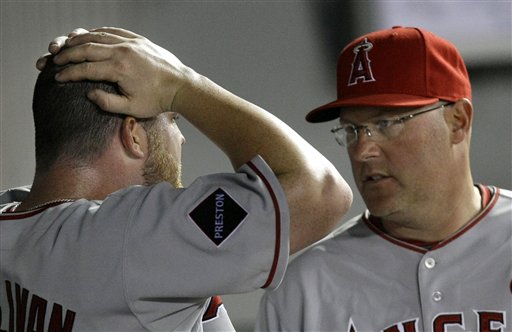 Ah yes, the bane of the Yankees' existence, the rookie pitcher. Scott Kazmir was supposed to start tonight's game, but he hit had to hit the disabled list with a case of the sucks shoulder issue, so the Yankees will instead face 22-year-old righty Sean O'Sullivan. He's a rather generic righty, with a miniscule strikeout rate (4.8 K/9 in MLB, 6.6 in MiLB) and an okay amount of grounders (37.5%) . Everything looks good for the Yanks, but then again who knows with a pitcher they've never seen before.
It's too bad the Angels didn't throw Trevor Bell tonight (who was also in consideration for the start), we coulda mentioned that he's the grandson of Bozo The Clown. For shame. Here's the starting nine…
Jeter, SS
Swisher, RF
Teixeira, 1B
A-Rod, 3B
Cano, 2B
Posada, C
Granderson, CF
Miranda, DH
Gardner, LF
Hughes, SP
You have to believe it took minutes off Joe Girardi's life when he pencil three consecutive lefties into the bottom of the lineup. Game time is 7:05pm ET, and this one can be seen on My9. Enjoy.