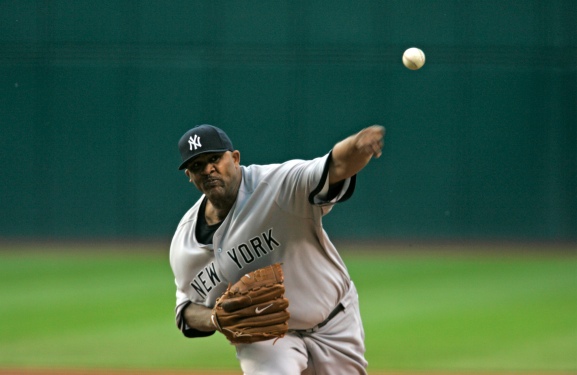 Say hello to Josh Tomlin. He makes his major league debut for the Indians tonight, though it won't come with much fanfare. While the Indians do have a crop of young pitching prospects, including Hector Rondon and Carlos Carrasco, Tomlin does not rank among them. He didn't make Baseball America's top 30 Indians prospects this year, nor did he even get a C grade from John Sickels. So there's not a ton that we can immediately glean about him.
Thankfully Mike has old BA Prospect Handbooks on file, and he was able to find a bit on Tomlin, who was the Indians' No. 28 prospect in 2009. Like most fringy guys he sits 89-91 with the fastball and uses a 12-6 curve as his best secondary pitch. He also has a changeup that, apparently, he'll throw in any count. It has plenty of separation from his fastball, sitting 75-78. And then there's a slider/cutter combo that I'm betting we won't see much of tonight.
We've seen these guys beat the Yanks before, but I don't think it's an epidemic or anything. Tomlin lived on his low hit and walk rates in the minors, and we know guys like that struggle in the majors. Yeah, maybe he can hold AAA hitters to seven hits per nine, but he won't maintain that in the majors. That doesn't preclude him from getting lucky in his debut, but the Yanks should have more than enough to power though this one.
On the mound for the good guys, CC Sabathia goes for career win No. 150 against the team for which he recorded win No. 1. He's been on a roll lately, and looks to continue it against a team that is a bit punchless on offense. It's always nice to have your lefty on the mound against a team whose best weapons also bat lefty.
And finally, a happy birthday to A-Rod, who turns 35 today. His 600th would be pretty sweet this evening.
Lineup:
1. Derek Jeter, SS
2. Nick Swisher, RF
3. Mark Teixeira, DH
4. Alex Rodriguez, 3B
5. Robinson Cano, 2B
6. Jorge Posada, C Curtis Granderson, CF
7. Curtis Granderson, CF Juan Miranada, 1B
8. Juan Miranada, 1B Frankie Cervelli, C
9. Brett Gardner, LF
And on the mound, number fifty-two, CC Sabathia.
Update by Mike: Jorge Posada has been scratched with a sore left knee. Hopefully it's nothing serious.