One of these days the Yankees will light up a pitcher whom they haven't yet seen. But last night the Yankees continued to struggle, managing just three hits off rookie Josh Tomlin. They eventually scored a run, and then threatened in the ninth, but there was no fun in this game. None at all.
Biggest Pitches: Choo's double (WPA) Gimenez's walk (emotional)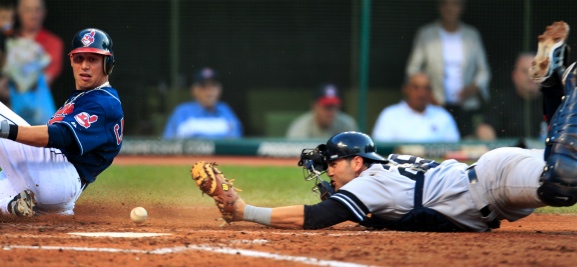 A walk with the bases loaded, with the No. 9 hitter at the plate. Drives you nuts. CC Sabathia walked two, one intentionally, earlier in the inning, and he ran the count full against Chris Gimenez. After two fouls Sabathia went back to the changeup, but he missed low and Gimenez did not swing. Johnny Peralta trotted home to put the Indians up 4-0. Considering how the Yankees' offense looked that seemed insurmountable.
WPA has Shin-Soo Choo's double in the fourth as the biggest swing of the night. It was actually more than double the WPA swing of any other event. Neither team had scored to that point, and this was the first real threat. It put Asdrubal Cabrera, who had singled to lead off the inning, to third with none out. The Yankees appeared to avoid disaster when Austin Kearns broke his bat on a chopper to third. A-Rod made a strong throw and Cervelli applied the tag, but the ball popped loose when Cervelli's mitt hit the dirt.
Overall Sabathia pitched decently. Only two of the four runs he allowed were earned, thanks to the Cervelli play and what appeared to be a poor call at second. Cano did miss the bag, but he was right there. Usually umps will give that to guys. It was poor luck that the ump decided to be stingy on that play. It took him 123 pitches to get through seven innings, but that means he was pitching well enough to complete seven.
Failure with RISP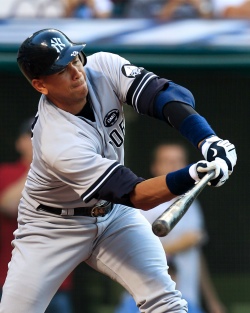 The Yankees picked up just five hits against Tomlin and three relievers, but still managed to bat seven times with a runner in scoring position. As the score indicates, they didn't succeed when given the opportunity. The only run scored on a groundout. And even then it came off a reliever and not the rookie right-hander. For most of the game it felt like they were going to get shut out.
Again the offense struggled against a pitcher they hadn't face previously. Then again, they also struggled against Jake Westbrook, who had a 4.74 ERA heading into the game. So maybe it's not all their inability to hit fresh arms. Maybe the offense is just in a little funk.
Graph and box
No extras tonight. I'll repeat: this game was no fun.