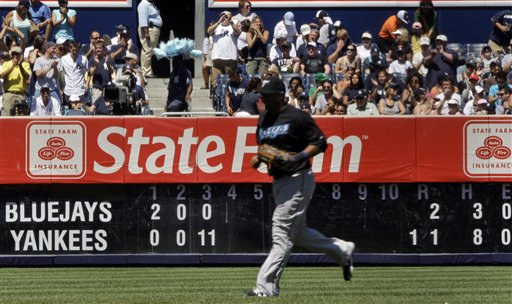 Seriously, who saw that coming from Brett Gardner? So awesome, 2010 really is The Year of the Grand Slam. That makes eight now. Eight! On July 3rd! It was like a big offensive weight lifted off everyone's shoulders too. The Yankees had just a two run lead at the time, which is far from a sure thing give how many innings were left and how the bullpen has performed. So yeah, it was good to have a comfortable lead for once.
Some other random thoughts and notes…
Moment that is sure to be forgotten: Chad Huffman's diving/flopping catch in the 1st. If that drops in, two runs score and the Yankees are suddenly looking at a four run deficit before they even come to bat. The game would have had a very different feel then.
Derek Jeter drew three walks (in the first three innings, no less), giving him 11 walks in his last 11 games and 22 in the team's last 40 games. He has just nine walks in their first 40 games.
Alex Rodriguez sure is good at getting the opposition to drop routine pop ups, eh? In all seriousness, that's what Cito Gaston gets for playing John McDonald, a career infielder, in leftfield. The guy had his flip-down shades on, but didn't flip them down!
I only saw Dustin Moseley's first inning of work, but it was hard not to be impressed. Five total pitches, one strikeout, two broken bat ground outs.
Apparently Jorge Posada played an inning at first, and wasn't tested at all. Chad Huffman has played a ton of first in the minors, but I guess Joe Girardi really wanted to give Curtis Granderson that inning of rest. That's fine, I just wish I could have seen Posada at first.