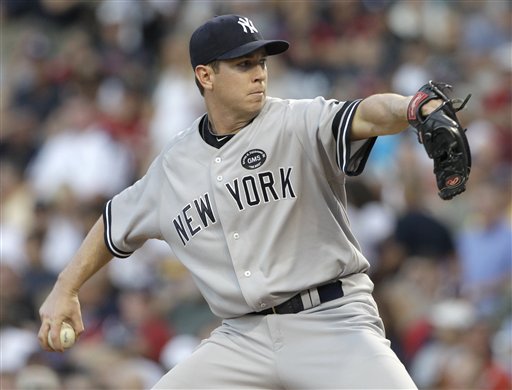 Considering the general mood around the interweb about the Yankees in the last few days, you'd be hard pressed to believe that they're actually 4-2 in their last six games. I know, crazy, right?
The goal of tonight's game is to simply keep the good times going. Dustin Moseley will take his Aaron Small act on the road to Kansas City to face the imminently beatable Kyle Davies, and tonight Joe Girardi will have Mariano Rivera at his disposal. It would be nice to give Mo another day off though, he has worked in four of the last six games after all, so a sizable lead and some Chad Gaudin action in the late innings would be welcome. We fans need an easy win, August has been stressful as hell.
Here's the starting nine…
Jeter, SS
Granderson, CF
Teixeira, 1B
A-Rod, 3B
Cano, 2B
Posada, C
Berkman, DH
Kearns, RF
Gardner, LF
And on the mound, it's Dustin Moseley.
First pitch is scheduled for a little after 8pm ET on what I'm sure is another sweltering hot night in Kansas City. YES has the broadcast, as they almost always do. Enjoy.
Update (11:45 p.m.): After a lengthy rain delay, the Yankees and the Royals will resume play at approximately midnight eastern time. The Royals are leading 4-3 with a runner out and one out in the bottom of the 5th. Chad Gaudin is currently warming for the Yankees in the bullpen.
Update (11:57 p.m.): Just kidding about that midnight start time. With lightning nearby, Joe Girardi pulled the team off the field, and the grounds crew has put the tarp back on. We wait.
Update (12:30 a.m.): Game on.