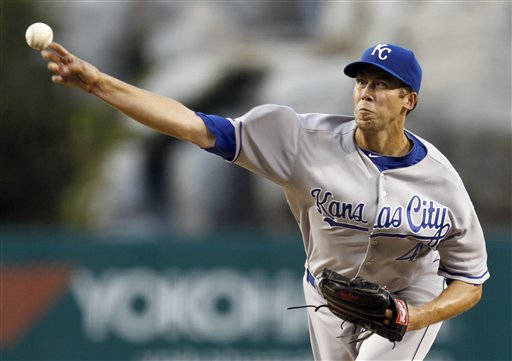 Eight years ago, the Pirates made one of many poor early draft selections when they held the first overall pick in 2002. Instead of taking a premium up-the-middle talent like say, B.J. Upton, or a super-high upside arm like Zack Greinke or Cole Hamels or Matt Cain, the Bucs went safe and took a college pitcher, admitting soon after the draft that they projected him as a "solid mid-rotation starter." Not exactly first overall pick material. That pitcher's name? Bryan Bullington. Today's starter for the Royals? Bryan Bullington.
The righthander from Ball State has obviously flamed out, failing to meet even Pittsburgh's modest expectations following a litany of injuries and ineffectiveness. He's bounced around a bit in the last several seasons and now finds himself in the Kansas City rotation and starting against the defending World Champs. Bullington has never faced the Yankees before, so we're going to have to deal with the whole "ZOMG a pitcher they've never seen before" phenomenon. Don't ask me why, but I feel confident about this one (that means they're doomed).
Here's the lineup…
Jeter, SS
Swisher, RF
Teixeira, 1B
A-Rod, 3B
Cano, 2B
Berkman, DH
Granderson, CF
Gardner, LF
Cervelli, C
And on the bump, it's A.J. Burnett. Hopefully he repeats the outing he had in Texas, that would be fantastic.
It's a get-away day for the Yanks, so this one starts a little after 2pm ET and can be seen on YES. Enjoy.