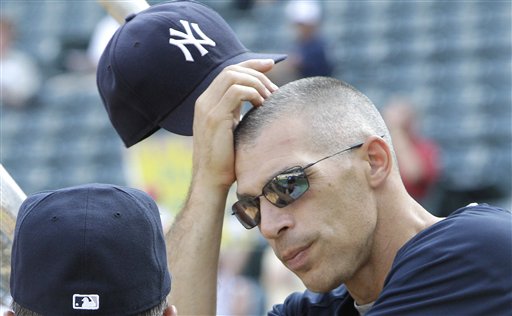 I don't even know what to say. Terrible job getting the man in during the [insert inning here], terrible job by the bullpen, and an unfathomably bad job managing. The Yankees couldn't be playing any more like garbage right now. This makes five losses in six games with one win coming on a miracle walk-off shot. I'm sure Dustin Moseley will stop the bleeding against Cliff Lee tomorrow, but only if the Yanks have someone bunt in a 3-0 count.
Gardner pulled with sore wrist
Update By Benjamin Kabak
At least one of the confounding moves that Joe Girardi made tonight has a reason attached to it. The Yanks' skipper pulled Brett Gardner from the game in the sixth because the Yanks' leadoff hitter had complained of a sore right wrist. He hurt it after getting hit by a pitch in Los Angeles against the Dodgers in June and may get an MRI later this week. The speedster joins Nick Swisher on the Yanks' list of banged-up outfielders, and he should be considered day-to-day.