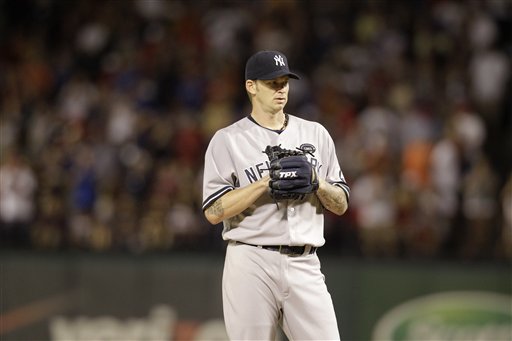 The Yankees have managed to win four games in a row, a streak spanning from one A.J. Burnett start to the next. They've won games started by a pair of kids barely old enough to drink (legally), a forgettable journeyman, and a bonafide ace in the interim, and now it's up to the enigmatic righty to get the job done. All we need is a crafty lefthander and a knuckleballer and we'd have hit on all the key demographics.
The Athletics are a good matchup for A.J. because they're not going drive the ball out of the park or even to the wall that much, so he needs to make sure he doesn't help them out with walks and let rallies spiral out of control. Easier said than done, but Burnett's capable of doing it, and he really needs to start doing it tonight. New month, fresh start.
Thankfully the Yanks have really ramped things up offensively, scoring 20 runs in the past two nights and 84 runs in their last dozen games, an average of exactly seven runs per game. With any luck, they'll give A.J. and the rest of the pitching staff a little breathing room. Here's the lineup that'll go to work against Brett Anderson, a great young starter having an injury riddled year…
Jeter, SS
Swisher, RF
Teixeira, 1B
Cano, 2B
Thames, DH
Kearns, LF
Granderson, CF
Nunez, 3B
Cervelli, C
And on the bump, it's that Burnett guy.
First pitch is scheduled for a little after 7pm ET and can be seen on YES locally and ESPN nationally. Get ready for some good A.J. bashing on the four-letter. Enjoy the game.