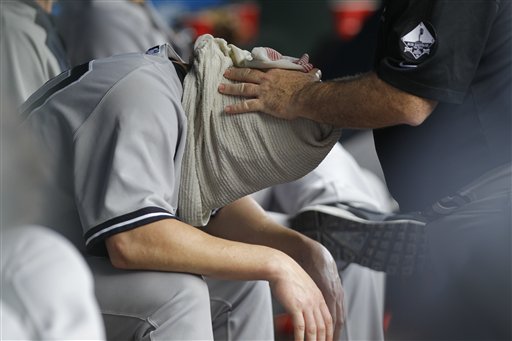 Last night's victory was anything but easy, but Jorge Posada's late homer and Greg Golson's huge, huge outfield assist have the Yankees feeling good about themselves and momentum squarely in their corner. Of course, that and $2.25 will get them on the subway. Or will it not? I can't keep up with the fare hikes anymore. But I digress.
Tonight's start is probably the biggest of Phil Hughes' young career, a game in which his team needs him to provide not just bulk innings, but high quality innings. The Rays are throwing Jamie Shields, and in the unlikely event that one of the Yankees will see this, HE'S GOING TO THROW A CHANGEUP. I can't stress that enough.
First place in the line (at least until next week), and it sure would be nice to go into the off day with a little bit of breathing room, no matter how small. Here's tonight's lineup…
Jeter, SS
Granderson, CF
Teixeira, 1B
A-Rod, 3B
Cano, 2B
Berkman, DH – .491 OBP since August 8th, the best in baseball
Posada, C
Kearns, LF
Curtis, RF – wow, I figured Golson would start tonight just because of that throw
And on the bump, it's St. Philip of Hughes.
Another 7pm-ish ET start tonight, with the game available on YES locally and ESPN nationally. Enjoy.